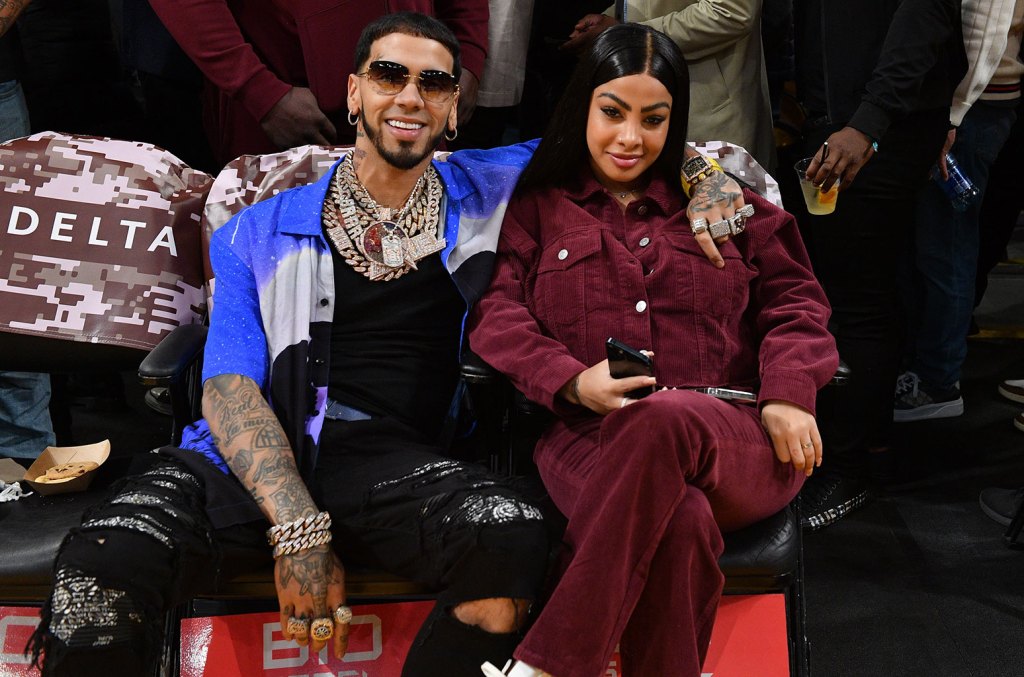 A Timeline of Anuel AA, Yailin La Mas Viral and 6ix9ine's Feud
There was much buzz about Anuel AA and Yailin La Más Viral's relationship, which they made Instagram official in January 2022 and married six months after, tying the knot in June of that same year. Five months later, the Puerto Rican artist and Dominican newcomer announced they were expecting a baby.
But the fairytale-like story quickly took a turn — and, in a twist of events, Anuel confirmed during an Instagram Live in February that he and the Dominican rapper had called it quits. Since, it's been a whirlwind for the two artists — who are not only going through the divorce, but are in the middle of controversies surrounding their own relationship and Anuel's past relationship with Colombian superstar Karol G. While on his Las Leyendas Nunca Mueren tour, Anuel tried to win Karol back by making direct comments about missing her, flaunting her merch, and releasing songs dedicated to her.
How does 6ix9ine come into play in all of this? The New York-born rapper, who's been collaborating with Latin acts such as Grupo Firme and Lanier, has become Yailin's defacto spokesperson taking her side against Anuel AA, whom he's bashed on since-deleted social media posts. It's worth noting the two were friendly at one point: In 2018, the pair released "Bebe," which peaked at No. 1 on Billboard's Hot Latin Songs chart, and "Mala."
Just last month, Yailin and 6ix9ine released their first-ever collab together: "Pa Ti," which peaked at No. 37 on the Hot Latin Songs chart. It marked Yailin's third entry on the tally. The other two are the Anuel-assisted "Si Tú Me Busca" and "La Máquina" with Jowell & Randy and De La Ghetto.
Below is a timeline of Anuel AA, Yailin and 6ix9ine's feud, from the beginning to the latest clap backs.
June 8: Yailin Dedicates Song to Anuel

During the 2023 Heat Latin Music Awards (Premios Heat) held in Punta Cana, The Dominican Republic, Yailin told the press that she was officially single and not dating anyone. In fact, the artist released a bachata song called "Narcisista" the next day, where she opened up about her ex-partner being "a narcissist" and not being "real hasta la muerte" (or real to death) as he claims to be. 

June 15: 6ix9ine Showers Yailin with Gifts

Although the Dominican artist said she was single, many speculated that she and Tekashi were dating — especially after the two posted various videos where Tekashi is seen gifting Yailin expensive purses and watches. The two artists, however, posted the clips to promote their then-upcoming collaboration, "Pa' Ti." 

June 16: Tekashi & Yailin Collaborate

On June 16, Tekashi and Yailin dropped "Pa' Ti." The saucy reggaetón track is about not being available anymore for an ex and is accompanied by a music video that mimics Yailin's past relationship with Anuel. The clip also shows the friendly chemistry between Tekashi and Yailin, with matching rainbow-like hair to boot. Five days later, Tekashi dropped "Dueño" featuring Cuban artist Lenier, where Yailin portrays the main model. 

July 4: Yailin's Birthday

For Yailin's birthday, Tekashi surprised her with a cake, flowers, a Rolex, and packs of hundred dollar bills. "In the short time that I have known you I can tell that you are a beautiful person inside and out," he captioned the post. "People will always comment and criticize you because they see that you are achieving your dreams. Envy is an ugly thing. If in this life you are going to take something from me, it will be that you will never need anyone, just your mind, yourself and Cata."

July 5: Anuel Posts His Daughter

In an Instagram post where he proved that he and Bad Bunny are still on good terms, Anuel also posted a photo of his and Yailin's daughter, Cattleya. This was the first time the baby's face was shown on social media, to which an angry Tekashi responded in the comments, saying: "It's not my place. May God forgive me for this comment but you went overboard posting that photo knowing Yailin was not ready. She's your daughter, it's your place, but you've never done anything for her in three months. Pampers, the rent, milk, clothes… you can say you're real but I know you and you're a rat." 

July 6: Anuel Lashes Out 

To his defense, Anuel headed to Instagram stories to post past news articles of a case where Tekashi pleaded guilty to sexually abusing a 13-year-old minor when he was 18 years old. "Click the links so you can see how he himself pleaded guilty for recording a child under 13 years of age in a case of child pornography. Yailin doesn't even know this, because if she knew, she would never let you near our daughter," the Puerto Rican act wrote. "Piece of trash human, you are spreading lies about me to sell your album." Tekashi dropped his Leyenda Viva album in early June.

July 7: Yailin Makes Strong Accusations

On her Instagram stories, Yailin posted a photo of herself with a bruise under her left eye, where she accused Anuel of hitting her. "Tell the world that the reason Yailin doesn't want to know about you is because you hit her when she was pregnant," Tekashi posted on his stories in her defense. "She was four months pregnant and you also ran her over with a car in Casa de Campo." Yailin also posted old videos and WhatsApp conversations where she's arguing with Anuel.

"The truth and reality, it's easy to manipulate. Be alert, don't get fooled by these artists that say or do whatever to sell their music," Anuel replied to the accusations. In another IG story, he claimed that Yailin planned everything to destroy his career. "You are crazy! […] Post the video where you admit you don't let me see my daughter."

July 11: Confirmed for Premios Juventud

In the midst of the controversy, Univision confirmed both Yailin La Mas Viral and Tekashi 6ix9ine to perform at the 2023 Premios Juventud. The rapper and Dominican artist will take center stage for the first time to debut their single "Pa' Ti." Yailin is also nominated for best dembow collaboration, for his "Soy Mamá Remix" with La Insepurable and Farina.

July 15: Anuel Presents New Girlfriend

After using his tour to win back Karol G and being caught in the middle of the Yailin and Tekashi drama, Anuel surprised fans by presenting his new girlfriend. The Puerto Rican artist not only posted photos on Instagram with his new love interest (on July 9), but also posted since-deleted videos of the couple enjoying a weekend at Disney World and Sea World, celebrating Anuel's son's birthday.

July 17: More Luxurious Gifts

At the moment, the drama among the three artists has sizzled down on social media but Yailin and Tekashi continue making headlines. On July 17, the rapper shared a video where he's seen surprising Yailin with a black Rolls-Royce. "Go and see if you find someone like me […] Welcome to Miami, baby," he said. On her stories, Yailin said: "This one is not going to be taken away from me," implying that Anuel took the car he once gifted her.