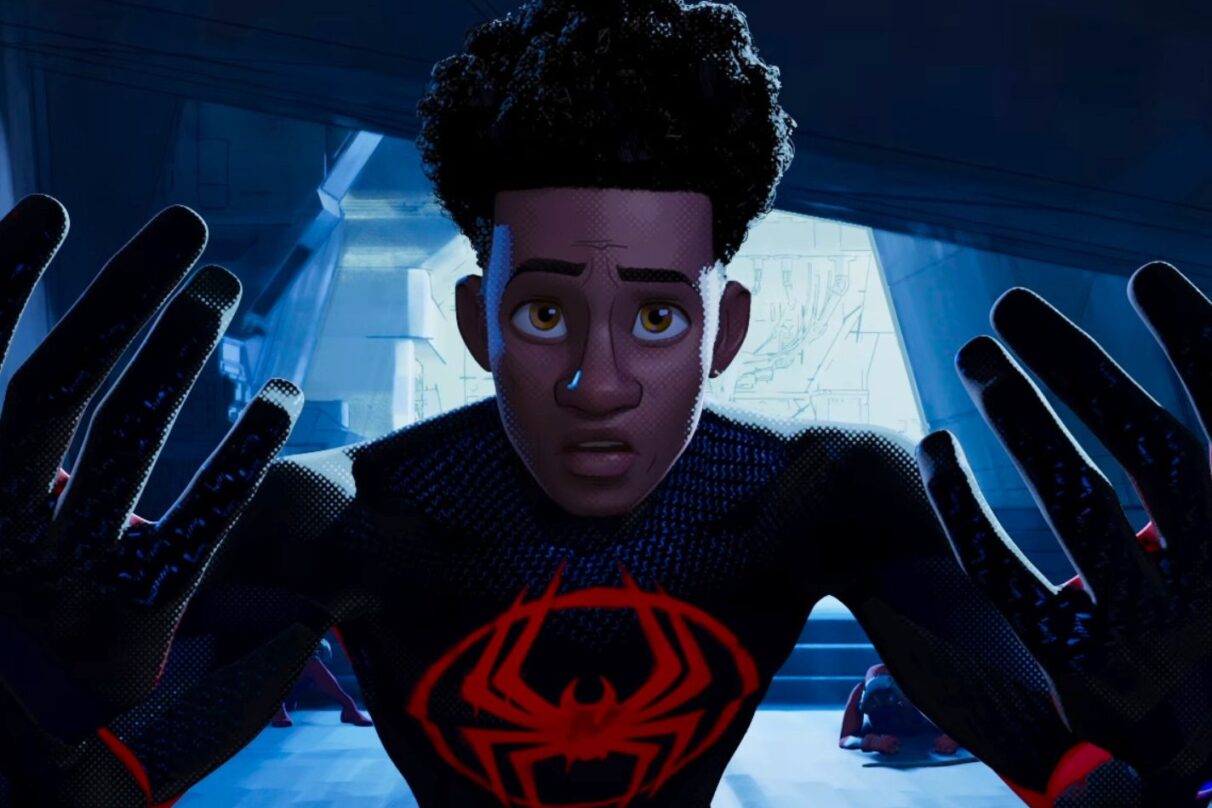 WATCH: Miles Morales Meets the Real Villain of 'Across the Spider-Verse' in New Trailer
Spider-Man comes face-to-face with the villain in the second trailer for the highly anticipated animated sequel, Spider-Man: Across the Spider-Verse.
Sony released the trailer on Tuesday (April 4), which features Miles Morales/Spider-Man (Shameik Moore) meeting The Spot, a Marvel supervillain covered in interdimensional portals and who is voiced by Jason Schwartzman. Because of his spotty look, Miles confusingly asks him if he's a cow or a Dalmatian. The Spot introduces himself before slices of bread start falling out of one of his portals. 
But don't be fooled. That isn't a suit that he's wearing. In the comics, he was a doctor performing experiments with different levels of radiation to mimic powers. This led to the creation of a portal that was going to destabilize, which he stepped into, and which transformed his whole body into this. He used his powers for crime and has been known to survive fatal wounds as he disintegrates and then just reappears in the Spotted Dimension.
According to director Kemp Powers, "The Spot is an interesting villain because he seems like a joke, but when you really look at his powers, there's incredible potential. His ability to open portals across dimensions sets him up perfectly for the Spider-Verse…He's the villain of the next two films… and let's just say that the Spot and Miles are connected in surprising ways."
Basically, Miles has some major work and maybe this is what the rest of the Spider-People are afraid of.
Along with another enemy, Spider-Man is also having some trouble at home. In the opening of the trailer, he's giving his parents some attitude for being late to an event. His mother Rio (Luna Lauren Velez) is also disappointed when she finds out her son has a "B" in Spanish class. "What?!" she exclaims before snapping her fingers at him. "Mira, eso imposible."
Sure, Miles has the same kind of problems any teenager might have, but he also must worry about what will happen when he travels into a multiverse where he will find "an elite crew of all the best Spider-People." This includes a couple of versions of Spider-Woman (Hailee Steinfeld and Issa Rae), Spider-Punk (Daniel Kaluuya) and Miguel O'Hara/Spider-Man 2099 (Oscar Isaac), the leader of the Spider-Society who isn't very open about welcoming Miles into the Spider-verse.
"You can never be part of this," Isaac's Spider-Man 2099 tells Miles. "Don't even get me started on Dr. Strange and the little nerd back on Earth 199999!" Peter Parker, of course, is also in the multiverse, this time caring for a child aka Spider-Girl.
But does Miles understand the sacrifice he will have to make to continue being Brooklyn's only Spider-Man? Can he turn back time and save his Uncle Ben once and for all? "You have a choice between saving one person and saving every world," Spider-Man 2099 says.
If we can take anything away from the Spider-Man: Across the Spider-Verse trailer, it's that Miles is going to make his own decisions and write his own story.