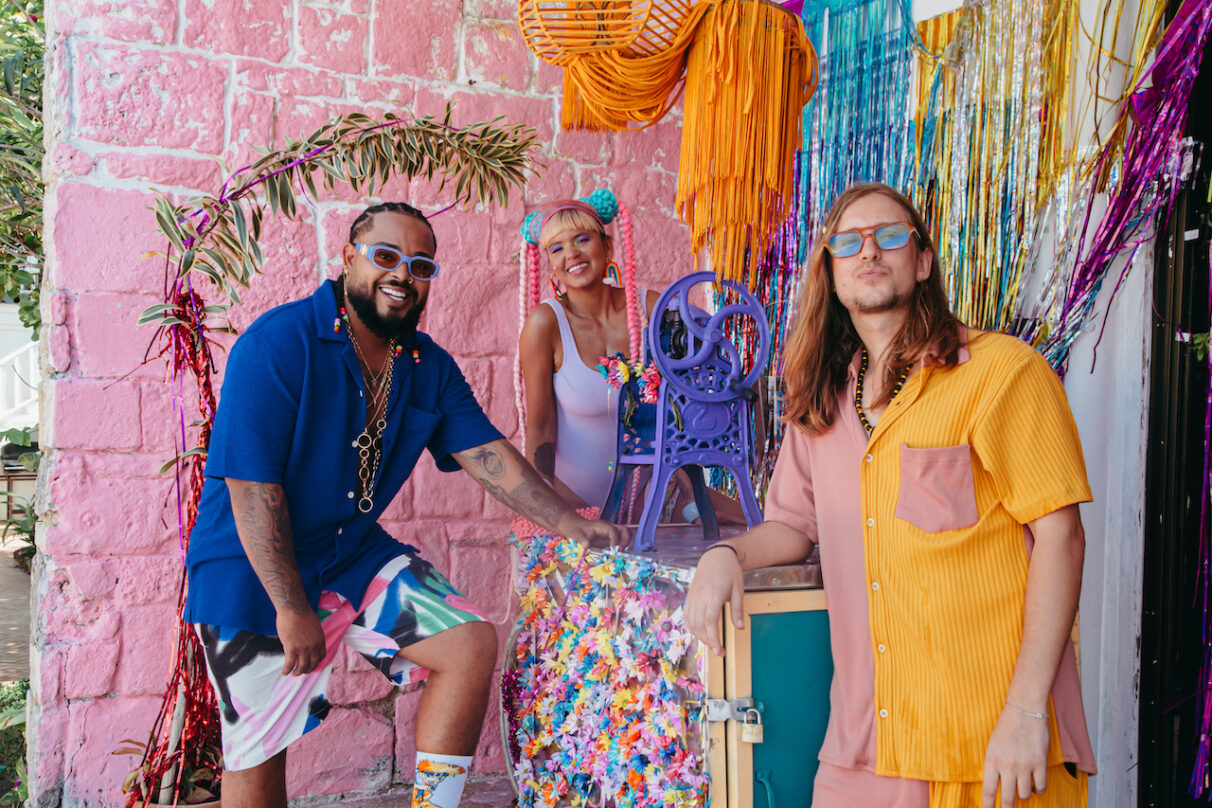 WATCH: Bomba Estéreo Gives Ode to Barranquilla Carnaval in "Romántica Champeta"
On April 27, Bomba Estéreo released their newest single, "Romántica Champeta," alongside the popular champeta artist Kevin Florez and the British producer The Busy Twist. The result? A vibrant, catchy tune that highlights historic Afro-Caribbean champeta sounds perfectly paired with Li Saumet's sharp, distinctive vocals.
"Romántica Champeta" is a tribute to the popular Barranquilla Carnaval in Colombia. The track's music video was directed by Saumet and Jhoy Suarez and filmed near Barranquilla. It aims to celebrate the rich diversity and music that the region is known for. According to the press release, the track celebrates Saumet's roots, and with it, she invites her audience to "feel the joy and colorful spirit of the party."
The music video features people happily dancing, enjoying their time at a pool party. Saumet is seen eating an ice cream and sporting cotton candy-like blue and pink dyed hair. Throughout the pastel-palleted video, we also see Florez laying down his verse and The Busy Twist deejaying the wholesome party. The event is adorned with rainbow and unicorn decor, inflatable pool floats, and palm trees.
Fans are thrilled about the new song and visuals–especially since they highlight Colombia's Afro-Caribbean champeta music infused with Bomba's signature electro-tropical essence. A YouTube user, Leonel Munzón Silgado, wrote: "This is great. I never expected to see you guys singing champeta, you definitely surprise me more every day ❤????????." Another YouTube user, Beatriz Fernandez, wrote: "I love to hear Bomba in this genre. Awesome video❤️."
The new video for "Romántica Champeta" follows the release of Bad Bunny's "Ojitos Lindos" music video, a collaboration that the Colombian duo was a part of. The joint track was undoubtedly one of Bad Bunny's Un Verano Sin Ti's most popular tracks, recently surpassing 1.5 billion streams on Spotify. 
Moreover, Bomba Estéreo will be embarking on a global tour. They will perform in the U.S. on selected dates, including the Mission Ballroom in Denver, CO, on April 30; the Bumbershoot Festival in Seattle, WA, on Sept. 3; and the Besame Mucho Festival in Los Angeles, CA, on Dec. 2.
Watch the official video for "Romántica Champeta" below.