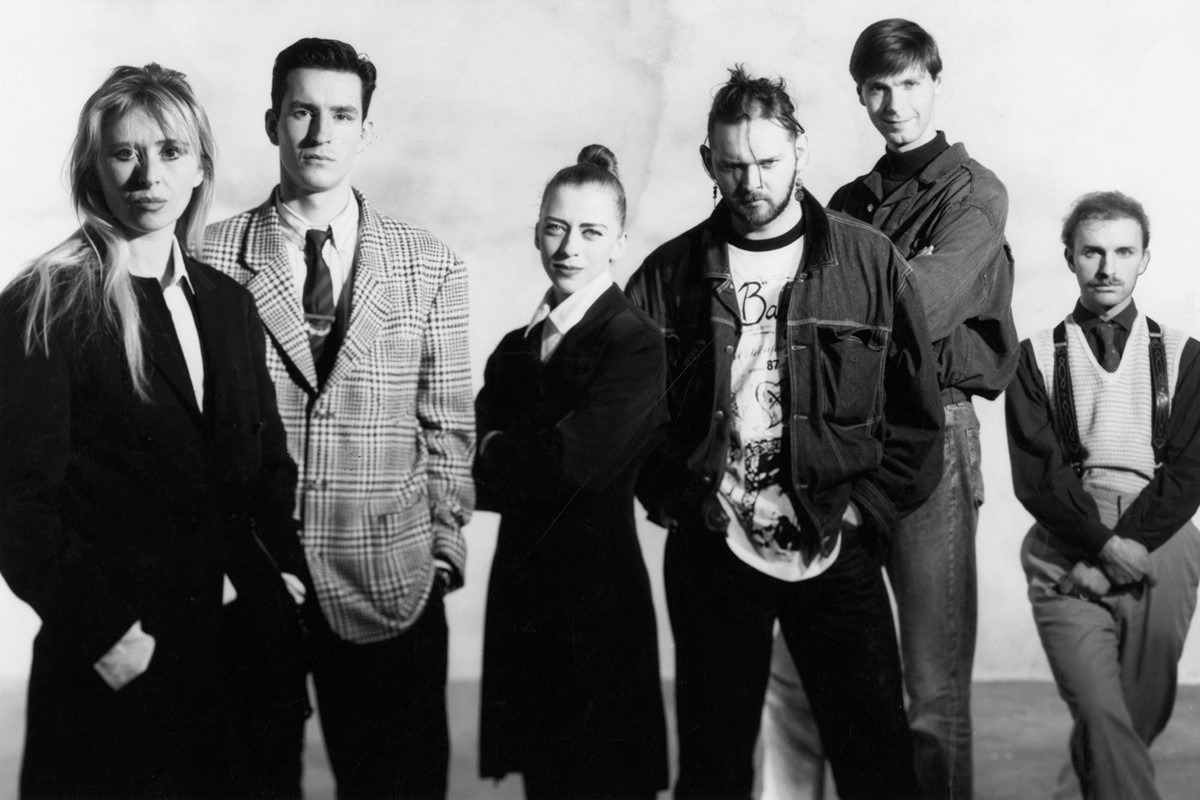 The Antwerp Six share some advice for fashion students
Dries Van Noten, Ann Demeulemeester, and the rest of the cult fashion collective have reunited for a rare glimpse at their rise
to fame
In 1986, a group of graduates from Belgium's Royal Academy of Fine Arts hopped into a van and headed for a pivotal London trade show, where they would make a splash with their radical, trend-setting collections, and carve out their own place in fashion history. This group of young designers, made up of Walter Van Beirendonck, Dries Van Noten, Ann Demeulemeester, Dirk Van Saene, Dirk Bikkembergs, and Marina Yee, came to be known as the Antwerp Six – partly, as the story goes, because the press struggled to pronounce their individual names.
After London, the group would go on to travel the world together, hitting up other fashion hotspots beyond the Belgian border. Over time, and as their respective careers bloomed, however, they naturally drifted apart. "Dirk Bikkembergs only did menswear so he had to split to do the show for men; Dries needed a bigger show because he was booming, and so the whole group split up," Antwerp Six mastermind Geert Bruloot recalled back in 2015. "It felt like a pop group splitting up."
Read More
Balenciaga's next It bag is just an empty packet of crisps
Baby's first Balenciaga campaign: Bella Hadid rewinds to the 90s
Sydney Sweeney revs into a Jacquemus sunset, and more news you missed
Play dress up with Gucci and adidas ahead of their joint collection drop
Now, though, five of the Antwerp Six have come together for a rare reunion, marking the retirement of Van Beirendonck from his position at the head of the Academy's fashion department. Luckily for us, they've also taken the opportunity to share some advice in an interview with Business of Fashion, discussing how to make it in the industry, and how to deal with the pressure and stay true to yourself once you're there.
REBEL AGAINST YOUR TEACHERS
Looking back on the group's years at the Royal Academy of Fine Arts, Ann Demeulemeester recalls studying under the severe founder of the Fashion Academy, Mary Prijot. "She was very strict, but I liked that," the designer says. "You really had to prove yourself. Moreover, she was very classical… That made me revolt: I had to do my own thing."
"That kind of thing created a feeling of solidarity," adds Van Noten. "According to me, we have learned most by rebelling against the teachers, trying to find out how far we could push against the limitations they set." In other words, you don't have to sit back and accept everything you're told in fashion school as gospel truth; sometimes it's better to push back and find your own ways of doing things.
'YOU CAN'T SAY: MY WORKDAY IS FINISHED'
It's no secret that the workload on any prestigious fashion course can get pretty intense. Unfortunately, that's not going to end once the course is over, as Dries Van Noten points out. "The pressure at the Academy is nothing compared with the professional pressure once you start working. At the Academy, you're not responsible for the 150 people who work for you."
"I don't think you can set limits in fashion," Walter Van Beirendonck agrees. "Things constantly happen that are out of your control. And then you can't say: my workday is finished. You have to continue until you have put things right."
So what are you going to do about it? Before you actually get invested, Van Noten recommends truthfully asking yourself: "Could I cope with that?" If you're already signed up, well, this is your life now. Enjoy!
"Delivering good work is the beginning of it all. Once you've done that, you have to have faith that sooner or later it will find its way" – Ann Demeulemeester
NEVER TRY TO BE 'IN FASHION'
"Never try to be 'in fashion', but develop a personal style you can always rely on and that doesn't go 'out of fashion' in no time," recommends Dirk Van Saene. 
That being said, staying aware of the period you're living through – and keeping one eye on the future – is also important. As Marina Yee notes, emerging designers have to find a way to deal with big, contemporary questions and the challenges of a changing world. "Maybe not a revolution, but a change towards better values in our thinking and acting, for the climate, for all fellow human beings, for peace."
EMBRACE MYSTERY
The Antwerp Six emerged in a pre-internet fashion world, when collections were simply shown on a catwalk and found a public audience months later, on the pages of a magazine. "You discovered winter fashion when it was really winter," says Van Beirendonck. "It had a certain kind of logic." Now, of course, fashion has accelerated beyond our comprehension, and the internet has collapsed the trend cycle in on itself. 
"Everything goes too fast nowadays," adds Van Saene. "We need to return to the mystery that used to surround fashion.'"
"What I would do these days, and what I'm trying to do now, is become smaller, consciously slow down, and offer a scaled-down collection," says Yee. "Partly by up-cycling and creating slow and silent fashion."
"Everything goes too fast nowadays. We need to return to the mystery that used to surround fashion" – Dirk Van Saene
YOU'VE GOTTA HAVE FAITH
Every member of the Antwerp Six, no matter how successful they've become, grew up an outsider in a city with hardly any fashion history. Left to their own devices, it was their belief in the work they were doing, and dedication to their craft, that won them a place in the history books. 
"Delivering good work is the beginning of it all," suggests Demeulemeester. "Once you've done that, you have to have faith that sooner or later it will find its way."
"Indeed, have faith in yourself," agrees Van Beirendonck. " I have always cherished the feeling of being the outsider. At some point the way people saw me changed. It was replaced by deep respect from the press, the buyers and fans."
Read the full Business of Fashion interview here.