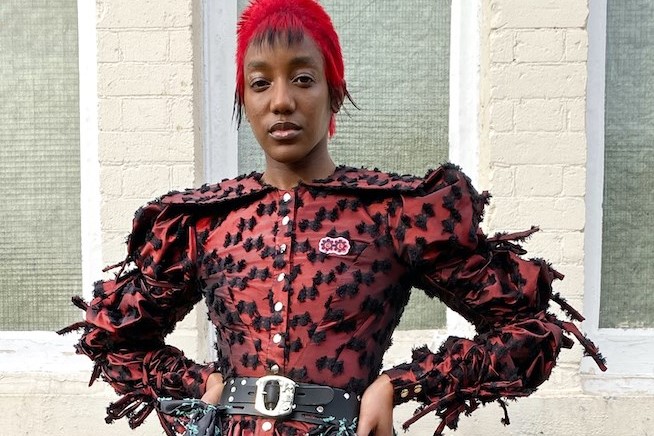 The infinite joy of Chopova Lowena's mad mish-mash clothes
As their AW22 collection gets its debut, rising stars Emma and Laura reveal how much fun they're having kitting us
all out
Last summer, after weeks of contemplation, I gave myself permission to make a fashion splurge and immediately invested in a Chopova Lowena skirt. By now, it's an item that you will have seen all over Instagram and TikTok – worn by the likes of Dua Lipa, Emma Chamberlain, and even Madonna.  
A mish-mash of traditional Bulgarian prints, the skirt is punked up with carabiner clasps and a wide leather belt complete with oversized buckle. In short, it's a beautifully crafted garment that enthrals the eye and is a delight to wear, with concertina pleats that bounce and spring back into shape as you move. After trying it on for the first time, I spent 15 minutes spinning around my living room in it like a hyperactive toddler giggling on a sugar rush. 
The reaction is indicative of the joy the burgeoning label has sparked in its quickly formed cult following – just five years after the design duo, Emma Chopova and Laura Lowena, graduated from Central Saint Martins. "It's definitely been a rollercoaster," reflects Lowena, with her counterpart adding: "It's hard every single day and there's lots of learning, but having somebody else to do it with is the best advice I could ever give anyone. You have to trust in yourself but also in each other."
Read More
Julia Fox isn't crying over Kanye because she is too busy being a MUSE
Snoop Dogg and Miley Cyrus star in Gucci's Love Parade campaign
The intimate book exploring sexuality and desire in the pandemic era
Supreme appoints Tremaine Emory as creative director
For the brand's AW22 collection, Kiss The Hare's Foot, the duo were, as always, thinking about the meeting of unlikely references – this time around, mediaeval dressing and ice hockey. This manifests in ways we've come to expect: exaggerated sleeves, clashing colourful prints, and frilly ruffles, as well as new ventures, via fuzzy knitwear and sophisticated skirt suits for both him and her. Fans of the duo's signature skirt can also rejoice: the newest iteration appears blinged-up with vintage cameos and crystal necklaces adorning the leather waistband. 
Despite increasing attention from fashion fanatics, culminating in accolades like an LVMH Prize nomination in 2020 – cancelled due to COVID – and being shortlisted for the BFC/Vogue Designer Fashion Fund for the second year running, the pair are taking their own path. "We've not done shows because we've been in the studio, so focused on products," says Chopova. "It's definitely something we want to do, we just don't know exactly how to do it in our own way. We've been thinking about it for four years, so it's time." Lowena echoes: "We always want to better each collection and develop it in a truer way, so most of the pressure comes from ourselves but I think that's normal." 
Here, we speak to the design duo to learn more about their newest collection and the everlasting power of wearing a really good skirt.
Hi both of you! What would you say your starting point for a collection is? 
Emma Chopova: It's usually an era or particular kind of garment that starts off the traditional dress side. We do look back at things and try to evolve, we're constantly trying to make commercial clothes and non-commercial clothes at the same time, which I think everyone is trying to do, and it's really hard. It's a fun design challenge and not one you can always get right, but that's how we get started. 
Laura Lowena: It's a back and forth between the two of us. Emma does lots of drawing, then I'll do lots of collaging and then we'll switch and finally come up with different designs and decide what paths we're going down. 
Emma Chopova: It's really fun when you have someone else to do it with. 
What can you tell me about the latest collection and some of its inspirations?
Emma Chopova: It's basically about mediaeval dress, a kind of mediaeval renaissance, and then ice hockey. So, mediaeval silhouettes with laced chains, kooky sleeves, all the normal Chopova Lowena stuff. Then, we've done knitwear for the first time, suiting, these skirt suits with laced-on necklaces and bracelets, which is exciting.
"Good brands make good clothes and people like them for different reasons. That's the beauty of making clothes, allowing somebody to find an aspect of themselves in a garment and wanting to wear it" – Emma Chopova
Your offering has now expanded beyond womenswear into menswear and kidswear too, but would you say you have somebody in mind when designing? 
Emma Chopova: We used to design for each other and I think in a way we still do, but with social media you can see anyone wearing it and it's all kinds of different people. I think it has points that appeal to many different people from all kinds of backgrounds. We don't do shows and we don't don't see our clothes in motion so much, so models and people really do bring that alive.
Laura Lowena: I don't think we could say a person, or specific gender anymore. 
Emma Chopova: Good brands make good clothes and people like them for different reasons. That's the beauty of making clothes, allowing somebody to find an aspect of themselves in a garment and wanting to wear it. 
What do you think it is that people see in your clothes? Girliness? 
Emma Chopova: We were never into it ourselves. When we were students, we decided we weren't going to make 'girly' clothes or frilly things, so we made trousers, t-shirts, and tops. 
Laura Lowena: Then we realised we're obsessed with skirts. We've grown to understand it and enjoy it, but it was something at the beginning that we fought against. That's why we brought the hardware in and the metal elements, something to fight against the girlishness and make it a different kind of hybrid. 
Emma Chopova: The Chopova Lowena hybrid. The best clothes aren't complicated and I think it's great to be as simple as being fun and girly and having silhouettes that are more traditional. 
Speaking of skirts, we have to discuss your signature carabiner skirt that is literally everywhere at the moment! 
Emma Chopova: We never did our MA thinking we'd have a brand or this would be our brand, so even after a couple of years of selling the skirts, we didn't think they'd do well. It's not the easiest thing to understand, so I think it took a while for people to realise it's just a skirt you can wear with anything. After we made the kilt-looking one is when they started selling more. We've listened to a lot of the feedback and we've made them lighter and worked on them. This season is a very exciting season for the skirt because it's getting an upgrade and we've rethought the functionality of it.  
Laura Lowena: we also want to make them last longer, so skirt 2.0 is definitely going to do that. 
To me, it's the perfect fashion item because it's beautifully crafted and so fun to wear. 
Emma Chopova: That's what we've always wanted to do, we wanted to make stuff that was really fun. I think the skirt has aspects of hardness, but also fun too. That's definitely something we thought about at the beginning of the season, we want to bring the energy. The skirt isn't special to this season, but we think about it all the time and we try to bring that same spirit with everything we do and sometimes we succeed. 
Through the pandemic, we've seen people's attitudes towards wearing clothing change, has that had an impact on how you design too?
Laura Lowena: I always want to wear something comfy, but I also want to wear clothes that say something. I think I now judge it on whether we'd wear it ourselves or not. 
Emma Chopova: We've always tried to make dresses that are easy and are flattering and more universal because even we couldn't wear the first dresses we made, they were super uncomfortable. 
"Sometimes, I think students think being a designer is amazing, but it's really hard! You have to love it to get through every day and we just love making clothes. I still think London is the most exciting and fun city for fashion and there's space for creativity" – Emma Chopova
At the moment, you're presenting collections in your own way, but how would you like to develop how you debut them? 
Emma Chopova: Right now, we're working on a print project that's coming out in a couple of months and we really love these projects because they have the essence of a long lasting project that you can cherish. In terms of shows and live events, we definitely want to do something like that next season. It really helps when you see things move and we really want to create a space that can embody that feeling. I don't know exactly what it is yet, but seeing the movement of clothes on people is so important.  
Laura Lowena: In fittings, we only take pictures on a single model, but we really notice the difference when everyone is together and it's a big group of people wearing the clothes. It completely changes everything.  
How would you describe the energy for new designers in London at the moment, as we're leaving the pandemic behind? 
Laura Lowena: I feel there's different standards compared to other cities and it can be more creative. You can put something together on a budget and it will still work. 
Emma Chopova: Sometimes, I think students think being a designer is amazing, but it's really hard! You have to love it to get through every day and we just love making clothes. I still think London is the most exciting and fun city for fashion and there's space for creativity. 
Our education at Central Saint Martins was amazing and it made us who we are, so we wouldn't want to be anywhere else. New York has so many cool brands and so much going on, but I think London is really exciting and always has been, so I think we still have some of the best young brands here. 
What excites you most about continuing to evolve Chopova Lowena into the future? 
Laura Lowena: It's a hard question, but we're too obsessed with clothes. 
Emma Chopova: We will always love making clothes and we want to make new stuff to see what a bag by us looks like or a shoe by us and that's really exciting. Those are the things that make us look forward to next season because we have no idea how it'll turn out but I have every confidence that it'll be cool.