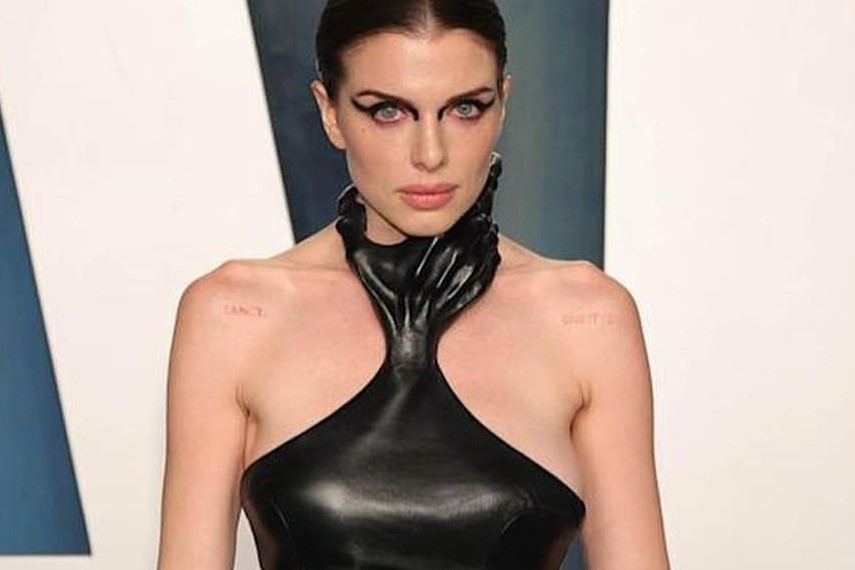 Meet the designer behind Julia Fox's asphyxiating Oscars look
Han Kjøbenhavn gives us the lowdown on his gruesome approach to fashion, his red carpet recipe, and the
muse herself
Julia Fox might not have a rolodex brimming with the names of designers and stylists, but she knows fashion. In fact, she has a purer relationship to clothing than most other celebrities, expertly wielding its potential to engender headlines and boost her own profile. To watch the actor slice her wardrobe into skanky little shreds is to watch someone realise the power of clothes in real time. And even though she has become social media fodder – turning up to events red-eyed and stonked beyond belief – perhaps this is just what celebrity was like before Instagram added its veneer.
People love Julia Fox precisely because of that contradiction – and the so-called "chokehold" that we now find ourselves in was made manifest by the grip of a skeletal hand on her bare neck, forged from black leather by designer Han Kjøbenhavn. It formed the nape of a gruesome dress she wore to Vanity Fair's Oscars party, and it was one of the only interesting looks to come from the whole evening. Besides Hunter Schafer in Rick Owens, that is. An equine ponytail and a slash of her now-infamous eyeshadow, Kjøbenhavn's creation was a rare example of the electric collision that occurs when pop culture meets fashion.
Below, we speak to the couturier about what it takes to make a red carpet sensation, his spooky approach to fashion, and the muse herself.
Hey Han! Can you tell me a little about the chokehold dress? Where did the idea come from?
Han Kjøbenhavn: It actually started as a bag collaboration with ceramic artist Naomi Gilon, which resulted in two different pieces. I felt like there was more potential, though, because it felt special and had a specific energy. So I brought this into the process of my SS21 runway and created this piece. That's how it was born. 
What's been the reaction to it in the past? It's quite distinctive! 
Han Kjøbenhavn: When I first unveiled SS22, the dress got a lot of attention and good press. The reaction was really good. It's blooming again now and that's the whole purpose of doing what we do. Creating something of beauty that lasts and can be brought to life over and over again by connecting it to different  energies. 
How is the hand made? 
Han Kjøbenhavn: It's a long process but it starts with creating the hand in ceramic and then making a silicone glove out of that. Then we filled the mould with resin to create the core. Lastly, we covered the hand in  leather and hand-stitched it all the way around.
How did the collaboration with Julia come about? I know you've worked together in the past. Have you met?  
Han Kjøbenhavn: Julia's team reached out to us a few months ago, regarding some of the pieces from our "men's" runway. Since then, we continued that dialogue and they all fell in love with the grip dress. We had a conversation about it and created a made-to-measure piece for her, which we loved the outcome of. 
What would you say Julia was giving on the red carpet, how would you sum up her look? 
Han Kjøbenhavn: The connection between Julia and the Grip dress is very natural, they complement each other,  which is important for a piece like this. I need there to be a connection between the talent  and the clothing, so in that sense I think it was truly amazing. It was a brave move to choose a dress like this considering the kind of dresses that are traditionally worn to this event. It showed confidence to stand out like that, and we appreciated it. 
What did you think of the fashion on the Oscars red carpet? 
Han Kjøbenhavn: I read that people found it a little boring but I personally think there were some interesting dresses in the mix – not necessarily headliners, but well balanced, elegant, and beautifully crafted pieces. It's difficult to compare them to what Julia brought to the red carpet, though, it was so distinct. 
Was there anyone else there you'd love to dress? Or anyone you'd love to dress in general?  
Han Kjøbenhavn: There are of course some people I find very inspiring and unique that I would love to work with.  We have some projects incoming, and while I can't say too much right now, there might be few interesting things in the making. 
What, to you, are the correct ingredients for a red-carpet fantasy moment? 
Han Kjøbenhavn: I always look at the relationship between the person wearing it and the piece itself – there has to be a balance and a connection, but I also think that you should do something that pushes the envelope and evokes emotion, without it being too much.  
Do you have an all-time fave Oscars red carpet moment?  
Han Kjøbenhavn: There are a few interesting ones but I like Billy Porter's from 2019. It had, and still has, something about it.