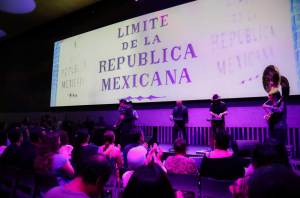 Nortec Collective: Bostich + Fussible Bring Baja California Vibes to New York City
Nortec Collective Presents: Bostich + Fussible brought Baja California vibes to Lincoln Center's David Rubenstein Atrium in New York City on Sunday night (July 23).
Organized by the Baja California Institute of Culture and the state's governor, Marina del Pilar Avila Olmeda, the two-hour show reminded audiences why the Tijuana duo is such an important electronic outfit, taking border culture to unimaginable heights.  
"We are proud to have Baja Californians like Nortec who have been on the best stages in the world representing Baja California with their music, music that has undoubtedly made us dance in many corners of the planet," Del Pilar told Billboard Español during the event. "Today we bring them to New York on this tour to promote our state, because Baja California is a magical place. We want to convey that music changes lives and has no borders."
As part of an initiative to promote the beauty of Baja in a series of events highlighting Mexico's gastronomy, wine, beer and handicrafts, Nortec's music served as a point of reference for the originality that the region has to offer.
"We who are from Baja California are happy that [the government] is prompting these type of events," said Fussible. "May they continue to bring more artists."
The Nortec duo, which has a reputation performing at disparate events ranging from lavish international festivals to small dingy clubs, brought its unique fusion of Euro-style electronica with traditional norteña samples. They further enlivened the crowd with a full live band, consisting of an accordionist, a tuba and trumpet player, who got audiences to their feet.
Here are four reasons why Nortec will remain the enduring sound of border life and beyond.
Nortec made música norteña cool before it was trendy
Before the invention of trap corridos, sierreña music with an emo vibe, or the fusion of banda with rap (like Banda MS and Snoop), there was techno and norteño music, also known as Nortec. With a fascinating repertoire that highlighted more than two decades of intoxicating music, the duo proved their worth as pioneers of a genre that today deserves much more recognition.
Nortec is symbolic of border culture
With stunning visuals depicting symbols of everyday border life — the vibrant folklore, the fence between the U.S. and Mexico adorned with art and crosses, playful images of stereotypes (like gun-toting ranchers) — the duo's imagery is an integral aspect of the set. It also represents that hybrid culture in its sound, and what is associated with the region, such as banda music, norteño music, tambora, mixed with cultural exports like techno.
They continue to inspire new generations
Espectro Caudillo, an electronic music producer from Tijuana based in New York, doesn't hold back when it comes to sharing how Nortec has influenced his work. "Nortec was always the benchmark for a successful electronic music project, because at one point Tijuana was the avant-garde city for electronic music in Mexico," the producer tells Billboard Español. "The sound of Espectro Caudillo's music is directly influenced by Nortec. Beyond setting the tone for a career, they are emblematic of a Tijuana generation of the 2000s." The artist, formerly of Los Macuanos, will release his debut album La Liturgia del Tigre Blanco in October via Nacional Records.
The future of Nortec: Bostic + Fussible
This year the group celebrates 15 years of "Tijuana Sound Machine," a song that put them on the international map and which continues to sound as vibrant as ever. Nortec is also keeping busy with plans to present new music in the upcoming months. "We're going to do versions of Nortec but with a jazz context in the spirit of Herb Alpert & The Tijuana Brass," says Bostich. "We're going to present it in September in Ensenada, and bring something we haven't done before."