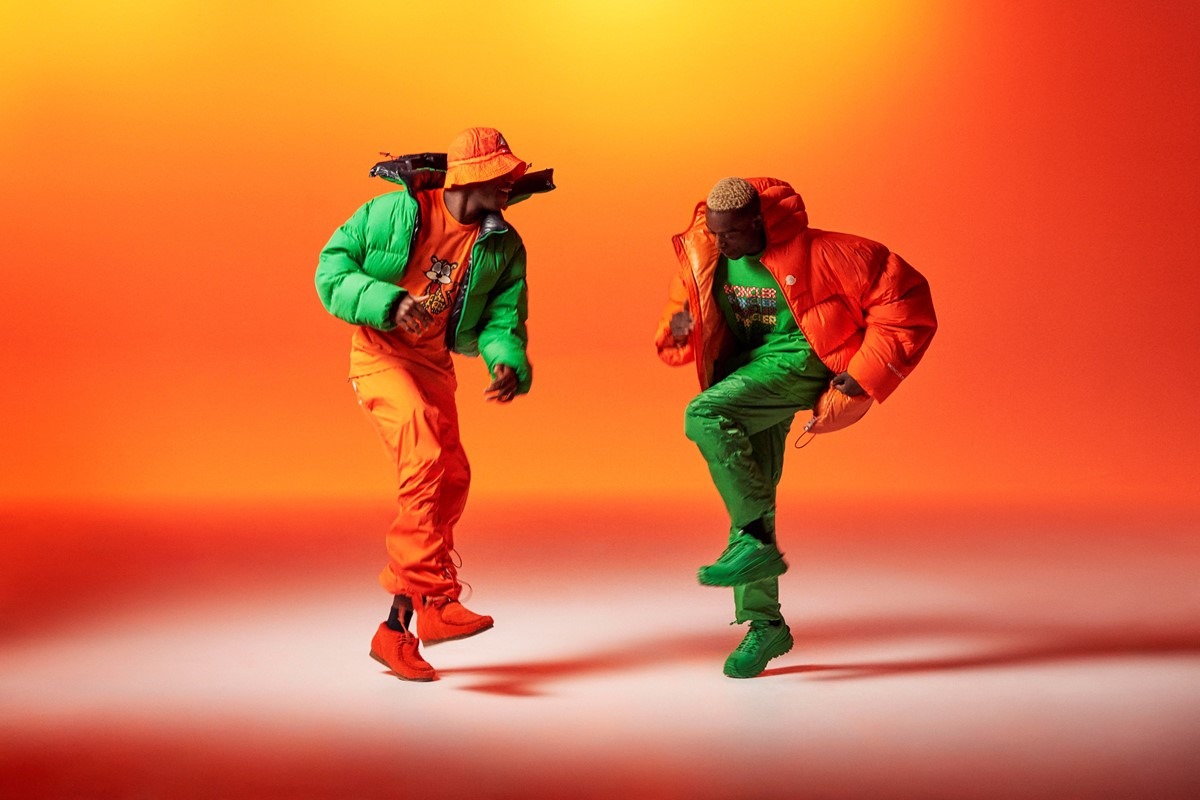 Moncler resurrects London's 90s rave scene with its new collection
The Italian fashion house and designer Sergio Zambon unite outdoor wear and club dress codes with the new 2 Moncler 1952
Man collection
2 Moncler 1952 M
While recent fashion seasons have lined up a wardrobe for the modern club kid, Moncler's latest 2 Moncler 1952 Man collection takes it back to the hedonistic, acid-green atmosphere of London's 90s rave scene. "It was a moment, a vision of the rave party atmosphere," the collection's designer Sergio Zambon tells Dazed. "I was inspired by the overall space where this was happening."
Updating old-school raver dress-codes for the twenty-first century, the collection is made up of sleek nylon tech jackets and shiny oversized trousers in neon orange, yellow, and green, trippy graphic tees and hoodies, a reimagined psychedelic Moncler logo, wavy hand-crocheted bucket hats, and statement low-top nylon trainers, meant to carry you from daytime to the dancefloor.
Read More
This fashion porno imagines a dystopian WeWork of the future
Operator? Help, I'm addicted to fast fashion!
Have you herd? Centaurs are so hot right now
Addison Rae is now the devil incarnate, apparently
Meanwhile, through teddy fleece puffers in subdued earth tones and natural-coloured tie-dyed trousers, the brand nods to its outdoor wear expertise – conveying a sense of escapism, an urge to travel, and a quest for movement and action… perhaps the driving factors of 90s rave culture, itself.
While previous seasons drew inspiration from Tokyo and Los Angeles, this collection sees Zambon join forces with iconic British brands Barbour and Clarks, putting a unique twist on London's traditional heritage-wear via a series of brightly-coloured waxed cotton jackets, leopard printed coats, grown-out trenches, and Wallabees in saturated colours and earth tones – representing and re-imagining styles loved by generations of subcultures. "I like to underline the fact that in the very contemporary London style, there is always a mix with some classics," the designer explains. "I like the idea of a skater in an old Barbour jacket or the evergreen Wallabees from Clarks."
We spoke to Sergio Zambon about seeking inspiration from London culture, juxtaposing old-school rave-wear with outdoor styles, and his favourite pieces from the collection.
The 2 Moncler 1952 Man collection draws inspiration from London subcultures and 90s rave culture. Could you please tell me a bit about how this idea came about, and how it plays into the collection? 
Sergio Zambon: I always found the club scenes, especially in London, to be a strong expression of creativity and style. I found the strong relationship between style and music to be a very important reference for me to translate into fashion. Sometimes, I was in clubs just listening to music and thinking up collections.
Visually, 2 Moncler 1952 Man showcases a heavy juxtaposition of matte and shiny surfaces. Could you please speak about this design choice, and how it represents the collection's overall message and inspiration? 
Sergio Zambon: The juxtaposition of matte and shiny corresponds with the general juxtaposition of my approach to design – I do that with colours and shapes and materials. For example, I like very technical branding on very natural, fluffy materials. For this collection I'm depicting the relationship with the raver in a new minimal way, where the outfit is one colour, but shaped by different "lights." Kind of a 21st century chiaroscuro.
"For this collection I'm depicting the relationship with the raver in a new minimal way, where the outfit is one colour, but shaped by different "lights." Kind of a 21st century chiaroscuro" – Sergio Zambon
There is a clear crossover of outdoor wear and 90s rave inspiration in the collection – why do you think these two spaces work together so well? 
Sergio Zambon: It's basically a redesign of the iconic raver look where outdoor styles were mixed with tees and trousers that are very oversized. 
Do you have a favourite piece from the collection? Or one that you think sums it up?
Sergio Zambon: I love the ocelot-print waxed jacket in collaboration with Barbour, the fleece teddy oversized jacket made from synthetic shearling, and the reflective cheetah jacket.
Then, Barbour design represents to me, the juxtaposition of London taste, a classic item in a new punkish version. The fleece teddy oversized jacket expresses the pop fun side of every collection I do for Moncler, with the seasonal cartoonish reinterpretation of the logo. 
Reflective cheetah is the animalier, which I always love, with the idea of being reflective like the "lights" in the club. 
When you were designing the collection, was there anyone in particular that you imagined wearing it? 
Sergio Zambon: They are a traveller, they travel countries, cultures, styles, and mix it all together. They go on a journey of the physical and the cultural.
What feelings, messages, or emotions do you hope it instils in young people who wear it?
Sergio Zambon: The feeling of having fun with something familiar, and at the same time, something new. Familiar in terms of community.