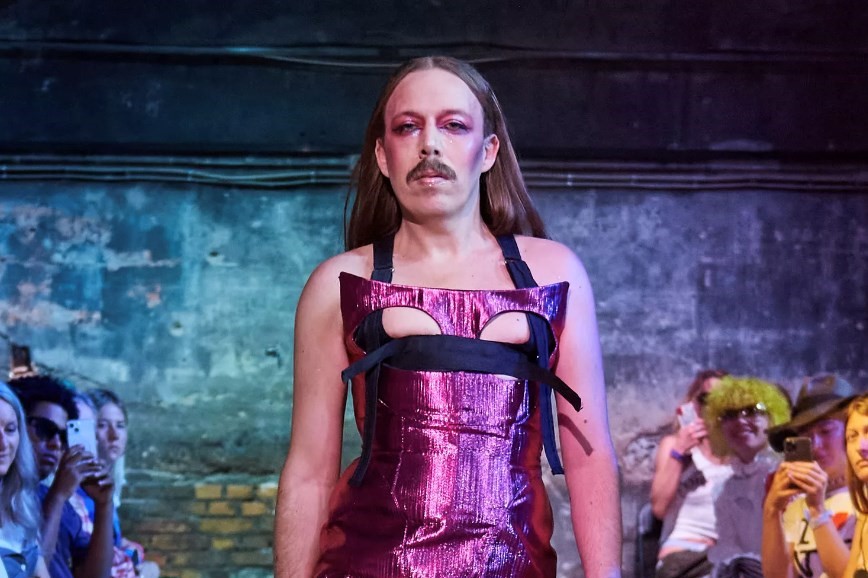 Alectra Rothschild is the designer invoking the rebel glamour of Pete Burns
We catch up with the rising Danish creative as she lifts the lid on being a quadruple Gemini, brainless TERFs, and dressing
Rishi Sunak
In Demark, locals are ONLY allowed to wear Ganni frocks, beige trench coats, and gold jewellery, sidling up to their local wienerbrød shop with the ding of a bicycle bell and their hair slicked back into a low, blonde plait. And then there's Alectra Rothschild – AKA Masculina – who's begging people to step away from the prairie dress and step into something a little more challenging. Something like a peak-shouldered, iridescent blazer with suspender straps and massive nipple holes, a second skin bodysuit barely held together by sinuous strands of fluorescent string and mesh, or perhaps a ruched LBD sliced from shoulder to hip, styled with a pair of metallic fisting gloves. Something "flamboyant, high femme, and quite shameless," as the designer puts it. 
Read More
Ronan Mckenzie explores intimacy, desire, and connection through Selasi
In defence of useless skirts
Michaela Stark wants you in her knickers!
Kendrick Lamar dedicates his entire Instagram to Martine Rose
Drawing on the "subversive glamour" of Pete Burns, Arca, and billboard queen Angeleyne – alongside friends and collaborators on the drag scene – Rothschild belongs to a new generation of designers putting community before consumption. Her breakout collection exorcised the multiple personas that make up her interior life; with pirates, showgirls, and witches conjured in three-piece suits, burlesque minidresses, and lavish etré drapes. "The people I design for are like myself, trans people, and people who subscribe to glamour and femininity," she says. Having dressed in an "androgynous" manner since the age of 13, the idea of a fluid and fluctuating personhood is essential to Rothschild's outlook. "The point of the collection was to say that you can be a lot of things all at once and to stop minimising yourself into one box when you can be 15 boxes or whatever you feel like." 
Below, we catch up with Alectra as she lifts the lid on being a quadruple Gemini, brainless TERFs, and dressing Rishi Sunak. 
Hey Alectra! Can you guide us through some of the inspirations behind your SS23 collection? 
Alectra Rothschild: The collection was called Messages from the Stars and the idea was to create these sartorial archetypes inspired by the theory of a multiple-self. So I created characters based on different versions of myself. There was The Pirate, The Joker, The Showgirl, The Witch, The Thief, The Fairy, The Babe, and so forth. All these personas were a reflection of all the sub-selves within myself, so it was a self-portrait of sorts. The point of the collection was to say that you can be a lot of things all at once and to stop minimising yourself into one box when you can be 15 boxes or whatever you feel like. 
What do you think people are likely to misunderstand about your work?
Alectra Rothschild: I've been told that "I reproduce horrible stereotypes of women". When I heard  that at university I was quite shocked as all my work is about putting femininity and femmes on a pedestal. This person also refused to use my pronouns (she/her) so then it hit me – this cishet woman was a TERF and would never understand any type of femininity I'd put on show. Anyway, I'm now making a slogan t-shirt saying: "Reproducing Horrible Stereotypes of Women Since 1992".  Which I think is hilarious. I think some people misunderstand my work as being a caricature of femininity when every part of my work is an homage to all the women who have had an impact on me, queer or not.  
When did you first become aware of the power of fashion? Did you have a freakum outfit when you were growing up?
Alectra Rothschild: I was really young when I started to dress 'androgynous' and I quickly felt other people's perceptions of me shift, which could be scary at times because standing out gives both compliments and abuse from narrow-minded people. When I was 10 years old I would wear brown bell bottom jeans, that I styled with a muscle-cut tank top, and would steal a lot of my mum's silver jewellery. I'd wear that on the school bus while listening to Christina Aguilera's Stripped album on my portable CD player. That was my first freakum outfit! 
Would you design Rishi Sunak's next TV look for £10,000?  
Alectra Rothschild: Omfgggggggggggg screamingggggggggggg. I wanna say 20 dollars is 20 dollars, but no, I couldn't!! 
What's your weirdest internet obsession?
Alectra Rothschild: Deep-diving into fan-made House of The Dragon theory videos… lol!
The most embarrassing picture on your camera roll?
Alectra Rothschild: Hmmmmmmmmmmmmmm, there are a lot of embarrassing photos… but the most embarrassing one is probably a before and after photo of me from a night out with the dolls. 
The most recent note on your Notes app?
Alectra Rothschild: It says "R.I.P. Masculina" which could be a hint at something coming! 
Your weirdest comfort food?
Alectra Rothschild: I put lemon on almost everything lately so just lemon atm.
The worst advice you've ever been given?
Alectra Rothschild: "Get your ass up and work! I feel like nobody wants to work these days". The idea that we are all equal if you work hard enough is simply not true.  
Who's your nemesis?
Alectra Rothschild: Eat the rich! If you need names it would be DJ Kenneth Cockwhore @cockwhoreandmacho.
What's your star sign and are you typical of that sign?
Alectra Rothschild: I'm just a Gemini over here Geminsing. I've got Gemini in four houses along with being double Leo… make of that what you want haha. 
Pettiest thing you've ever done?
Alectra Rothschild: Idk, I'm not that petty tbh. I'm quite forward with what I feel all the time… so I think I'm more shady than petty, at least according to my friends hehe.
What Dazed headline would you be?
Alectra Rothschild: The Controversial Artist Confronting No-One and Nothing.
Who would be in your nightmare blunt rotation? And your dream blunt rotation?
Alectra Rothschild: Omg. Just any cishet man in politics or philosophy would be awful in a nightmare blunt rotation. Dream blunt rotation would obvs be all my besties along with Doja Cat, SZA, Kali Uchis, and Arca. 
 What would your ghost outfit be?
Alectra Rothschild: I recently bought this tube dress from Anna Bolina which says 'DRAMA, POWER, FAME, GREED, WASTE, MONEY'. So that dress, all my extensions in my hair, and my silver knee-high boots with a cute handbag and a dumb ruffle coat by moi.  
What do you reckon you're most likely to get cancelled for?
Alectra Rothschild: For playing Arca's full discography at all times
Title of your biography? 
Alectra Rothschild: Turns Out I Had a Lot of Shit to Say: The memoir of Alectra Rothschild.