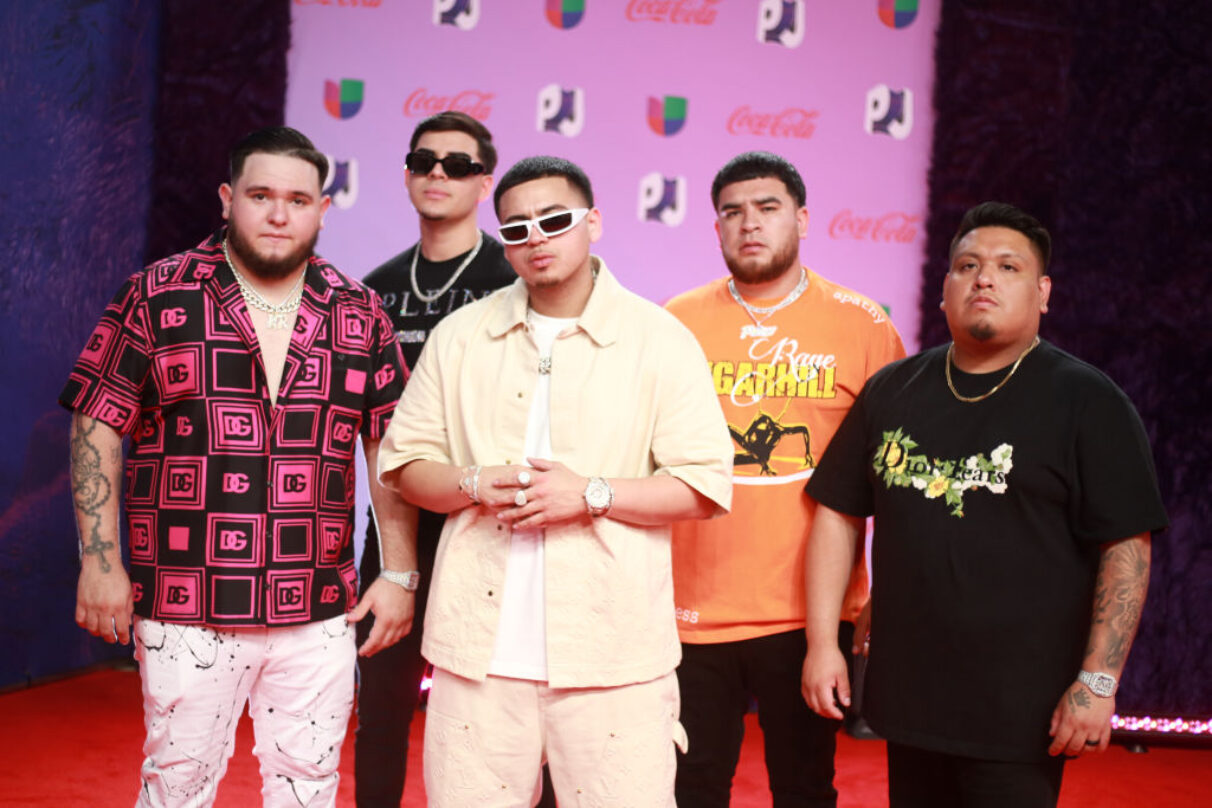 LISTEN: Fuerza Regida Releases Star-Studded New Album 'Pa Las Baby's y Belikeada'
Fuerza Regida has unloaded a bunch of new music. Today (Oct. 20), the Mexican-American group released the album Pa Las Baby's y Belikeada with features from Gabito Ballesteros, Marshmello, Manuel Turizo, Maria Becerra, El Fantasma, and many other artists.
Fuerza Regida are pioneers of the corridos tumbado movement with their Rancho Humilde labelmates Natanael Cano and Junior H. This year, the group achieved mainstream success thanks to their breakthrough single "Bebe Dame" with Grupo Frontera. Last December, they released two albums, Pa Que Hablen and Sigan Hablando. Their latest LP, Pa Las Baby's y Belikeada, now includes 30 songs. 
The new single from Pa Las Baby's y Belikeada is the corridos tumbados banger "Excesos." Fuerza Regida's lead singer, Jesús Ortiz Paz, who also goes by JOP, sings about a girl who lives an extravagant lifestyle. Fellow corridos tumbados star Gabito Ballesteros joins Fuerza Regida on the feel-good "F's." Mexican crooner El Fantasma features on the bélico track "GDL." 
Going international, Argentine pop star Maria Becerra dabbles in regional Mexican music for the first time for the dreamy "Pradax" with Fuerza Regida. Colombian heartthrob Manuel Turizo appears on the emotional "Una Cerveza." Mexican rapper Chinos Pacas later jumps on "Plvo Blnco" with Fuerza Regida and Caro.
The group also experimented with other genres on this album. They teamed up with Marshmello for "Harley Quinn," which embraces elements of house music. In "Freaky Freaky" with Calle 24 and Armenta, Fuerza Regida blends reggaeton beats into the mix. Paz later sings in English for the first time in the trap track titled "Dafuk."
The album also includes Fuerza Regida's past singles like "Sabor Fresa" and "TQM." Last month, Colombian pop icon Shakira featured the group on her corrido track "El Jefe." Becky G also teamed up with them for the duet "Te Quiero Besar."