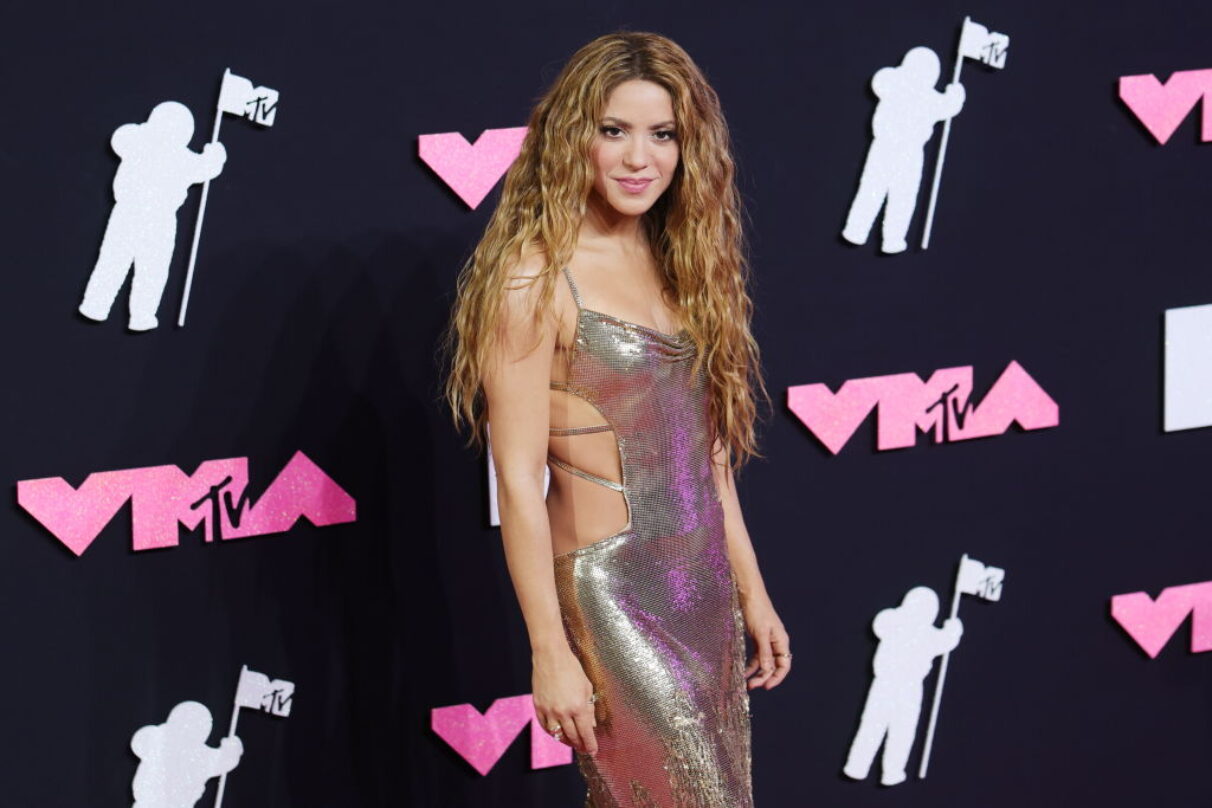 WATCH: Shakira Takes Shot at Ex-Father-in-Law in New Collab With Fuerza Regida
Shakira is officially in her música mexicana era! On Sept. 20, the Colombian star released "El Jefe," her latest collaboration with Fuerza Regida. The result? An unexpected ska-injected música mexicana earworm about hustling endlessly to secure your bag.
The new music video, directed by Jora Frantzis, starts with Shak on a black horse. She's featured dancing what looks like a mix of zapateado with her signature hip dances. Shakira opens the track by singing about wanting to stay in bed but having to take the kids to school. Jesús Ortiz Paz, aka JOP, chimes in, saying that it's always the same routine. He's seen putting in work at what appears to be a warehouse, carrying boxes on his back. Other shots show Fuerza Regida members' heads served at a dinner table where their apparent bosses eat.
Lyrically, they trade relatable verses of hustling, working hard for a boss who doesn't compensate well. However, Shak makes her verse personal by adding a line about her ex-suegro: "Dicen por ahí que no hay mal / Que más de cien años dura / Pero ahí sigue mi ex-suegro que no pisa sepultura [They say there is no evil / That lasts more than a hundred years / But there is still my ex-father-in-law who does not touch the grave]." 
Fans are vibing with the new collaboration. A social media user wrote: "Shakira's new song feels very personal to me 😭😭😭😭." 
"Just when you thought Shakira couldn't get any better, she comes up with this TRANCAZO. Not only is it experimenting with a new rhythm, but it's a return to those songs of social criticism that many of us missed," another social media user wrote. "You're pure fire, Shak! You've been dominating for over 30 years for a reason! 🔥🔥🔥🔥 #ElJefe."
Others are commenting on the daring line about her former father-in-law.
Shakira's thriving this year. From breaking records with her mega-hit "BZRP Music Sessions, Vol. 53" to receiving the honorary Video Vanguard Award at the MTV VMAs (Video Music Awards), the Colombian pop star is having a fruitful 2023. Also, earlier this week, she also received seven nominations for the 2023 Latin Grammys. 
What's next? Fans are hoping for a new album release or tour dates for next year. Though it hasn't been announced by Shak, Billboard recently reported that she's planning a tour for 2024.
Check out the official music video for "El Jefe" below.