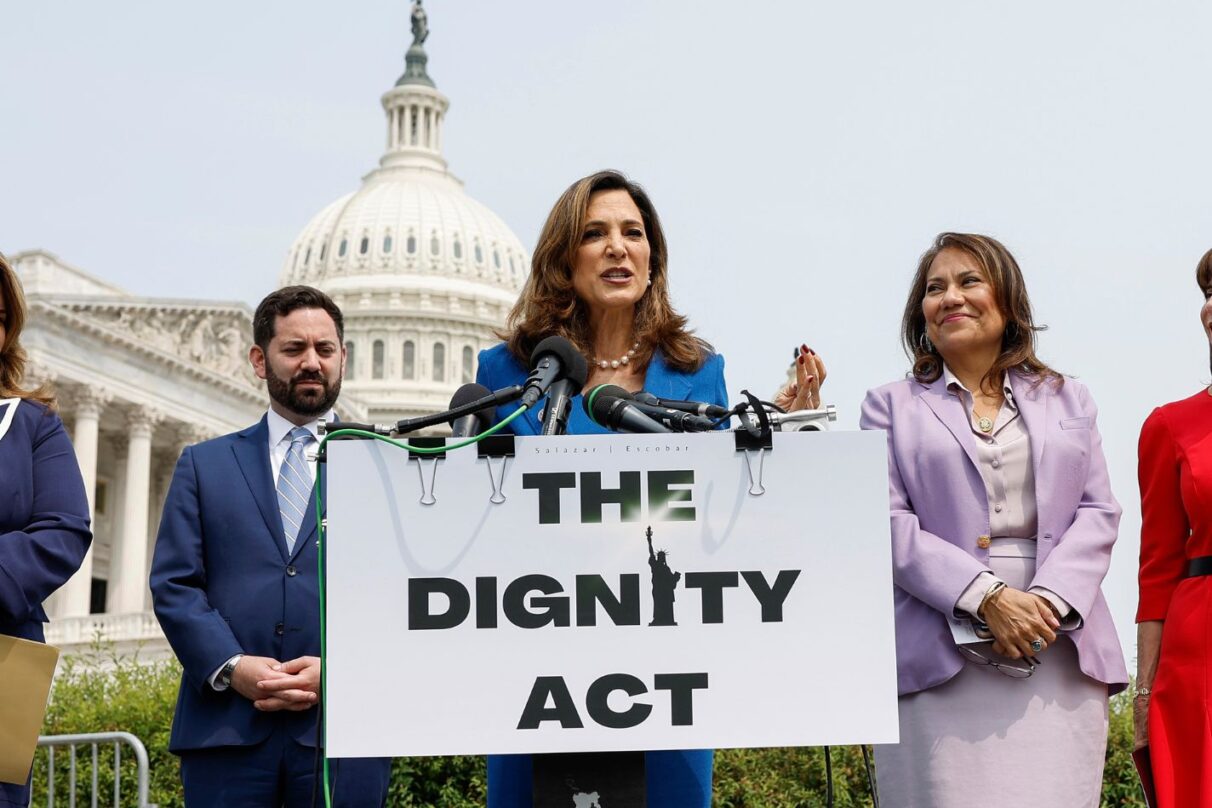 Two Latina Representatives Unveil 'The Dignity Act' — Here's How It Would Help Immigrants
Two Latinas in the House of Representatives proposed a bipartisan immigration bill on Tuesday (May 23) in an effort to create a new pathway to legalization for the estimated 11 million undocumented immigrants in the US.
The Dignity Act of 2023 by Rep. Veronica Escobar (R-TX) and Rep. María Elvira Salazar (R-FL), if passed, would create a two-part track to legalization that entails a 12-year long process.
Per CBS, Escobar told reporters, "The only way our country is going to adequately meet the challenges before us is this way, in a bipartisan manner, with true compromise." Part of the bill's aim is to:
Streamline the asylum process so that a response is received within 60 days

Provide a faster pathway to legalization for migrants with Temporary Protected Status and people who arrived as children (Dreamers) 

Increase the number of caps on visas for people who have relatives or employers who can sponsor them to get green cards 

Fund asylum processing centers in Latin America to discourage people from showing up at the border

Create "humanitarian campuses" where asylum applicants must stay until they receive an answer to their claims
But the bill would also require the border to be declared "secure" for any adjustments of status to take place. The Dignity Act of 2023 is less stringent than a GOP-proposed alternative, but requiring the border to be declared "secure" in order to trigger an adjustment of status would pose major challenges to people who currently need a pathway to legal status in the US.
The Dignity Act comes at a time when Florida passed a new anti-immigrant law that doesn't go into effect until July 1, 2023. SB-1718 would criminalize "Floridians who shelter, support, and provide transportation to undocumented immigrants, including those who have overstayed their visa…" according to the ACLU. In turn, Florida has seen immediate consequences to their actions with empty worksites, including construction and in agriculture. And it's only further proof of how integral immigrants are to the fabric of the U.S. and how a more sustainable form of citizenship is needed.