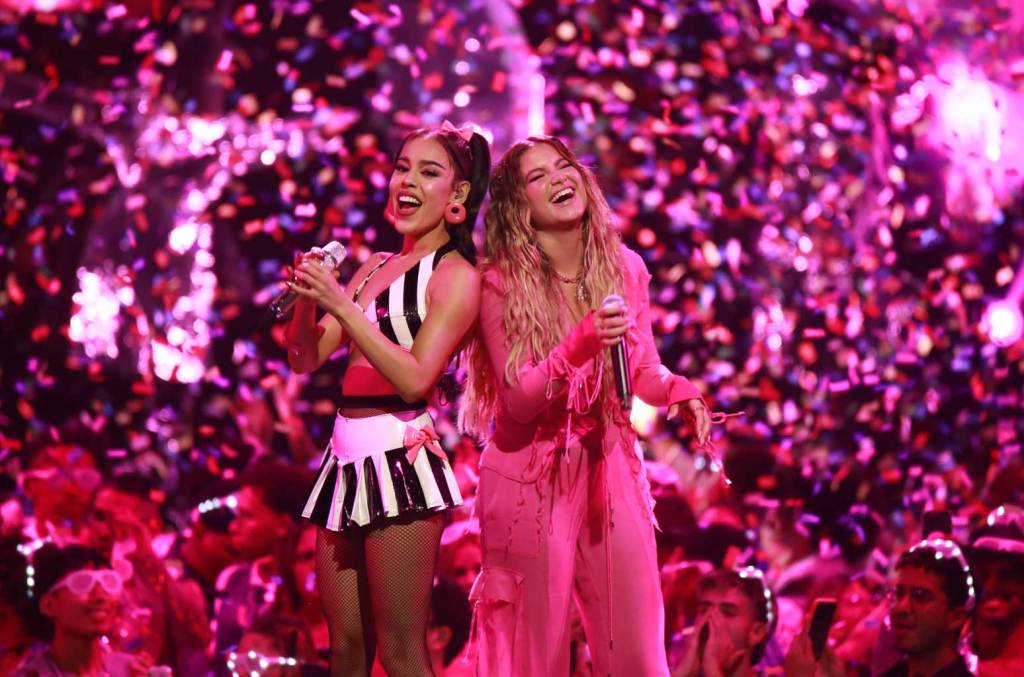 Sofia Reyes & Danna Paola Reveal How Kim Petras Jumped on 'TQUM' Remix
Sofia Reyes and Danna Paola's friendship shined during their closing performance at the 2023 Premios Juventud on Thursday (July 20), where they took center stage to sing "TQUM." 
Prior to their energetic performance, the two Mexican stars shared that a "TQUM" remix with German singer-songwriter Kim Petras is coming soon. "It was so weird," Paola, who nabbed the Premios Juventud award for female artist on the rise, told Billboard exclusively on the red carpet. 
Reyes explained that they approached her after they noticed that Petras was listening to "TQUM" on her Instagram stories. Both Reyes and Danna have been fans for a while. 
"I've been following Kim Petras for a long time, before she even got famous," Danna said. "She's a woman I admire and who represents me in so many ways, through her music, her artistic expression. She genuinely began using our song in her Stories, and Sofia and I were shocked. We wrote to her on Instagram DMs, and she said she felt honored and wanted to do the remix. We talked to her, and we had the most epic FaceTime with her at the studio — she even cried. She's an amazing human being and makes me feel very proud. A big dream of ours came true, not only two Mexicans collaborating and enjoying this release, but now that Kim is part of this story, it's truly wonderful."
Marking Reyes and Paola's first-ever collaboration, "TQUM" — released in March as Reyes' first single off her upcoming album — is an abbreviation for "te quiero un monton (I love you a bunch)." The ultra-pop song finds the Mexican stars reminiscing on good times with a significant other who's already moved on. But "now that I really think about it, I love you a bunch and it's not easy. I was so blind that I couldn't see what went wrong. How did I lose you but still keep loving you," they sing.