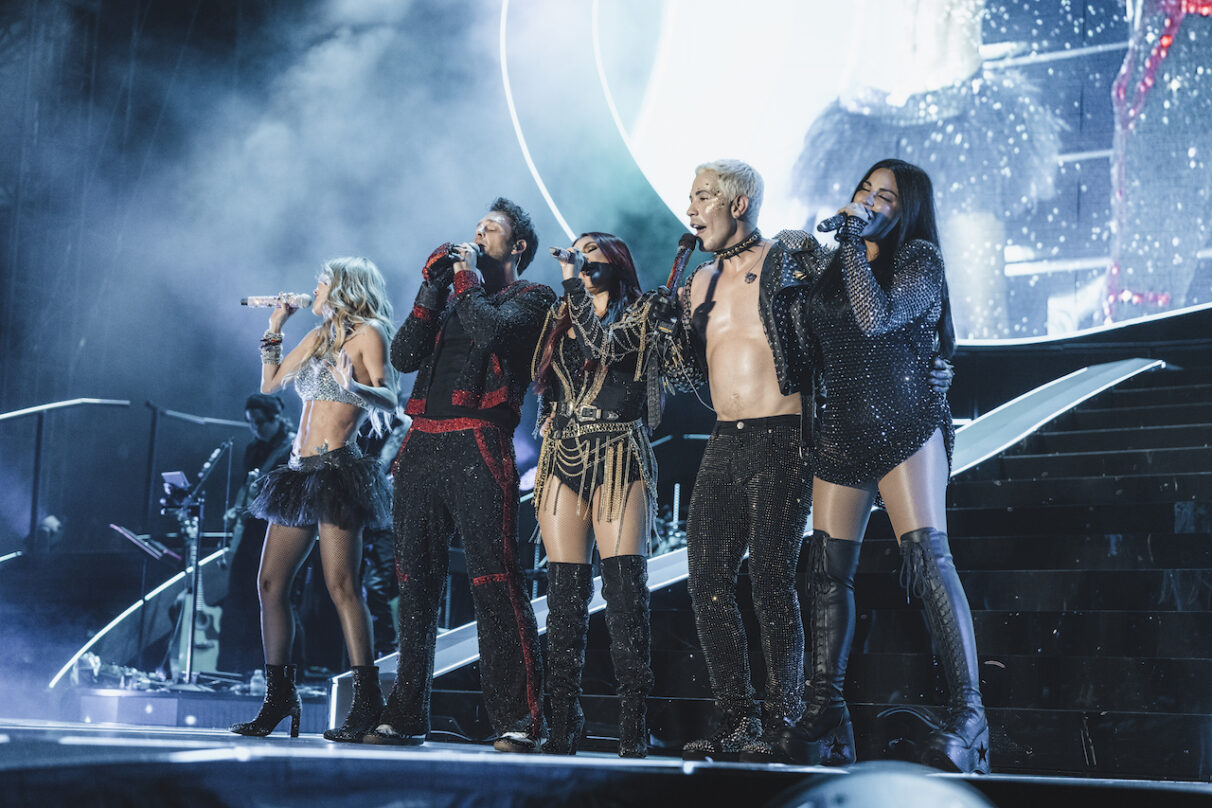 RBD Opens Up About Alfonso 'Poncho' Herrera Not Rejoining The Band
With their epic return, RBD is opening up more about the highs and lows of their musical trajectory. In a Billboard cover story released today (Aug. 31), the emblematic Mexican pop band talked about their feelings towards Alfonso "Poncho" Herrera opting out of the reunion. They also spoke about their previous contracts, among other subjects.
"We've realized RBD is bigger than its members. That's what makes it such a magnetic force. We used to think, 'RBD doesn't exist without its members.' And the truth is, RBD…" Christian Chavez told Billboard about the absence of the group's sixth member before Anahí interjected, adding, "… is RBD." 
Chavez continued: "Obviously, we love Poncho, and we wish him the best, and we thank him for always sending us good vibes when they ask him about us. But the truth is, at this stage, we're more focused on giving our all to RBD. It's as if we were Charlie's Angeles and Charlie is RBD."
Truth is, it's no surprise that Poncho isn't part of the reunion tour. In previous interviews, he's expressed his personal experience with the phenomenon. In 2015, he told Noroeste: "I confess that singing was never my great passion, but RBD will always be a part of me. I have discovered that cinema is my great passion. Making television is an exercise, doing theater is a delight, but what truly marks you is cinema."
Moreover, when Remezcla interviewed the Mexican actor last year, he echoed the same gratitude for being part of the cultural phenomenon, regardless of not participating in the brand's future projects. "It was amazing, to be part of a project that was so important for a generation," he said. "I don't have anything but words of gratitude for being part of a project that I enjoyed, that I valued. We traveled a lot. Imagine, I was 20-something, and I had the opportunity to travel the world, meet many people, get to know cultures, cities I never imagined I'd visit and experience."
However, he also talked about being aware of contracts, something that soured the band experience for the members involved. In 2022, he wished the new Rebelde cast success but also advised the new crew to make sure to check their contracts. "If there's something that I can help them with, it's [advising them] not to make the same mistake I did, which was not checking the contracts that well," he told Remezcla then.
Back in their heyday, Billboard reports that Televisa's contract at the time gave the members a salary but no extra income from the recordings, merchandise, or touring. Fortunately, things have changed this time around. Per Billboard, the manager, Guillermo Rosas, and the five band members are now "equal partners" in the group's new chapter. The publication points out that they still have to pay for the use of the brand's name to the original rights holders, but other than that, Rosas and the RBD members would split the rest.
Though the bandmates are now aware of the unfairness of their past contracts, they remain positive about what the brand gave them then and continues to give them. "You have to see it from the stance of gratitude. Everything we lived brings us to this point, where we can come together as the owners of our project. If we hadn't gone through that, we wouldn't be here. We're here with hearts that healed, that went through a lot, and what we haven't healed, we will heal together, holding hands," Anahí said in the interview.