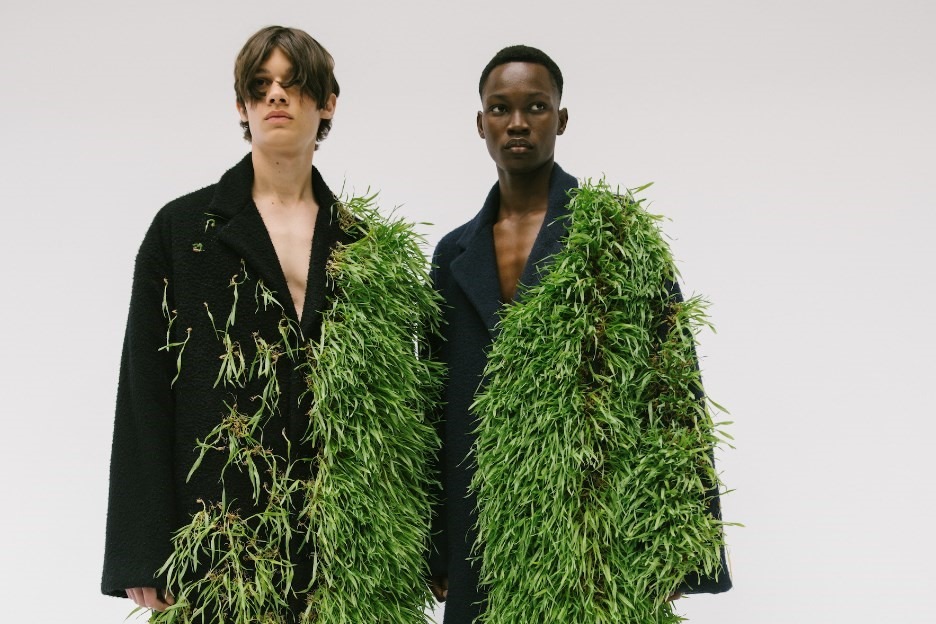 Meet the young Spanish designer responsible for Loewe's horticouture
Paula Ulargui Escalona pollinated Jonathan Anderson's most recent collection with living,
breathing garments
The pandemic seemed to stir in Jonathan Anderson particular questions about the point and purpose of fashion. From his paper cut-outs of lockdown, the designer has leaned full tilt into absurdism, reckoning with form and function via creations that toe the line between clothing and sculpture. Consider the bicycle tees of his most recent JW Anderson outing, for example, the effect of which was somewhere between Sasha Fierce in her turbocharged Thierry Mugler moto-bustier, and a Monster-swilling 13-year-old wrapped around their BMX handles. 
Items like those will never make it onto the shop floor, but they send a particular message on the runway, and it's at Loewe where Anderson really lets his freak flag fly. His latest offering in Paris saw the designer forge outerwear from iPad screens and handbag debris, with lighters, cables, and hair bands providing a tactile surface to buttery leather macs. What will remain in people's memory, and newsfeed, however, is the work of horticouturist Paula Ulargui Escalona, who collaborated with Anderson on an allotment's worth of life-giving garments. 
Read More
Jacquemus enters his space age with a very Dune-esque show
Harry Styles has taken over Gucci
Exploring the connection between art, nature, and the body with On
Paris Fashion Week Men's, these were your best bits
As mossy knolls pollinated tracksuits and hoodies, sneakers looked as though they had been yanked straight from the earth, half-and-half coats had been seeded with shaggy saplings, and tendrilous blades of grass burgeoned across denim like an unruly mons pubis – which could also be spotted at Mowalola and Louis Gabriel Nouchi. The whole thing seemed to recall the experience of growing watercress in a classroom (the invititation was a literal box of cress) only the pieces were actually cultivated over 10 days in a polytunnel on the outskirts of Paris. It was, as Anderson would explain backstage, a battle between modernity and Mother Earth. "Soon, the only place we might be able to see bees and rare flowers could be on a screen," he said. 
While luxury brands careen headlong into the metaverse, Escalona is doing the very opposite, urging people to reconnect with nature as a way to root out the future, informed by her own experience of weaving hemp in Asia. "The only way for us to create a more sustainable way of living is to understand nature," she says. "These pieces are an exercise in taking it slow, being calm, patient, and delicate with the things we cherish." Below, the young Spanish designer talks us through her madcap methods, a hippy upbringing spent in alternative education, and her experience of working with Jonathan Anderson.
Hey Paula! First of all, congratulations on the Loewe collaboration. Can you walk us through your background?
Paula Ulargui Escalona: So, I'm a designer from the north of Spain, but I've lived my whole life in Madrid. I've always been interested in fashion because my mum's an artist and I spent my entire childhood in her studio, experimenting with materials and making small pieces of art. When I was 13, I started to create in 3D but never with the intention of doing clothing, really. I only achieved real clarity when I studied design at university, when I began to see the value of fashion in social and creative terms, alongside the challenge of making it all sustainable. That's what inspires me. 
You went to a Waldorf school and a hippy boarding school in the UK. Was it there your interest in horticulture began to bloom?
Paula Ulargui Escalona: Yeah, I spent my whole life in alternative education, which I'm really grateful for. It was during those years that I grew the values that guide my work. In fact, that's where I learnt about gardening, we had classes and picked food from our own allotments. It was all about taking care of the environment and understanding what nature can give us and how much we can learn from it. 
Why and when did you start to experiment with biomanufacturing? Was there a particular catalyst?
Paula Ulargui Escalona: I had a crisis during my first year of uni. I was about to drop-out because I wasn't feeling very fulfilled and I didn't feel as though I wanted to be part of the fashion industry. But that summer, I went backpacking through Asia with a friend and I spent a few days with two locals weaving hemp and dying fabrics. That experience reconnected me with the values that I wanted to express in my work, and so, from then on all my projects became about sustainability, craftsmanship, and returning to the earth, looking at artisanal techniques to create something new. 
How would you describe your design aesthetic now?
Paula Ulargui Escalona: I never lead with aesthetics, I like the seedlings to create the final piece because the beauty of each item comes from nature. In fact, I always like to talk about the pieces as collaborations with nature – I just offer a canvas and let it express its own beauty. I spend a lot of time trying to find different plants with different colours that can create contrast, shapes, and patterns. It's always about helping these little babies grow.
Do you think clothing can actually help us to reconnect with nature?
Paula Ulargui Escalona: It's a philosophy of mine – I truly think we have to reconnect. It's not just important, but mandatory. The only way for us to create a more sustainable way of living is to understand nature. There are so many different interactions and relationships between different species of plants that enable them to grow better. And it's those small details in plant biology that we could use to improve our own society. When we see our own bodies as part of the natural world, we can learn to take care of them properly. It sounds so 'hippy' but that's how we can live without causing harm. 
What was your experience of working with Jonathan Anderson?
Paula Ulargui Escalona: Jonathan has an incredible team behind him and we've been working together to make it happen for a while. They first found me through my website and reached out to me there, I remember I was in shock, I couldn't believe it. Jonathan is super nice, he was always kind to me and thanked me for all the work I had done up until the last day. The project was a huge challenge, trying different plants, colours, and making many, many tests. We grew more than 40 pairs of shoes in 10 days. I honestly couldn't be more thankful, though, for all the interest they've shown in my work.
Do these pieces have a shelf-life or can they live forever?
Paula Ulargui Escalona: The pieces live as long as you take care of them. In theory, the plants can keep growing and growing until they're eventually edible. I do have ideas in mind of how to keep them alive forever, but then we'd be talking about something completely different. I mean, we can't expect to wear something alive but never take care of it. I once made a piece that I managed to keep alive for 3 months. I think it's a good exercise for society to truly take care of things, take things slow, be calm, be patient, and be delicate with the things we cherish.  
What else can you grow on clothing? What are some of your craziest creations? 
Paula Ulargui Escalona: To be honest, I've been able to grow everything I've ever wanted, but I would say that the craziest creation was this top where I managed to inoculate mycelium to grow wild, colourful mushrooms. That being said, I don't wear the pieces in my everyday life – at least not for now. My biggest dream is to find a way to make it all more stable, with prolonged longevity.