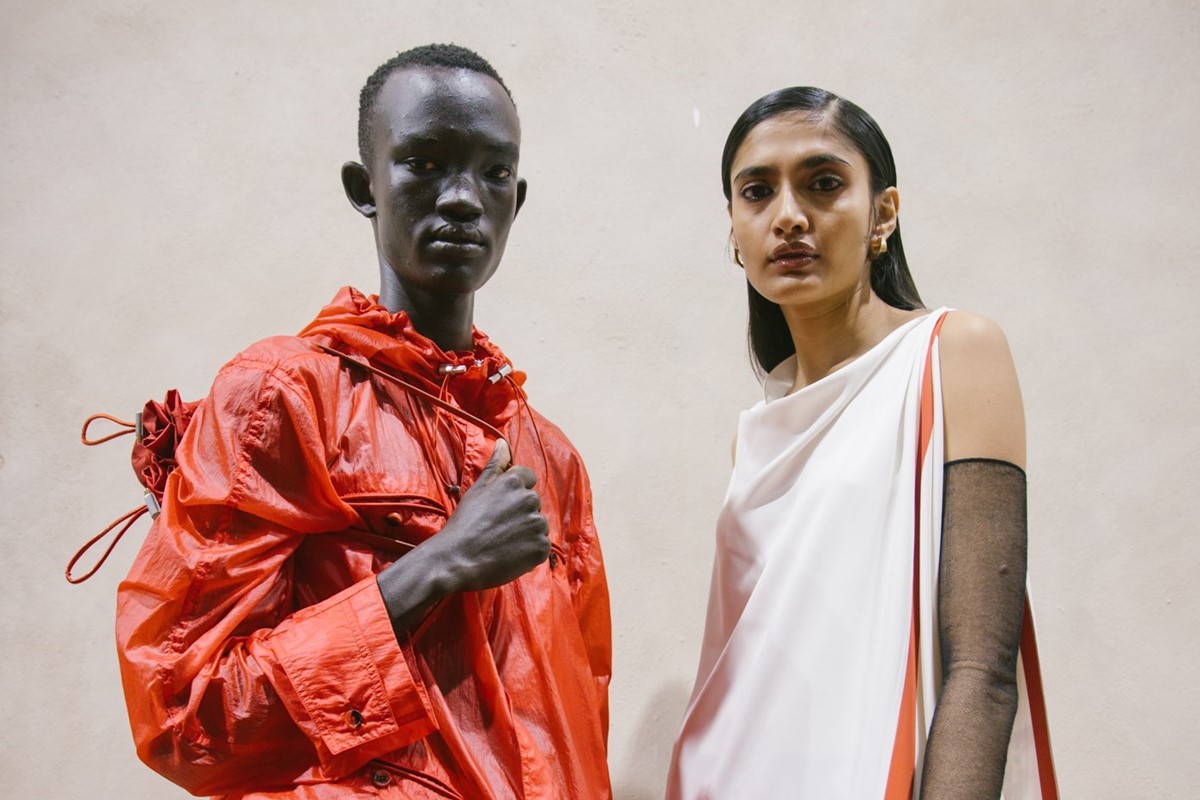 Maximilian Davis' Ferragamo debut was all killer, no filler
The Mancunian designer's first collection at the helm of the Italian house deserves all the hype
and more
In 2022, it's rare that fashion's most prestigious houses will take a chance on a rising star. Whereas the 90s and 00s saw rebellious young upstarts like Alexander McQueen, John Galliano, and Riccardo Tisci handed the keys to Givenchy and Dior, right now it feels like there's an endless game of musical chairs happening in the upper echelons of the industry, as the same small handful of designers switch and swap between the biggest maisons. 
It was an exciting moment, then, when Salvatore Ferragamo announced it had appointed Maximilian Davis as its new creative director earlier this year. The Italian brand was known for kitting out Hollywood's glitterati back in its 1950s heyday, but in recent years had become a safe space for middle-aged women looking out for a knitted twin set and a pair of sensible heels.
Read More
Splat! Every single model stacked it at AVAVAV
Anarchy in the USA: street style shots from New York Fashion Week
Gucci just said Gemini rights with an uncanny, all-twin show
The not-so Simple Life! Paris Hilton shut down Versace's SS23 show
Fresh out of Fashion East, and without even having shown a collection of his own under eponymous label Maximilian, Davis might seem like a curveball for the conservative house. But for those in the know, who've followed his trajectory across the course of the last couple of years, he couldn't be anything other than a sure bet – with his graduate offering as part of Lulu Kennedy's talent incubator demonstrating the kind of skill and finesse that far belied his years and experience.
Cut to Saturday at Milan Fashion Week, and, despite the looming grey clouds and miserable downpours drenching the fashion capital, the atmosphere was unsurprisingly buzzing for Davis's big debut. Taking over the unfinished site of what's set to be a grand Ferragamo hotel, the designer filled it with deep red sand to further hammer home the house's new signature hue – a nod to a colour seen frequently throughout his own collections, the colours of the Trinidadian flag, and the iconic ruby shoes Ferragamo created for Marilyn Monroe.
With his family and chosen family sitting front row ("Is this Milan or is it London?" joked one of the crew), Davis made a strong start in his new position. First out of the gate was an all-camel look for him and her, which incorporated a languid suit, complete with button-down shirt and tie, layered with a buttery-soft suede trench, before a typically Davis slinky mini skirt and boxy, almost sci-fi-esque, jacket followed. Leather blazers with mega short-shorts, as well as high-waisted trousers, halterneck, and asymmetric, one-shouldered tops were worn by models of all genders, with "slightly perverse" playsuits with utilitarian detailing finishing things off. 
With Davis explaining he was thinking about the house's heritage as Old Hollywood's go-to outfitter, and creating for "the new Hollywood" backstage, it was his show-stopping, red carpet-ready looks that really sang. Inspired by artist Rachel Harrison's Sunset Series, diaphanous ombré sheath dresses skimmed the body, evoking the painterly daubings of the early evening sky as day turns dramatically into night. 
Post-show, Davis told the jumble of reporters vying for a quote he hadn't been intimidated at coming into such a storied house. "The team has been so supportive, and having access to the kind of resources I have has been amazing," he explained. The only difference, he revealed, was that instead of being limited to small capsule collections, now, he can send offerings 67 looks strong out onto the runway. And, when each and every Maximilian collection was an all killer, no filler affair, what could be better than that?