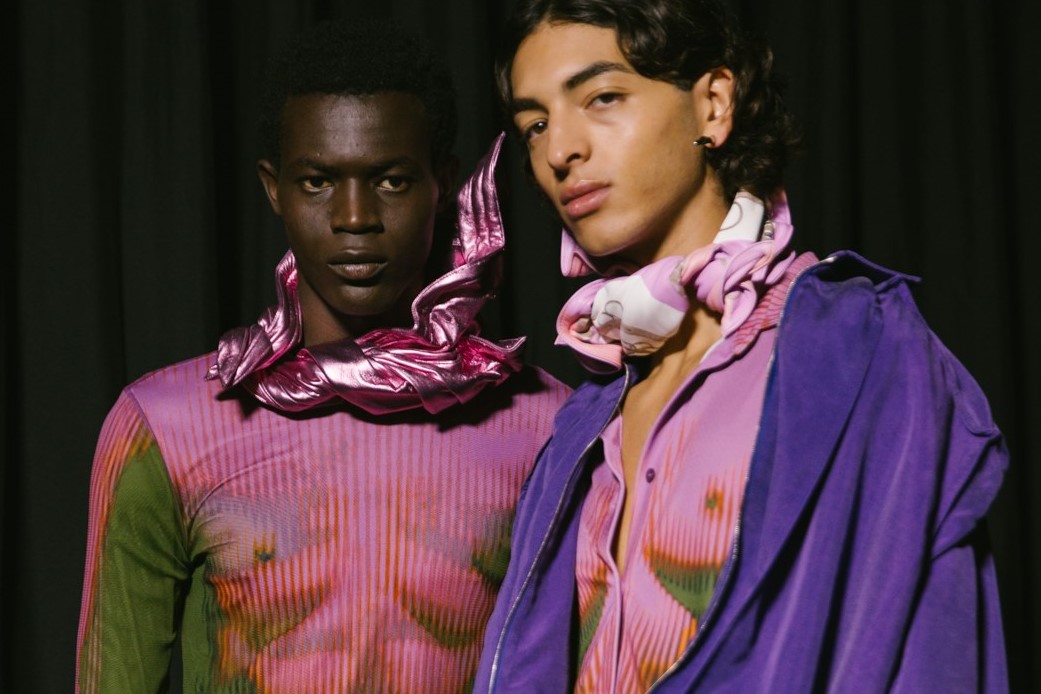 Your big, bumper guide to the best moments of Paris Fashion Week men's
Kanye and Julia go fashion week official! JW Anderson is a social media troll! Rick Owens debuts the (definitely wearable) accessory of the season! Glenn Martens goes Gaultier crazy! This and much, much
more inside
And just like that, the first Paris menswear outing of the year was over. AW22 was the season we said our official goodbye to Virgil Abloh, as Louis Vuitton presented his final collection for the house, and some more goodbyes to ALT and Thierry Mugler. But it wasn't all sad. We also said hello to Bianca Saunders, who landed at PFW for the first time, Nigo, who made his debut at Kenzo, and Kanye West and Julia Fox, aka FoxYe, who, despite there not being a branch of Carbone in Paris, went fashion week official and took their seats on the sidelines to cheer him on. But what of the rest of the collections? As ever, we've rounded up the must-sees. Don't say we never do anything for you.
Read More
"If Beyoncé can do it so can I": Rich Mnisi on taking South Africa global
Hunter Schafer and Lorde talk style evolutions, and more news you missed
What went down at Virgil Abloh's final Louis Vuitton show
Fashion legend André Leon Talley has died
BLUEMARBLE
Day one of Paris Fashion Week's AW22 menswear edition kicked off with a bunch of rising designers putting their wares on show, with the likes of Egonlab, Georges Wendell, and Bluemarble among them. The latter's presentation was a banger of an affair, as tracks by Britney Spears, Fatboy Slim, and Crystal Waters reverberated through an industrial space in Bastille. The offering itself was full of oversized, distressed knits, wide-legged dad jeans, colour-blocked windbreakers, and XXL outerwear in tie-dye prints or otherwise trimmed with fluffy shearling and leopard lapels. Sitting somewhere between skateboarding stoner and something altogether more glam, designer Anthony Alvarez's initial inspo came by way of the traditional vinta boats that drift in the waters off the Philippine island of Mindanao. 
BIANCA SAUNDERS
Former Dazed 100er Bianca Saunders' name has been on everyone's lips for a good few years now, so it's hard to believe AW22 marked her first ever runway show. Switching her home city of London out for Paris's Palais de Tokyo, the designer sent a collection of sensuous, contemporary menswear storming round the revered space's halls, with warped, Tron-like printed shirts and trousers wrapping sinuously around her models' bodies, and louche, relaxed suiting all key to her concept. Rendered mostly in an understated palette of black, white, and grey, special shout out goes to the flashes of olive green, retina-obliterating chartreuse, and punchy pimento red that punctuated proceedings, seen across standout, fine-gauge sweaters, leather trousers, and outerwear.
AMI
And the AW22 prize for most major runway line-up goes, without a shadow of a doubt, to AMI's Alexandre Mattiussi, who sent new-gen and established supers in the form of Mariacarla Bosconi, Laetitia Casta, Paloma Elsesser, Jill Kortleve, and Emily Ratajkowski down the runway (with Elsesser's brother Sage and Charlotte Gainsbourg's son Ben Attal making up the menswear contingency behind them). Intent on making clothes for "everybody" this season the French designer looked to Paris' travel networks for inspirations, sending editors a cute AMI-branded Metro pass and staging the whole thing in former stock exchange Palais Brongniart, which is located above a major traffic hub. "It's the only place in the city where everybody is on top of each other. There's an old lady, a guy coming out from a party, a guy on his way to work, kids, grandmothers, different vibes, different cultures," he told Vogue. This hotpot of influences translated into a mish-mash of a collection, as slick AMI tailoring met party-appropriate looks in the form of satin polka-dot slips, sequined sheath dresses, silky dress shirts, and more than a few faux fur finishings, including uber-glam stoles and overcoats worn off the shoulder. I personally never tend to feel particularly inspired on my 7.45am commute on the Central line, but honestly, go off Alexandre. 
Y/PROJECT 
If this list chronicles the must-sees of Paris Fashion Week, then Glenn Martens latest Y/Project show is surely one up at the top. Seriously: it was that good. Taking over an cavernous DPD depot, it also had the longest runway of AW22, with models taking almost five minutes to make their way up and down it. But what of the clothes? Well, they were all as brilliantly subversive as always, with Martens sending out skewed, crushed velvet and silk suiting, hefty homespun knits with matching balaclavas, and a succession of twisted denim looks as standard. Perhaps most exciting, however, was the glimpse we got of a series of Y/Project x Jean Paul Gaultier pieces in the form of skin-tight mini-dresses, sweeping gowns, and boxy tailored jackets bearing reworkings of Gaultier's iconic trompe l'oeil body prints from 1995. Stay tuned for Martens' own Gaultier Couture show as he takes over the house for one season only this Thursday (January 27).
RICK OWENS
Rick Owens turned the lights down and the strobes up with a show that took place in the belly of the Palais de Tokyo. Sending a squad of 'LANGUOROUS GLAMASLEAZY LIGHT SEEKERS' (all caps, as per his press notes and any other correspondence for that matter) stomping through the space, silhouettes were as hulking and formidable as ever, with enormous sleeping bag-like coats and distressed knitwear blown up to swamping proportions balanced out by moto-style slim-fit jeans and second skin leather trousers, as well as tunics bearing slogans like 'Urinal' and 'Subhuman, inhuman, superhuman' (which harks back to his 2017 exhibition in Milan, FYI). Best of all, however, were the glowing, antler-like sculptures that sat atop the models' heads, causing them to bow like reverent stags as they made their way through the slightly-too-small doors of the Palais. According to the designer, though his cast carried battery packs to power the fluorescent tubes, by the time AW22 rolls around and the collection is landing in shops, its standout light fixtures will be available to affix to your wall. Time to get saving.
DIOR
Things took a turn for the meta at Kim Jones' latest outing for Dior. Erecting a huge box close to the banks of the Seine, the designer transported guests to… well, the banks of the Seine, as he recreated the Parisian river's promenade inside – Eiffel Tower sparkling in the background and all. Having just shown a collection approx. eight minutes ago, as he landed back in London shortly before the Omicron sitch got way out of hand, somehow Jones' creative juices had been flowing over, as he presented an offering of slick, contemporary tailoring offset by signature flourishes. With louche, wraparound jackets, ankle-skimming trousers, and elegant car coats layered over Swarovski crystal sheaths, and sensual, semi-diaphanous shirts, there was also a further smattering of berets c/o Stephen Jones, gorj jewelled gloves, and a somewhat unexpected collaboration with Birkenstock, whose lockdown fave, the Boston, had been given a Dior edge through luxe fabrication and yet more glinting shiny bits.
JIL SANDER
Indie sleaze was alive and well at Jil Sander (at least when it came to the show's soundtrack), as models made their way through an impressive church to a medley of Animal Collective songs. The collection itself was made up of the things Luke and Lucie Maier do best: think heavy, sloped-shoulder car coats, luxurious but cosy fine-gauge chenille knits, and sharp but easy-to-wear suiting, thrown slightly off-kilter, in typical Jil Sander fashion, by the flashes of crochet and macramé that burst from the chest or otherwise snaked up trouser legs. Seemingly the designer duo had also been getting acquainted with Co-Star ahead of AW22, sending out a series of pieces bearing horoscope-inspired prints. To paraphrase that iconic Avey Tare line: "I just want four walls / adobe slabs / and one of those silky 'Scorpio' scarves for my girls." And by girls, I definitely mean me.
LOEWE
Seems like Jonathan Anderson won't be stepping into the metaverse any time soon, as he used his AW22 collection for Loewe to troll social media and the whacked out grip it has over us. Dropping hun-tastic toxic positivity mantra 'Live, Laugh, Loewe' teaser on his IG in the hours ahead of the show, the collection was littered with hashtags, as Anderson transformed your mum's fave wall plaques – reading 'Smile' and 'Hello' – into brilliantly naff belts, plastered cute kittens across oversized, sweeping tunics, and wired classic car coats and trenches with lights that glowed out from cuffs and hems, as if a smartphone were being clutching inside. Circular, skew-whiff shorts and t-shirts spoke to the over-editing that's rife across Instagram, and the ubiquitous bathroom selfie even got a look-in, as Anderson plastered shiny chrome plugholes across luxe leather bags, boots, shirts, and sweaters. T-shirts bearing photos of the models that wore them hinted at the shiny, happy lives we curate online and what lies beneath, while knitted balaclavas – seemingly not going anywhere for AW22 – had heart-shaped peep holes, in reference to the Snapchat and Instagram filters we've pretty much all had a go on, at one time or another. All in all, a lot of fun with a slightly darker undertone – much like an hour spent scrolling social media. 
GMBH
Since establishing their demi-couture line, over the past few seasons Benjamin Huseby and Serhat Isik have crafted an increasingly nuanced menswear look. Where their earliest offerings were rooted in sweat and shuddering techno, sending out jockstrapped workwear and wipe-clean vinyl jackets, this season forged a menswear dialect that felt a little less blunt in its disection of queerness, religion, sex, Islam, and race. As such, gendered codes of dress were tickled more than they were twisted, as the duo doubled down on their revenge dress necklines and transformed dad blazers into mini-dresses with leather thigh-high boots. Swollen, faux fur cuffs, exposed backs, and knitted skull caps were graceful and challenging, while highly-sculptured dress jackets felt more avant-garde in construction than we have previously seen from the brand. The whole thing leaned into the poetic – or prophetic – idea of a talisman, with the designers showcasing silk shirts and billowing trousers indebted to the kind of calligraphy-decorated undergarments that Ottoman soldiers would have worn in the 16th century.  "We have always talked about fashion as a kind of protection, of the physical and spiritual kind," they said. "Fashion as a shield."
ALAÏA
Pieter Mulier christened the beginning of couture week with his second collection for Alaïa. The crux of the show was simple – an André Leon Talley quest for beauty for beauty's sake – but one that has seemingly been absent from much of contemporary fashion. "Follow a quest / of beauty and fashion / nothing more," Mulier explained in his press notes-cum-poem. At the expense of a conceptual red thread, the offering was bound by a set of motifs: fabric which flounced at the shin, asymmetric catsuits, and roll-necks which could be tucked over the face. Azzedine's hand continued to trace the contours of the body in peplum kicks, bandeau straps, and svelte body stockings, but Mulier pushed the founder's worship of the female form into something pagan. Collaborating with the Picasso foundation, Mulier sent out a score of trompe l'oeil dresses embroidered with rough-hewn motifs taken from the artist's one-off ceramics. The star of the show, however, was an hourglass dress forged from 39 leather belts, each of which could be unbuckled, unleashing a DIY slit to reveal as much or as little flesh as a wearer fancies.
KENZO
As Julia Fox, Kanye West, and Pharrell waited in the wings, legendary streetwear designer Nigo presented his debut collection for Kenzo at Galerie Vivienne, which is the same 19th-century arcade where Kenzo Takada opened his first shop almost 50 years ago. On the runway, Nigo paid tribute to both the founder's legacy, using his sketches across varsity style jackets, and former designers Humberto Leon and Carol Lim, emblazoning their signature tiger motif across gloves, scarves, belts, and fur trims. Soundtracked by A$AP Rocky, Kid Cudi, and Tyler, the Creator – tracks taken from Nigo's upcoming album – he married Japanese and Americana workwear into a European sensibility. Think kimono bomber jackets, traditional 'Samue' tops worn over pinstripe Brittannia tailoring, and utilitarian worker jackets blasted with cutesy cherry blossom cartoons. Like any designer's inaugural collection for a storied fashion house, Nigo was dutied to showcase his awareness of Kenzo's codes and references, but it still felt inimitably him. Then again, having studied at the Bunka Fashion College in Tokyo and beamed their designs across the world, Nigo and Takada may have more in common than one might anticipate.
WALES BONNER 
Dubbed Togetherness, Wales Bonner's collection pays homage to musician Don Cherry and his artist wife Moki Karlsson – a "love that is sewn together cannot be untethered over time," as the designer's woozy short film narrates. And indeed there is a timelessness to Bonner's offering as she imbues the everyday with tactile poetry and an artisan's touch. Think brocade Mary Janes and technicolour adidas Gazelles jigsawed together from squares of crochet and sequins. It looks deceptively simple but Bonner is in the details. As such, duffle coats have been toggled with bits of lapis lazuli while knitted dresses and striped dashikis are punctured with mirrored rounds. Tailored jackets are given contrast seersucker sleeves (woven by craftspeople in Burkina Faso) and beaded necklaces sit above shrunken t-shirts, giving the collection a balmy, nomadic energy. AW22 marks a new era for Bonner, too, as she launches a record label bearing the same name as the collection, which will publish world music on vinyl. It's an expansive project but goes back to the designer's starting point for the season – to mine the slipstream between past and present, to occupy the space between homespun and new, and to create a bloodline between heritage and modernity.
CASABLANCA
Casablana's winter collection was dedicated to Paris in the late 90s, an era when the news cycle was dominated by Princess Diana, Dodi Al Fayed, and Jacques Chirac. Having come of age during that time, Charaf Tajer romanticised the period with delicate couture touches. Intricate beading traced the brand's signature curved prints and glitzy tuxedo embroidery project a certain softness onto the Casablanca protagonist, as the designer played with ideas of masculinity. The theme of flight is perhaps the most obvious of the collection, as Tajer aligns the technological beauty of the concorde with the natural resplendence of a swan, which glides through the air in the label's AW22 video. That's both a metaphorical point of reference, with white crested capes, cascading feathers, and swan print minidresses, and literal, with retro flight attendant-inspired pieces and a life vest-indebted puffer – a collaboration with Globetrotter.