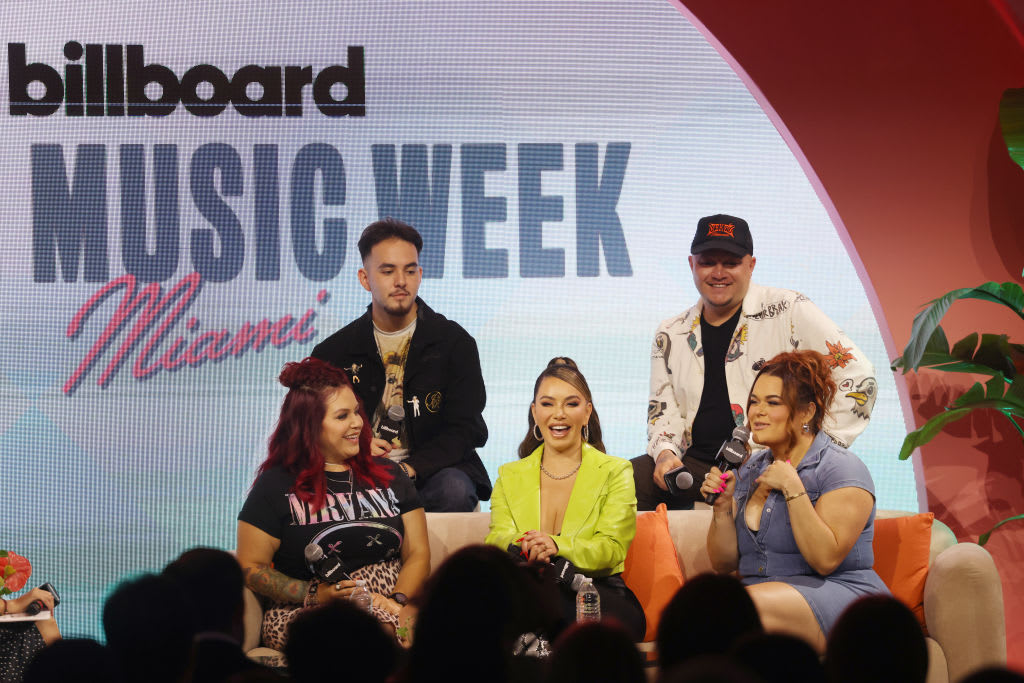 Jenni Rivera's Children Announce Her Posthumous Single & Album Details
Jenni Rivera's legacy remains a gift that keeps on giving. Her children – Chiquis, Jacqie, Jenicka, Mike, and Johnny – are putting their efforts to keep her memory alive by being hands-on with her posthumous music releases., During Billboard and Amazon Music's "Children of Jenni Rivera" panel on Sept. 27, the quintet officially revealed Jenni's forthcoming single art cover and release date on Nov. 2. They also unveiled that her next album will be released on Dec. 9.
The upcoming single is called "Misión Cumplida," and was produced by Sergio Lizarraga. The track's artwork features a photo of Jenni in her last concert in Monterrey, Mexico, paired with her actual handwriting. Johnny told Billboard how it's a "really special track" she wrote in 2008. But it wasn't until this year that he discovered that she had, in fact, recorded it.
"It's amazing because it feels like she's putting everything in place," Jacqie said during the panel. She described how Johnny had the idea and told Jenni's manager and how Lizarraga already had ideas for it. "We didn't have to make it happen… It's like she's putting everything together," she said about how easily the music came to be.
The forthcoming, untitled album will include 11 tracks and feature both unreleased and released songs, per the family.
Besides La Diva de la Banda's upcoming music releases, the panel discussed Jenni's legacy, and how the five of them feel honored to be part of it. They also talked about Chiquis' Latin Grammy nomination and how proud they are of their youngest sibling Johnny for helping organize this new project.
Before this panel, Jenni was honored with a tribute at Premios Juventud. During the show, her children received an Agent of Change award for their mother's work via the Jenni Rivera Love Foundation. She was also announced as part of 2023's Hollywood Walk of Fame Class.
Watch the full "The Children of Jenni Rivera Presented By Amazon" panel below.