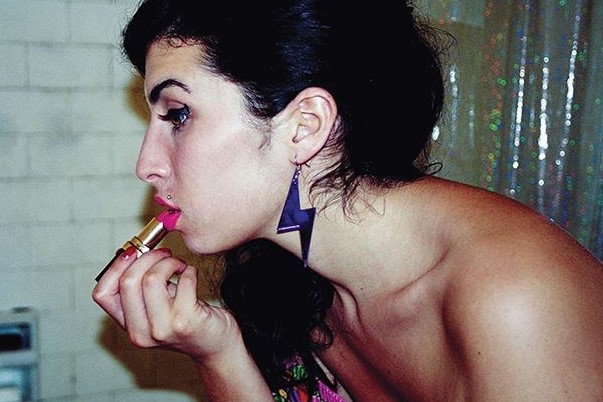 Inside the new exhibition unpicking Amy Winehouse's bombastic style
From Miss Sixty jeans proclaiming 'Sinatra is god' and 50s wiggle dresses, to that unmistakable black beehive, Beyond The Stage dives deep into the legendary singer's
fashion leanings
When Amy Winehouse was 16 she made a list of her ambitions for fame. "To be photographed by David LaChapelle," reads one. "To have a shoe collection (and over 300 pairs of shoes)", "To have Marilyn hair", "To avoid surgery", numbers eight, nine, and 11 ask. Handwritten on lined paper, the list is one of several personal notes that introduce Amy: Beyond The Stage – a new exhibition at London's Design Museum, which opens today.
From her first TV appearance to a series of press cuttings that highlight the damaging narrative presented by the media; her early song lyrics to her five Grammys, the exhibition is a celebration of a cultural icon, and like in her lifetime, the late singer-songwriters's distinctive aesthetic makes a bold impression. As she asserted in an interview with Elle magazine in 2004, "When it comes to fashion, I'm a bitch."
Read More
Of course Wednesday Addams is a Marc Jacobs girl
George at Asda announces a sale of… archival Gucci?
See a 26-year-old Tilda Swinton transform into a fevered fashion model
How tech and glacial field trips are igniting a new era at Nike ACG
Curated by Priya Khanchandani with Amy's close friend, stylist, and author of Amy Winehouse: Beyond Black, Naomi Parry, as a special advisor, other exhibition highlights include a pair of Miss Sixty jeans embroidered with 'Sinatra is God' (from 2001, two years before Kate Moss would don Bella Freud's 'Ginsberg is God' jumper), a wig from her hair stylist Tracey Cahoon depicting the famed beehive hairdo, and an array of significant frocks that defined her Back to Black era and established Amy as a bona fide style icon.
Writing in Beyond Black Parry notes, "Amy loved shoes in a Carrie Bradshaw kind of way." In Beyond The Stage, a photograph by Mark Okoh sees Amy playing with action figures, 18 Polaroid-fronted shoe boxes visible behind her (Amy would also end up working with LaChappelle, who directed the video for 2007's "Tears Dry on Their Own"). Elsewhere, images by Charles Moriarty, Diane Patrice, and Karen Robinson present another side of Amy – one yet to be caught up in an international spotlight.
Here, Khanchandani discusses navigating Amy Winehouse and the influences that shaped her look.
"When it comes to fashion, I'm a bitch" – Amy Winehouse
Hey Priya! What was your introduction to Amy Winehouse?
Priya Khanchandani: I was always into her music, as probably anyone of our generation was. I was born in the same year as Amy, so she was in many ways a contemporary, and being able to look back on her is like looking back on your own youth – a wonderful thing to be able to do.
In terms of her look, she obviously underwent quite a style journey between her first album Frank and the later Back to Black.
Priya Khanchandani: Yeah, so in the Frank era she was styling herself, shopping in vintage stores in Camden and fusing those looks – influenced by rockabilly and indie – with high street fashion like Karen Millen. And then she had a sort of hiatus from music between the two albums, and when she reemerged with Back to Black she had a much more distinctive form. She had created the Amy silhouette that is so unmistakably her, even now, so she had this towering beehive after Ronnie Spector, this hourglass 1950s Americana shape that she'd been sketching in her notebooks since she was a teenager, the kind of 'waffle waitress' shape, and obviously the iconic winged eyeliner that came to define her style.
I spotted the liquid liner on display…
Priya Khanchandani: We've got the Rimmel yeah, it's as simple as that. But it is worth mentioning her body image changing. It's quite evident from the dresses that she became thinner, she had struggles with serious issues, her mental health and substance abuse, and we didn't want to ignore those in the exhibition, so they are acknowledged where we deal with sensitive objects, like Amy's last performance dress. We have clips from the media too, which show how her issues were framed with a lack of empathy.
The conversation around mental health has definitely changed in the decade since her death. Similarly, issues like appropriation are a lot more mainstream in 2021, and Amy certainly borrowed from and celebrated Black culture in her music and the way she dressed. How did this factor into your work on the exhibition? 
Priya Khanchandani: I mean, as a woman of colour curating an exhibition like this, I was very conscious of the legacy of the music she drew on. But I think that Amy would have liked us to celebrate those that she drew on – she always acknowledged them when she was interviewed. There are arguments both ways (in terms of appreciation vs appropriation), I'm not going to lie about that, but the approach I decided to take was to celebrate those figures and make sure they weren't erased from that history and lineage, that they had a prominent role as protagonists in their own right in the exhibition.
Back to Black went beyond the critical acclaim of Frank, and Amy's look became a big part of this new persona. How do you reconcile her aesthetic with the fashion of the time?
Priya Khanchandani: Amy did not pander to contemporary trends. She did wear some designer brands, but she generally appropriated them into her own style, so she would add a bra that was visible in a contrasting colour, or accessorise in a way that was very Amy, like the gold jewellery. But I think what has made Amy's style transcend time is that she drew on quite an unusual collage of references. She was influenced by jazz culture, by 1960s American pop, by Americana – her taste in music fed into her taste in fashion and was very eclectic, and that's what has made her different. I describe her as post-modern pastiche, she was like a mélange of different influences and she concocted them into something that was quite uniquely Amy.
And that beehive.
Priya Khanchandani: We've got a brief history of the beehive (in the exhibition). It was apparently invented in a 1960s Chicago salon, and then it became synonymous with 1960s American Black pop, with figures like Ronnie Spector, and then Dusty Springfield and other people like Aretha Franklin, who Amy was influenced by. So there's a clear nod to that lineage of music through her style.
"She had this towering beehive after Ronnie Spector, this hourglass 1950s Americana shape that she'd been sketching in her notebooks since she was a teenager, the kind of 'waffle waitress' shape, and obviously the iconic winged eyeliner that came to define her style" – Priya Khanchandani
While putting the exhibition together, what surprised you most about her style?
Priya Khanchandani: That she defied the notion of being designed – she didn't ever really say how she came up with her distinctive look, but when you look through the exhibition sections you see how it emerged. It's clear that she was very much the creative force behind her vision, it wasn't one stylist, she had a team that worked with her but it wasn't one other creative mind, like in the case of the early noughties manufactured pop artists. Amy's style wasn't like that at all, it was organic and fed into her music; it was based on her own vision. 
Amy's friend and stylist Naomi Parry was a special advisor on the exhibition. What did that proximity bring?
Priya Khanchandani: It was really great to have access to somebody who knew Amy and had worked with her, to know from Naomi the looks that Amy was happy with, the ways that she asked to be styled. For example, Naomi told me she was really into belts – quite obvious from her look – but that very much came from Amy, wearing them tight. Things like that were really nice, to bring the objects to life.
The 'Sinatra is God' jeans are really great. 
Priya Khanchandani: Yeah, so Amy wore those jeans when she recorded her early demos, and some of the tracks on Frank. The fact that they pay homage to Sinatra, I think speaks volumes because her first album was dedicated to Frank, and it shows the autobiographical nature of her style. Obviously her lyrics are very autobiographical, but that applied to the way she styled herself as well – the jeans and her tattoos were very much a representation of her own journey, like the pin-up girl tattoo (modelled on her grandmother Cynthia). There's a fluidity between her as a musician and her personal style.
This isn't the first exhibition about Amy. Thinking about style specifically, why do you think interest in her look has endured? 
Priya Khanchandani: There's a number of reasons, one is Amy's silhouette. I remember after her death, there were women all over the world from New York to Berlin wearing these different versions of beehive, and I think that silhouette has enabled it to stand the test of time. Also this idea that Amy didn't pander to contemporary trends – she was very much grounded in her own interests and her interests ran very deep. Ronnie Spector wasn't obvious as a style icon for someone like Amy, an early noughties pop star who was signed by Simon Fuller, and yet Amy managed to pull that off because her references had that sort of timelessness about them.
Head here to book a ticket.