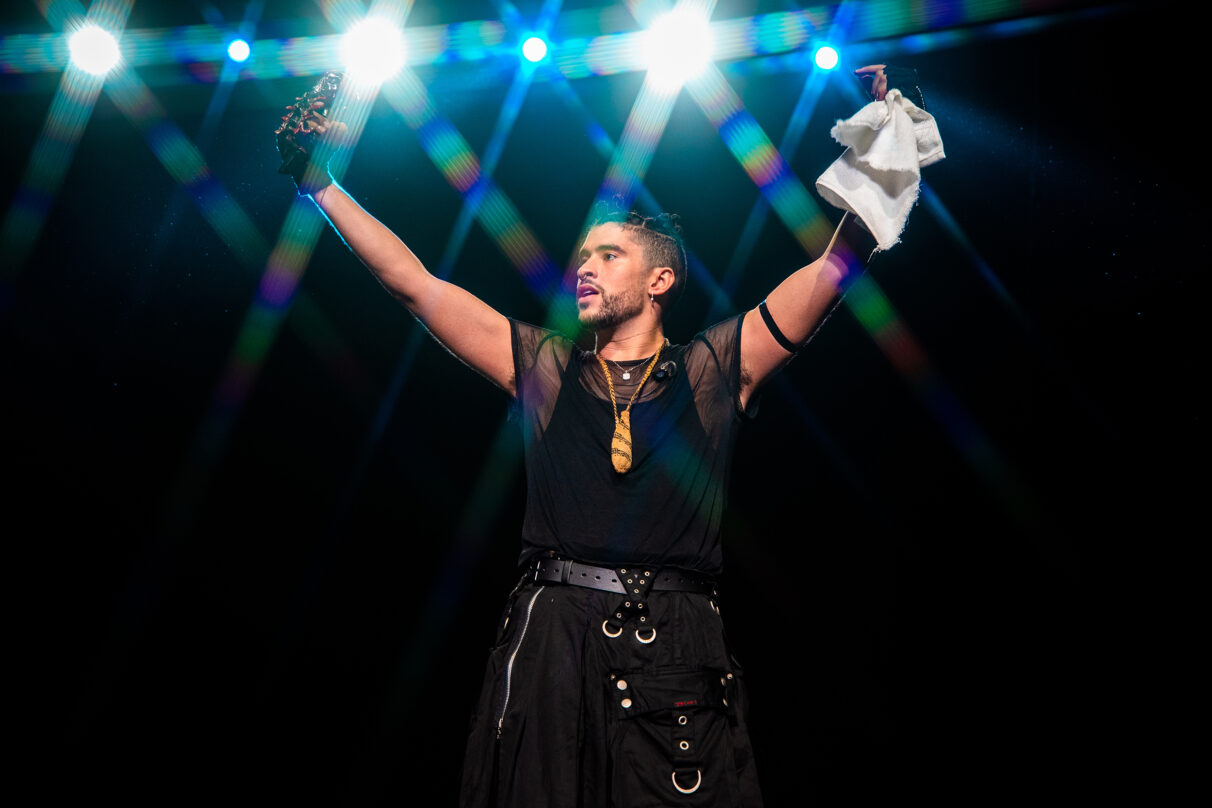 Imagine an All-Women Bad Bunny Concert? Fans in Mexico Want to Make it Happen
Imagine an all-female "Yo Perreo Sola" concert performed by Bad Bunny? A private concert for women only, giving them the liberty to do their thing without the gazing eyes or unsolicited attention from men? Well, some fans are trying to make it happen. After El Conejo Malo instantly sold-out two Estadio Azteca "The World's Hottest Tour" shows  (which fits about 87,000 spectators) a Facebook group in Mexico has linked up to search for alternatives to see Benito live — and an #AquiPerreamosSolas concert could be one of them.
The Facebook group administrator of "Bad Bunny concierto de puras niñas," Luz Escandón, is calling in all of the Mexican female supporters that would be interested in an exclusive private concert by the Puerto Rican icon, where they can enjoy their time with their girlfriends in peace. Most notably, the event would be trans-inclusive. "I was contacted by many women supporting the idea and I formed an organization team together with the administrators of this group. Now the fantasy and the dream of dancing with my friends in a safe space can become a reality thanks to you and the reach that this idea has had," Escandón said via social media, as reported by Infobae.
The outreach of the group is currently at 60,000 (and growing!) women — we wouldn't be surprised if Bad Bunny reacts to it, but who knows if his team actually has the capacity to make it happen. Twitter users are quick on it, though, already calculating the estimated costs to see if the concert is even realistic. "He charges around $1 million. From the 50 thousand that are on Facebook, it would be about $20 per person. The only thing missing would be the rent of the place and the equipment. I don't think it's far-fetched and even less if you get more people together," a Twitter user said.
While this move would make this inclusive and provide a safe space for women, since the "Yo Perreo Sola" music video reached a higher level of solidarity, there's much more that lies underneath preparing a full-scale event.
Twitter users, however, remain hopeful. A Twitter user comments: "A lucky @sanbenito to make the all-girl concert happen!"
Another fan comments: "Can you imagine that iconic moment when you hear a place full of pure women shouting "QUE NINGÚN BABOSO SE LE PEGUE, LA DISCO SE PRENDE CUANDO ELLA LLEGUE" pfff a dream for all of us and hopefully soon it will be a reality."
Let's see what unravels from this genuine proposal! It would definitely take the message of "Yo Perro Sola" to the next level.