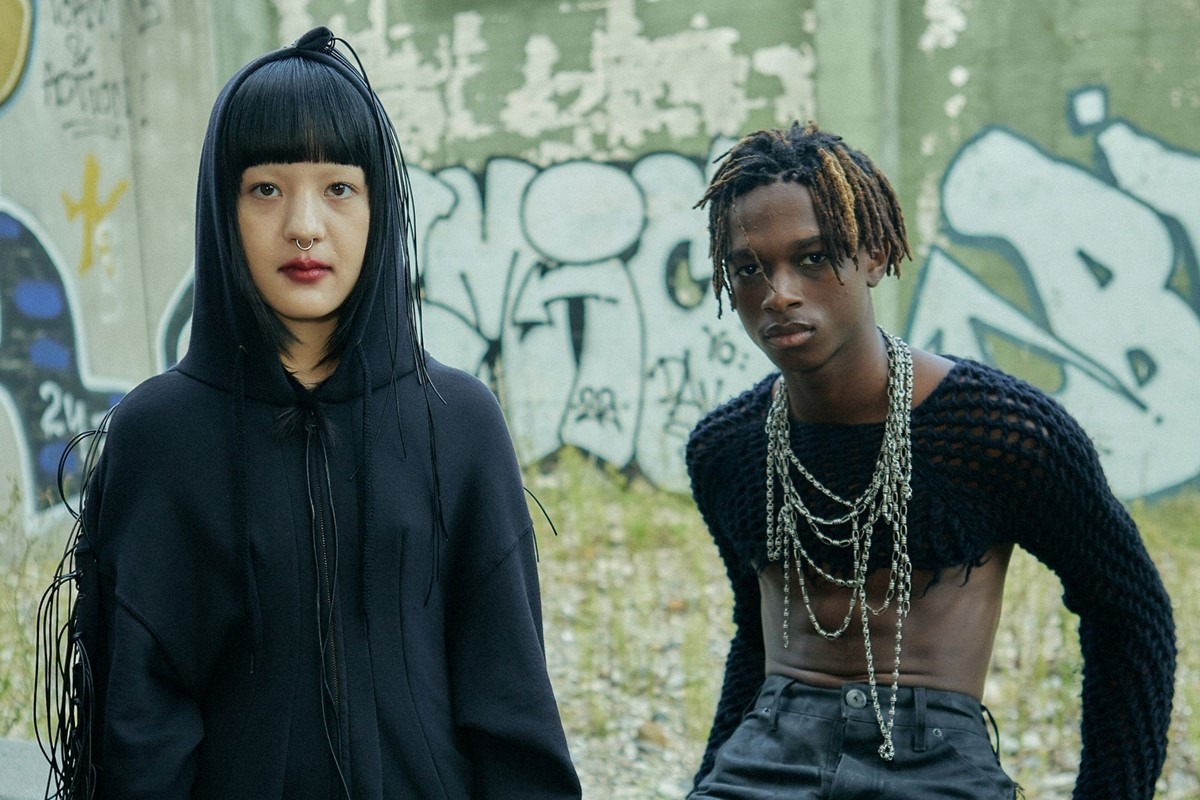 Harder, better, faster, stronger: a vibe shift is coming in Copenhagen
PLN, Latimmier, and Jade Cropper are at the crest of a new wave of talent transforming the Danish capital's
fashion landscape
Think of Copenhagen Fashion Week and it's likely your mind's eye will conjure up visions of Scandi minimalism, kaleidoscopic colour, and the ubiquitous chequered print that's seemingly everywhere right now. And this, for the most part, rings true: labels like Stine Goya, Saks Potts, and Ganni continue to churn out charming, cutesie collections sure to keep the Insta-girlies happy season after season.
Read More
This fashion porno imagines a dystopian WeWork of the future
Operator? Help, I'm addicted to fast fashion!
Have you herd? Centaurs are so hot right now
Addison Rae is now the devil incarnate, apparently
For those interested in fashion that's a little more subversive, however, something darker this way comes. Led by the likes of (di)vision, which splices and dices stereotypical streetwear silhouettes, and A Roege Hove, whose slinky knitwear has been setting social media alight for a while now, a new subsection of the city's creatives are offering up something different entirely. As the curtain falls on the SS23 edition of CPHFW, we've rounded up three labels that stole the show.
PLN
As one of the most anticipated shows of the season, all eyes were on Peter Lundvald Neilsen's runway debut. The unassuming designer cut his teeth at Balenciaga, hopped over to Berlin to join the Ottolinger fold, and eventually set up his own label in 2020. It's already making waves: just a few months ago, PLN was co-signed by none other than Kanye West, who stepped on stage at the 2022 BET Awards in a signature tasselled baseball cap. 
With the show taking place outside an abandoned warehouse under the blazing Danish sun, the scene for SS23 was set through a brilliantly menacing performance by rising star and fellow Kanye collaborator, musician and choreographer Blackhaine. The Manc rapper, who connected with Neilsen via IG DM (what else?), threw himself about the catwalk, narrowly missing models and trying not to trip over the wire of the mic he was screaming himself (presumably) hoarse into. 
With diverse casting by Emma Matell, Nielsen's assembled troupe trudged out like characters from a particularly dark fantasy RPG. Distressed, imperfect tailoring was contrasted with post-apocalyptic club gear in the form of voluminous parachute pants and slashed tanks and boob tubes, while one cape billowed out behind its wearer, giving him the air of a final boss, or maybe a mid-level sage intent on showing you the way in exchange for a few coins. 
On a landscape full of brands fixating on form and function rather than building fantastical worlds – like Rick Owens or Neilsen's alma mater Balenciaga – the designer cut through the noise to present something truly exciting. Roll on next season. 
LATIMMIER
Like PLN, Latimmier was one of three labels chosen to join CPHFW's NewTalent incubator, the final trio also adding A Roege Hove to the mix. Those selected will be afforded the chance to show at fashion week, as well as financial support and mentorship to aid them getting their fledgling brands off the ground. 
Founded by Finnish designer Ervin Latimer – a key figure in Helsinki's small but growing ballroom scene – the brand is rooted in community. It also knows how to put on a show. At Latimmier's AW22 Pitti Uomo presentation back in January, Latimer slipped into drag to MC proceedings as his friends and chosen family members Vogued up and down the runway. The result was somewhere between a ball and an old-school salon show, in which descriptions of the clothes were read out as models walked. Needless to say, it offered a brilliant jolt to the system amongst the many brands peddling tweed three-piece suits at Pitti.
This time around, due to logistics and the need for Latimer to be backstage putting the final finishing touches to looks, he didn't make an appearance front of house, but his penchant for the theatrical was still present. Staging the show in an infamous, no-frills cross-training gym in an industrial corner of Copenhagen, guests were greeted by a gust of hot testosterone thanks to the buff guys lifting hardcore weights and trying to outdo each other with backflips right before kick-off. 
A fun, tongue-in-cheek subversion of the masc4masc stereotype that permeates gay culture across the world, the theme continued through the show, as his model cast swaggered down the runway throwing fingers up and leering aggressively at the audience, demonstrating their own personal take on masculinity (notably, most of the interpretations bordered on the toxic). 
But for all the drama, as at Latimmier's January show, the clothes themselves were the standout, and further hammered home just how exciting the label's future looks likely to be. Business shirts were blown up to extreme proportions and slashed at the shoulder blade to reveal glimpses of décolletage, while strict, boxy suits were rendered languid and soft through shimmering iridescent finishes and slogan cropped tops were matched with louche, sloppy sports shorts and trackies.
JADE CROPPER
A standout show circa the AW22 edition of Copenhagen Fashion Week, Jade Cropper's slightly rough around the edges vision felt slick and razor-sharp this time around. Set on the roof of a shopping centre car park as the sun sank behind the surrounding buildings, a blue-lit catwalk formed the centre of this season's show, with models making their way around the catwalk in the Scandi designer's slinky-with-an-edge SS23 collection. 
Straight from the same arena as the likes of KNWLS and Supriya Lele, the line-up this season featured a plethora a second-skin, ribbed-knit separates – long-sleeved cardigans with fluted sleeves displayed flashes of torso and underboob, pencil skirts that clung tightly to hips were slashed dramatically up the thigh, and sensual slip dresses featured layered panel detailing and coquettish cut-outs, looking not unlike something the likes of Posh Spice would have slipped into circa the early 00s. At the harder end of the scale came heavyweight denim, in the form of asymmetric jackets with eyelet fastenings, wide-legged jeans bearing spray-painted blasts, slouchy, raw-edged knits, and she-means-business bleached bodysuits. 
Brilliant as it was, it would be remiss not to mention the issue of body representation. I made a point recently about not wanting curve models to be shoved into stretchy dresses and chucked on the runway as a token of inclusivity while sample size models get actual tailoring and pieces cut for their bodies, but when stretchy looks make up much of your offering, casting models with larger bodies seems like a no brainer? That said, I am reluctant to pin the blame on young designers who are struggling to make ends and resources meet when endless behemoth brands are doing nothing when it comes to body diversity – it's just that I sat next to rising star Ceval on the front row, with the model whooping and shouting for her friends as they walked the runway, and I couldn't stop thinking about how fab it would have been to see her up there in Cropper's gorj clothes. Something to think about for next season, I hope.