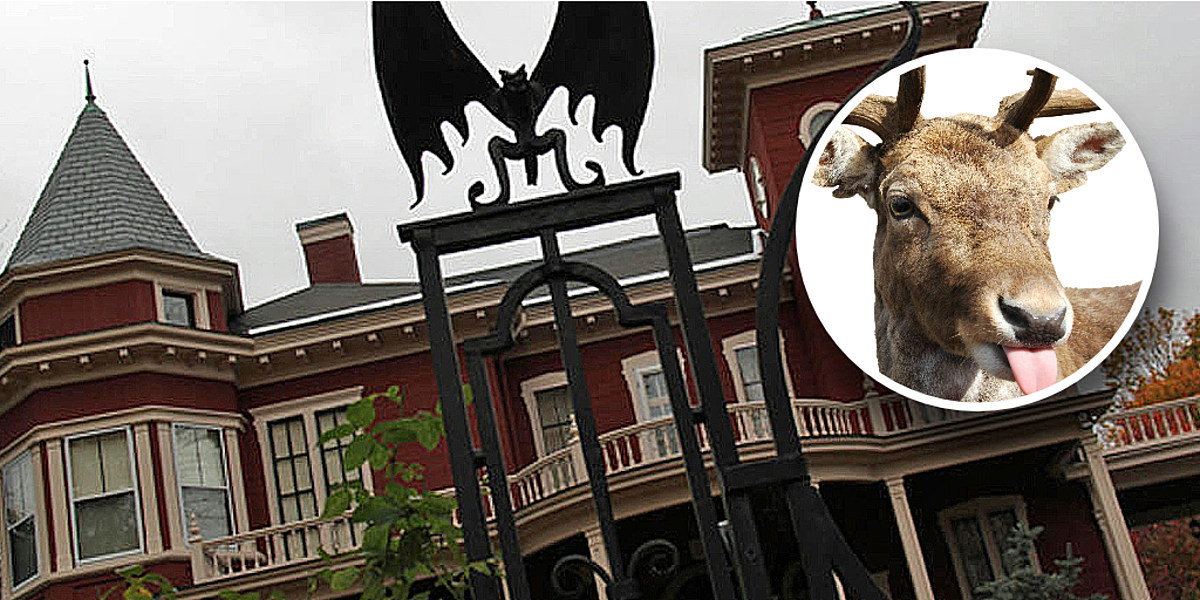 Deer Meets Terrible Fate at Stephen King's Famous Front Gate
***THERE WILL BE A MILDLY GRAPHIC PHOTO AT THE END OF THIS POST THAT MAY BE SENSITIVE FOR SOME PEOPLE***
Sometimes life imitates art. I think it's supposed to be the other way around, but now and then things happen in real life that seem like they should only happen in the movies, or on TV. Or for that matter, in a Stephen King book. Accidents happen all the time, but when you run it through the filter it happened at what is arguably Bangor's most sought-after tourist attraction… It feels spooky.
If you were to hear about something that might be an otherwise ordinary incident somewhere else, it takes on this whole new vibe when you hear about it happening at this iconic Bangor landmark. For instance, deer die all the time. All over Maine. Hit by cars, taken annually by hunters, whatever.
But when you see a deer that's sadly met its end, stuck on Stephen King's fence, it takes on a different feel. Like, I feel like this deer will haunt me in my sleep tonight for writing this. I get serious Pet Sematary vibes from this.
I played out every scenario in my mind when I saw this photo.
My first thought was, how did this even happen? Likely it tried to crawl through and impaled itself on one of the spikes on the fence. And it's no small spike. Maybe it tried to jump through? Hard to say. But again, it just felt extra, extra creepy because of where it happened. It could've been one house in either direction, and the deer probably wouldn't have even had a scratch.
But that poor thing just couldn't clear the hellacious knife-fence in front of the house. It's not like this is anyone's fault. At least I hope someone didn't put the deer there, that'd be awful. This was just a horrible accident. But it sure feels like a horror movie, at least for the poor deer. Seriously… just one house in either direction and it would've been totally spared. That's nature I guess…
***YOU HAVE ONE MORE CHANCE TO NOT LOOK AT THIS PHOTO***
 ***FOR REAL… THIS IS YOUR LAST CHANCE. THE PHOTO IS COMING UP***
Ugh… Poor thing.
Here are some other critters you might see around your neighborhood…
17 Wild Animals You Could See in Bangor
A young moose was seen munching on trees in the Bangor City Forest recently. Here are some other animals that are known to live in the Bangor city limits, particularly within the Bangor City Forest, a 600+-acre preserve in the city.
5 Animals That Are No Longer Found In the Wild in Maine
Coastal Downeast Home Shines with its Charm and Pristine Views
Downeast Maine is truly a gem. The coast is exquisite. This is perfectly highlighted by a home on the market in Machiasport. This 3 bedroom, 1 bath cottage is soaked in charm and detail. Built in 1790, the home sits on 27 private and pristine acres, right on the Machias River.