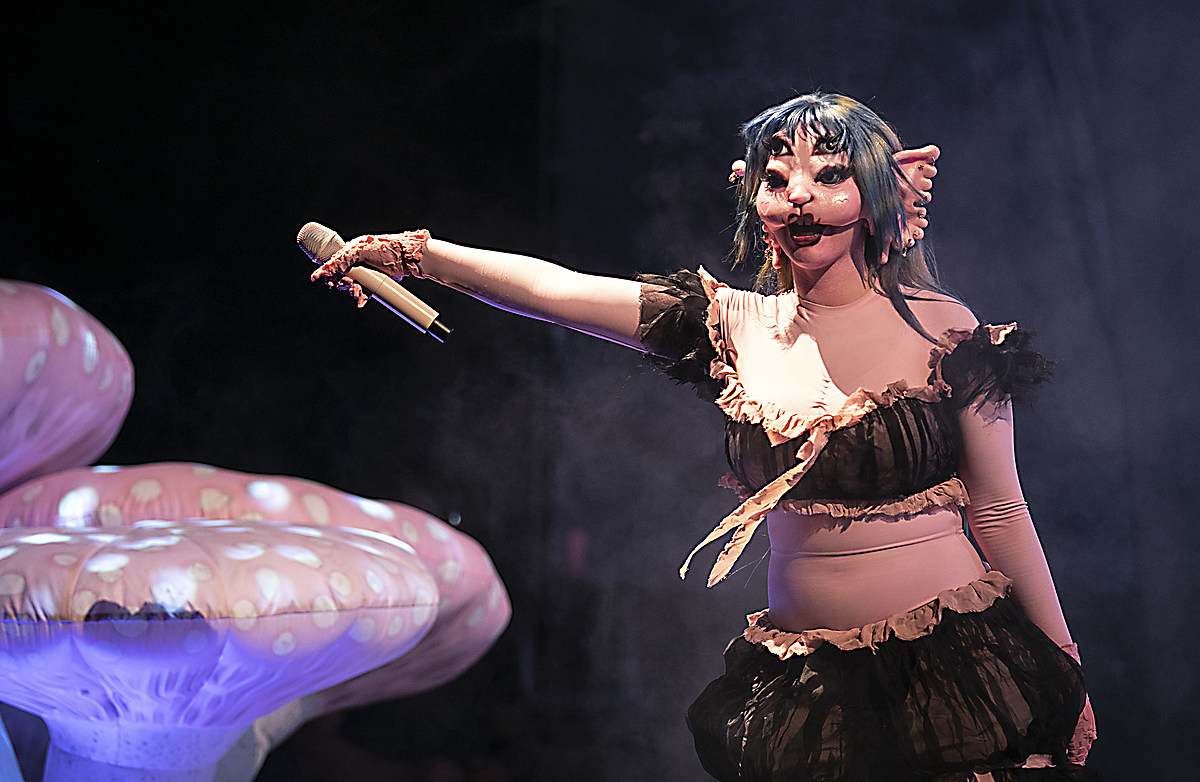 Melanie Martinez Fans Disappointed With Tour 'Meet and Greet'
Some fans are not happy with pop star Melanie Martinez's Portals Tour VIP package "meet and greet."
Due to the wording of the VIP package details for the star's latest tour, which, per Ticketmaster, said there would be an "interactive photo experience" for VIP guests, many fans assumed that the photo experience they signed up for was a standard meet and greet with the artist.
However, it turned out that the photo experience includes an AI-generated hologram of Martinez that greets fans — not actually Martinez herself.
On TikTok, one fan showed what the experience was really like.
"I thought it was cute …. everyone's hating … it never said anywhere there was going to be a meet and greet," the wrote in the caption.
However, some fans are criticizing the virtual photo experience due to its high price point — a VIP ticket reportedly costs around $400 — and the somewhat misleading description surrounding the experience.
It seems many fans who purchased VIP tickets didn't know that the "interactive photo experience" was not an in-person photo opp.
READ MORE: Why Did Melanie Martinez Take a Break? + More Questions Answered
"Does anyone else think the VIP AI meet and greet with Melanie is kinda stupid? I mean, the VIP tickets were $400, and you didn't even really get anything," one person expressed on TikTok.
Another TikTok user called the experience "the most awkward thing I've ever seen" and slammed the price.
Yet another fan shared that they were disappointed by the "meet and greet" as well, and claimed they didn't even receive their promised signed poster, VIP merch and tote bag.
"I love Melanie Martinez, but $400 for an AI meet and greet that looks like a TikTok filter? girl…" one person tweeted.
"Nah, this sh– is out of control," someone else tweeted.
One person on Twitter claimed Martinez is "robbing her fans," while another tweet called the VIP experience a "scam."
On Reddit, one fan called the AI meet and greet "what broke the camel's back" after fans experienced other issues, such as allegedly high ticket prices and botched signed CDs.
The Reddit user also called out Martinez for not speaking out about her fans' criticisms.
"I think it's more insulting that fans are so upset and deserve some kind of acknowledgement, but the only thing she posts about is being away from social media and fairy dust," one person agreed in the comments section.
Melanie Martinez's third album, Portals, was released on March 31.
Artists Who Canceled Their Concert Tours