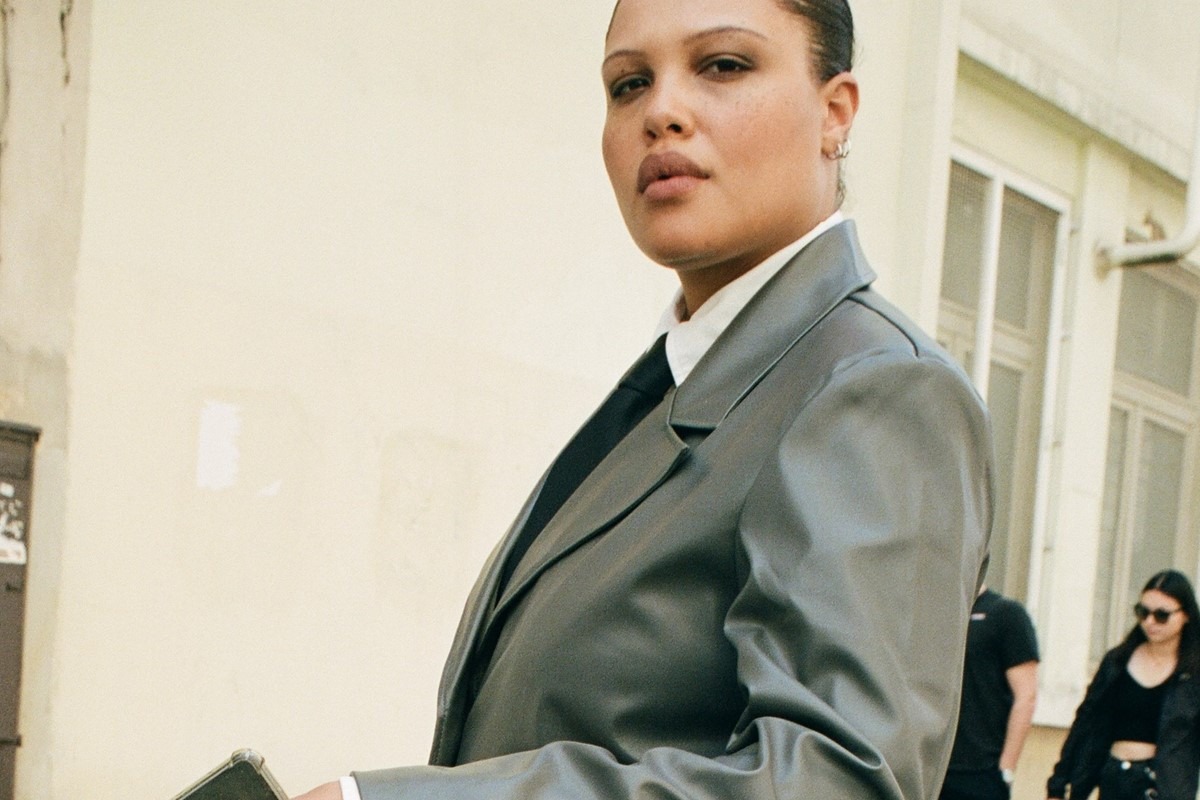 Death to the stretchy dress: Alva Claire wants to wear anything but
The rising curve model joins forces with OpéraSPORT to create a new collaborative collection of slick leather jackets, slouchy tracksuits, and
clean separates
News flash, this just in: fat girls don't always want to pour themselves into stretchy, skin-tight dresses, contrary to what many designers, including those that showed at Copenhagen Fashion Week's SS23 edition, seem to think. To give the city's creatives their credit, that many shows featured one or two larger models can only be a good thing – in terms of visibility, seeing people with bodies that go beyond sample size is always refreshing. But sadly, when it came to what they were actually wearing, there was a hell of a lot of spandex on show. 
Where standard-sized, slim models strut down the catwalk in cute, well-cut tailoring, skimpy, form-fitting dresses, and clothes that featured actual detailing – from embroidery, to sequins, to crystals – the bigger girls, though still fierce AF, were largely left yanking down the hems of too-tight lycra minis that rose up towards their hips as they walked. Add to this the fact that many of the labels don't actually offer sizes the models walking their shows would actually fit into, and it made for a slightly disheartening affair. Copenhagen's designers show great skill when it comes to crafting clothes, so what's so scary about sitting down and drafting out a proper pattern and stitching together a toile for a bigger body?
Read More
Addison Rae is now the devil incarnate, apparently
Yes, that is Frank Ocean's cock ring
Gui Rosa makes clothes for horny AF knitwear fetishists
Kim Gordon and Coco Moore help Marc Jacobs hawk his old bags
Similarly pretty tired of the stretchy dress situation is Alva Claire. "I don't think I've ever not worn a dress on the runway," Claire reveals over dinner in Copenhagen, the night before she presents a new collaborative collection designed in partnership with emerging label OpéraSPORT. Often there is an expectation that larger and fat women must present as femininely as possible to become palatable in the eyes of society. "That's just not me!" she adds. "I love my vintage leather jackets with massive shoulders, masculine oversized shirts, and stuff like that. I don't always want to look 'pretty', you know?"
A scroll through her Instagram and you'll see what she means. Tie-dye, semi-see-through ASAI dresses are layered over slinky flared trousers, bulky motocross jackets are matched with lace minis, and business-casual blazers are paired with pinstriped men's shirts and slogan baby tees. Baggy dungarees meet baker boy hats, boxy denim jackets come together with leopard print leggings ripped straight from the 80s, and loose, hardcore leather pants are offset by barely-there string bikini tops. Her style is all over the place, in the very best possible way. 
Her capsule collection, which got its debut at OpéraSPORT's first ever runway show at CPHFW,  leans into this unique, eclectic approach to fashion, with Claire herself modelling a severe slate grey vegan leather coat, a clean logo-emblazoned tee, and a slouchy pair of black joggers. The look was more the kind of thing you'd see someone sloping up to the Berghain queue in on a Sunday afternoon than the usual kaleidoscopic, Scandicore stuff usually prevalent across the Copenhagen catwalks, and felt all the fresher for it – a palette cleanser between the saccharine brights and Nordic minimalism offered up by the likes of Ganni, Stine Goya, and Remain. Further looks included a slick boxy blazer and matching louche vegan leather trousers, retro panelled tracksuits, and curve-skimming rib-knit dresses. "I basically just made the kind of clothes I wanted to wear, it was great," laughs Claire.  
Though she's been modelling for the best part of a decade, it's only recently that fashion has really embraced Claire – most notably, when she made history walking alongside Jill Kortleve and Precious Lee on the SS21 Versace runway, as the three became the first curve models ever to do so. Since then, she's appeared in a stellar Vogue Italia shoot with Paloma Elsesser and Ashley Graham, channelled the legendary Divine for Love, and scored herself starring roles in campaigns by the likes of Savage x Fenty, Ivy Park, and Collina Strada. Just as she was getting into her stride, however, disaster struck, with the model tripping and breaking her ankle at the 2021 British Fashion Awards. "I know now that I definitely should have brought a change of shoes," she explains, detailing how she toppled off her uber-high platforms on the dash from the venue back to the hotel. 
"Sometimes I do get pretty down when I think how far fashion still has to go [in terms of inclusivity]. But you know, we have to keep talking about it, I have to keep talking about it, we have to keep putting pressure on the industry to get it to listen" – Alva Claire
Relegated to her bed to recover, the call from OpéraSPORT "came at the perfect time". Founded by Stephanie Gundelach and Awa Malina Stelter, the label is making a name for itself with its clean, minimalistic aesthetic shot through with flashes of eclecticism – think painterly, easy-breezy bowling shirts, cut-away tank tops, and staple knits subversified via inventive textures and colourways. Having previously worked with Kim Kardashian's stylist Veneda Carter, the two were on the hunt for a second collaborator, and were struck by Claire from the off. 
"We'd loved her style for a while, and her whole attitude is amazing," the designers reveal. "We were so excited when she wanted to work with us." With Claire given free reign to create whatever she wanted, the model got to work with the Pritt Stick creating moodboards and sketches from her bed. "We didn't actually meet throughout the whole process," says Claire. "But like loads of people who connected during the pandemic, as soon as we met each other in real life it was as if we'd known each other for ages." 
The collaboration also marks a development for Gundelach and Stelter, as they extend their sizing range to include clothing up to a UK20 (previously it stopped at a UK16). It was something they had been thinking about for a while, they reveal, particularly as many men were logging on to the site and scooping up the limited XL shirts and tees before the girls could get their hands on them. Will the duo be rolling out these larger sizes across the wider offering, I ask: "It's something we are looking at doing, yes." As ever, it is great to see a small, emerging brand attempting to become more inclusive – particularly given countless conglomerates with far more money and resources still obstinately abstain from doing so – but for meaningful change to happen within fashion, commitments must be made. That Claire was given carte blanche to go wild is a step in the right direction.
The issue of inclusivity is unsurprisingly close to Claire's heart, but something she still, like many of us in the indsutry who don't fit its narrow beauty ideals, occasionally struggles with. "Sometimes I do get pretty down when I think how far fashion still has to go," she reveals. "But you know, we have to keep talking about it, I have to keep talking about it, we have to keep putting pressure on the industry to get it to listen. I'm so happy that brands like OpéraSPORT are trying to become more inclusive, and have loved so much working with Awa and Stephanie who have been so open to everything I wanted to do. It's been a great experience." Now, let's keep it going.
Click through the gallery above to see OpéraSPORT's SS23 collection, including looks from Claire's collection, which drops in September.