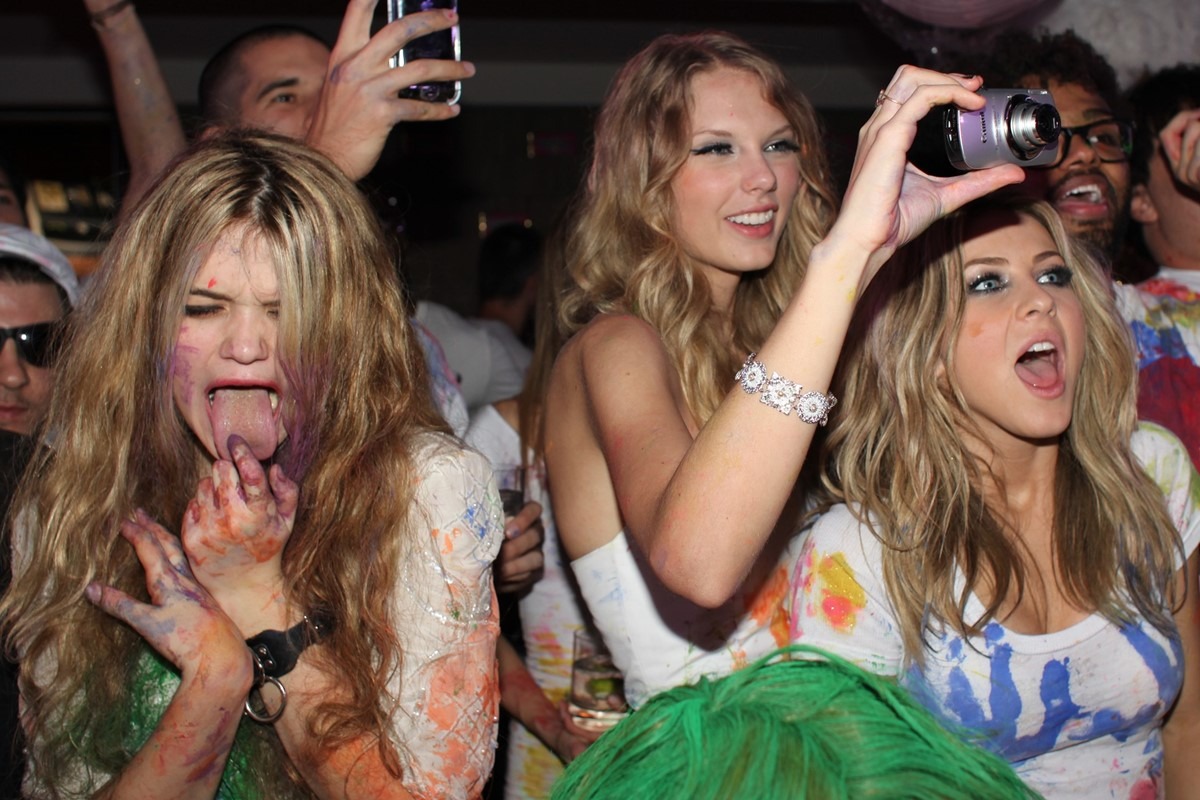 The Cobrasnake on the chaos and hedonism of the Indie Sleaze era
Mark Hunter's neon-soaked 00s photographs of Lady Gaga, Sky Ferreira, and Kanye West capture a messy moment in time when people still acted up
at parties
As he sits in Hollywood sifting through an archive of half a million photos, Mark Hunter admits he couldn't have planned for better timing to release his first book. When he started working with publisher Rizzoli on the concept for The Cobrasnake: Y2Ks Archives five years ago, the phrase "indie sleaze" hadn't yet been uttered and the dominant aesthetic was Kardashian-influenced, posed, hyper manicured, and filtered. 
After its release date got pushed back repeatedly due to COVID-19, Hunter has found himself releasing the book into a landscape where the thirst for unadulterated, unfiltered raging is at an all time high. Maybe it's the internet's sped up ten-year trend cycle, or maybe it's a universal yearning for sweaty, messy, parties after being stuck at home for two years, but "the era's ageing like a fine bottle of wine," he says with a laugh. "All the images that I've shot at those parties are only getting more exciting and more interesting as time goes on."
The hairy-chested, vintage tee-wearing, 36-year-old Los Angeleno better known as The Cobrasnake began taking photos in the early 2000s, when, instead of heading to college, he lingered around Hollywood, paying his bills with money he made cleaning up at Shepard Fairey's gallery. It was a time before the ubiquity of smartphones, when MySpace reigned the social media domain, and often the only way to get a high quality photo of yourself was to head to a club and hope there was a roaming photographer snapping candids across the dancefloor – which is exactly what Hunter does best. 
For almost two decades, he's chronicled the late nights and early morning adventures of party animals across the US and beyond – many of whom would go on to be the breakout trendsetters and stars of the new millennium. Think Katy Perry, Lady Gaga, Kanye West, plus DJs, models, and It Girls galore. Hunter's photos have always lived on his website thecobrasnake.com, which he's now working on with developers to relaunch his full 500,000 strong photo archive. 
In the wee hours after an event, he'd upload hundreds of unedited photos to the website for party people to browse, drag to desktop, and upload to their Myspace. While other party photographers marked their work with logos and watermarks, Hunter never needed to – you know a Cobrasnake photo when you see one. He calls his style "Super candid, I'm like your friend at the party, not so much like society photos or red carpet photos you may see." Being photographed by him was every raver's dream. Having your photo as the cover image of the night's photo album was a club rat career highlight. 
Landing on shelves on May 31, The Cobrasnake: Y2Ks Archives features 300 saturated colour photographs across 240 pages. Some have informative captions with names, dates, and locations listed, while others are sexy and vague, going from "threesome" to "four time travellers". Many don't have a caption at all. "What is the abbreviation?" Hunter asks, as he attempts to describe the ultimate vibe of these particular shots. "IYKNK?" He admits he isn't a 'words' person, but occasionally gives a peek into his life with fun gossip and little stories which sit alongside ticket stubs and other memorabilia. 
The book moves chronologically from 2004 to 2010, and ends around the explosion of social media as we now know it – fittingly in the year that Instagram launched. In the 2010s, Hunter found himself in a "sort of midlife crisis" that led him to take a break from nightlife photography. "I didn't feel as pressured to be at those events anymore. There was what they call this 'influencer influx' and everyone was taking selfies and really trying to pose. It wasn't very interesting for me to capture. The indie scene kind of died as we knew it and that was where my heart was," he says. "I felt uninspired and thought 'okay, I've done enough of this. I've shot way too many parties.'" 
He began shooting editorial work for fashion and lifestyle brands and leaned into his love of vintage clothing and collectables by opening a shop in Hollywood. Like many 30-somethings, he became obsessed with health and fitness and started Cobra Fitness, a club of like minded former Cinespace cool kids who enjoyed hiking Runyon Canyon and doing spin classes. He stayed booked, busy, and close to the friends he had made partying, even if roaming nightlife photography had fallen out of vogue.
In the six months leading up to the release of The Cobrasnake: Y2Ks Archives, Hunter has been out and about shooting nightlife photography again – even when he has a hike planned the next morning. "I've felt a bit of a redemption," he says, as the demand for party photography – at least when it's by him – creeps back on trend. "There's a new generation that's excited about dressing more interestingly, listening to cool music, being in bands – all those types of things that I loved – which is so cool to document. This is what will be exciting to talk about in 20 years," he says of his new Gen-Z muses. 
As the book gets its release, in the gallery below he tells us the story behind eight photos from The Cobrasnake: Y2Ks Archives that helped cement his aesthetic as the de facto party look of the 00s.