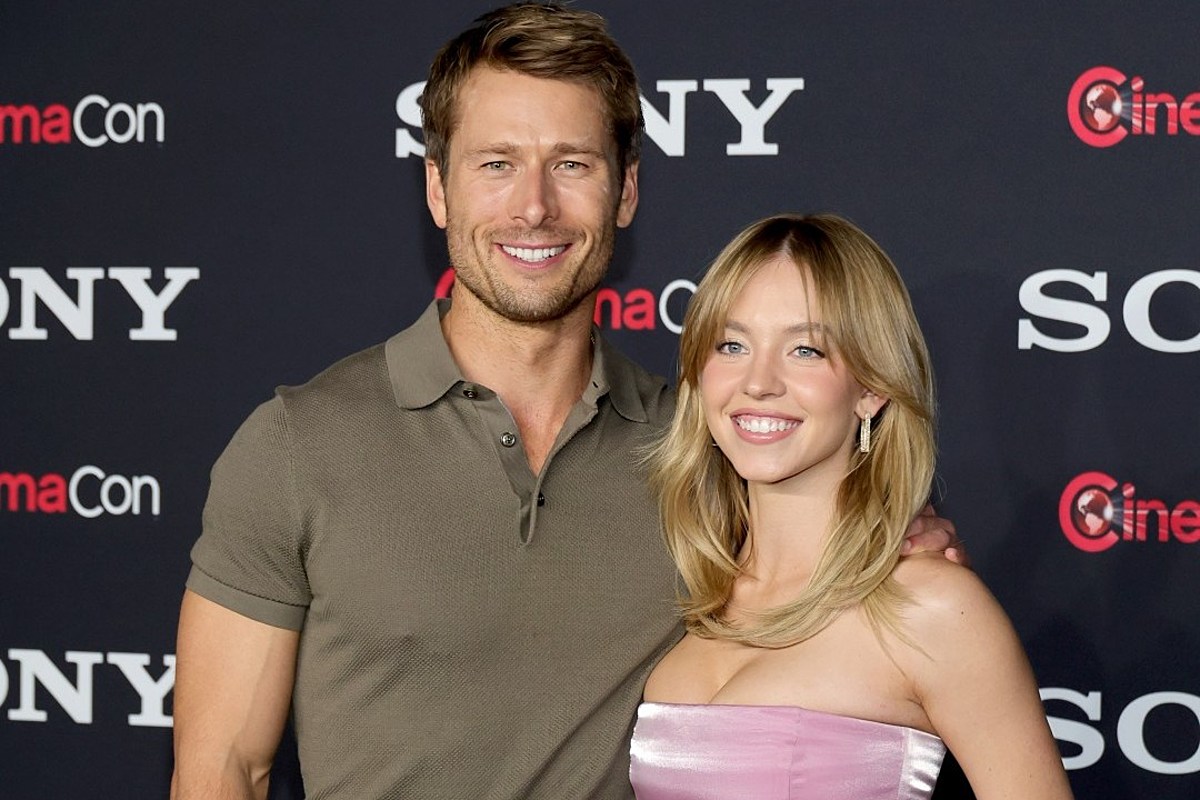 Are Sydney Sweeney and Glen Powell Dating?
Sydney Sweeney and Glen Powell have made headlines over the past few weeks for their undeniable chemistry, but many are wondering if the pair are secretly dating.
The actors co-star in the upcoming romantic comedy Anyone But You. Announced in January 2023, the film went into production in Australia.
Not long after, rumors began swirling online that the actors were having an affair after photos of the two laughing with and holding each other during a dip in the ocean went viral. However, it was unclear if the two were swimming leisurely or while being filmed for the movie.
In April 2023, a video of Powell intimately holding and dipping Sweeney upside down also went viral on social media, stoking the speculative fires.
But the public's mind was all but made up after the two were spotted flirting on the red carpet during a promotional interview at CinemaCon 2023.
In the footage, Sweeney and Powell continue to make eye contact as they inch closer to each other while answering questions, eventually pressing their bodies against each other.
Later at the event, Sweeney referred to Powell as "Top Gun," her nickname for the actor, after which Powell said he "loves" when she calls him that.
Not long after the photos and videos of Sweeney and Powell went viral, Powell's girlfriend, model Gigi Paris, reportedly unfollowed the actress on Instagram.
Are Glen Powell and Sydney Sweeney Dating?
Despite the pair spending a good amount of time together for their work and spending some of their free time visiting sites around Australia, they may not be romantically involved.
"They're filming a movie that's a romantic comedy!" a source close to the set told PEOPLE. "It's like when people say about movie stars, 'Oh, they have such good chemistry.' It's just their job. They're friends that met on set. They're costars."
Are Glen Powell and Gigi Paris Still Together?
According to PEOPLE's report on Apr. 26, the former pair split up "a few weeks ago" when she shared a video of herself walking alone on Instagram Wednesday with the caption: "know your worth & onto the next."
The first source echoes that distance is what drove Powell and Paris apart: "It wasn't about infidelity. She's on different coasts modeling, he's on different coasts filming. When she left, they were on great terms."
Is Sydney Sweeney Still Engaged?
In March 2022, it was confirmed that the Euphoria actress and her boyfriend Jonathan Davino were engaged. She was first photographed with a diamond on her ring finger a month prior. They began dating in 2018 and had their first public outing together in October of that year. His family owns a device technology and packaging company called 14th Round and Finalbell.
Sweeney previously shared with Cosmopolitan that she doesn't date people in the spotlight.
READ MORE: Sydney Sweeney Buys First Home: See Inside!
"I don't date actors or musicians or anyone in entertainment because I can just be normal Syd that way and it's easiest," she explained. "I have a great support system."
Sweeney has been photographed at least twice without her engagement ring recently, which caused fans to speculate that they broke off the engagement.
What Is Anyone But You About?
Footage from the film premiered at CinemaCon in late April which showed off their on-screen romance. According to Variety, this included steamy and "a lot of nudity" from both actors. No release date has been announced but the production just completed in late April.
The plot is a loose adaptation of Shakespeare's "Much Ado About Nothing." Aside from Sweeney and Powell, the cast features Dermot Mulroney, Alexandra Shipp, Rachel Griffiths and Michele Hurd.
Celebrity Couples Who Secretly Got Married