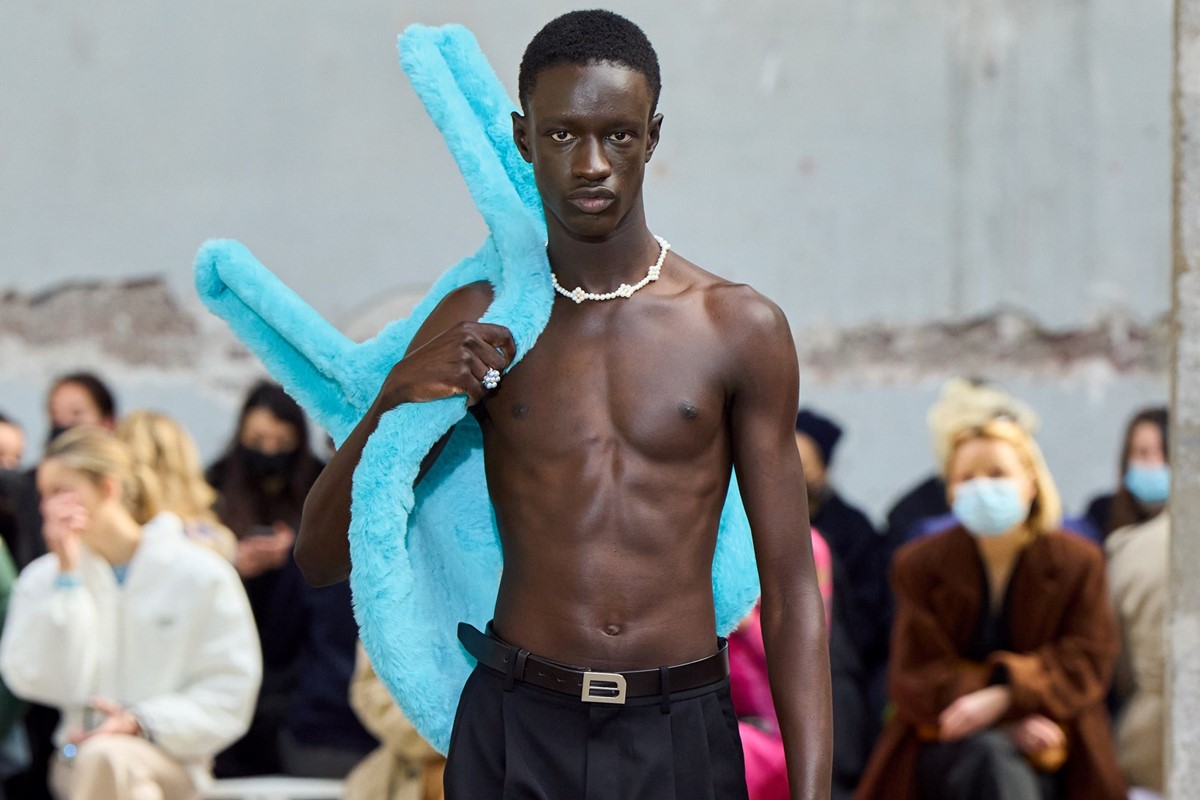 Your one-stop guide to Paris Fashion Week AW22
From Rick Owens, Balenciaga, and Ottolinger, to The Row, and Miu Miu, and Louis Vuitton, this is your clue card to the
AW22 runways
It's the final pit stop of the season and fashion pilgrims are jostling their way into Paris to bathe in the healing waters of French design. Even New York stalwarts like Vaquera and The Row have journeyed to the European capital, aligning themselves with blockbuster labels like Balenciaga, Valentino, Saint Laurent, and Chanel. Not to mention Marine Serre, Di Petsa, Ottolinger, and Botter, the city's emerging vanguard. 
Yet it would be remiss not to contextualise AW22 with Russia's invasion of Ukraine – which is no more than three hours away by plane. How on earth will designers respond to the declaration of war? Should they? Can they? As protests gather outside show venues and fashion's role in a crisis faces intense scrutiny, La Fédération de la Haute Couture et de La Mode has encouraged attendees to "experience the shows of the coming days with solemnity and in reflection of these dark hours." 
As always, we'll be covering the latest fashion week happenings as and when they occur – make sure to follow @dazedfashion for more breaking news.
Read More
The New York artist transforming fashion designers into freakish sculptures
That 'vibe shift' is actually Kim Kardashian moving into her Prada era
How THAT Miu Miu micro mini achieved total fashion domination
Style dispatches from the tornado that was London Fashion Week
BOTTER
Last month Rushemy Botter and Lisi Herreburgh announced that they were parting ways from Nina Ricci in order to spend more time on their own brand. At Botter, their practice goes beyond the confines of the runway, building coral farms in the Caribbean as they endeavour to make ecological progress a bedrock of the brand. It should come as little surprise, then, that one of this season's most eye-popping pieces emerged as a long-line blazer stamped with a skull-ified Shell logo. Political commentary found its way onto the laps of guests, too, with show notes dedicated to the war in Ukraine. Fashion, Botter explained, "could provide the world basic coordinates for reimagining a future together," making an example of this with colourful, beaded fringing on boxy leather jackets, polo shirts, and caps, which distended over the face into halter necks. Styled by Dazed's Fashion Director Imruh Asha, these pieces were made to resemble Black hair, to symbolise triumph over adversity. Elsewhere, candy pink suiting, phosphorescent balaclava-caps, and sour green, oversized rugby shirts, all drew inspiration from the jubilant and collective coming together of carnival.
DI PETSA
Di Petsa's women are often described as goddesses, enveloped in swathes of white fabric, creased and draped around their body like a Grecian statue. And this season, Dimitra Petsa lent full tilt into her own mythology, forging a collection indebted to "Mother Persephone", the wife of Hades and queen of the underworld. As such, pregnant models and new mothers walked onto AW22's swamp-like runway in the designer's signature wet-look pieces, baring their baby bumps in chiton two pieces and sodden minidresses. But the designer also pushed back on her trademark technique, making way for sinuous jersey dresses hoicked around the body's contours in revealing slits, utilitarian corsetry, and crinkle-effect columns. Water was a reigning motif, as always, with the show climaxing in a cathartic downpour, as clingy, asymmetric clubwear was daubed in flecks of liquid, gathering around the nipples as if the models were lactating.
DIOR
While many labels have found themselves wandering blithely into the metaverse, Maria Grazia Chiuri has been looking to innovate IRL. "How can the past serve as a starting point to invent the future?," the designer pondered ahead of her AW22 show, before transforming the maisons' most beloved pieces – like Monsieur Dior's Bar jacket – into inflatable exoskeletons. Made in collaboration with D-Air Lab, which specialises in protective workwear, Dior proposed wearable airbags and LED bodysuits alongside wasp-waisted tailoring, lacey frocks, brocade peplum dresses, monogram-wadded cape coats, and billowing, tulle gowns reminiscent of Sex and The City girls in Marakech. It all formed part of the label's "Next Era", which was brandished across high-top trainers, motorcycle gloves, and detachable armour – an idea that was carried through to corsetry, which was worn like sturdy, hourglass belts over fuzzy and asymmetric-panelled trench coats.
OTTOLINGER
As models swaggered and smized through a wipe-clean, inflatable maze, the inimitable gruff of Azealia Banks began to thrum. "I'm ripping the runway, serving the runway, eating the runway, pumping the runway," she snarled, making way for a collection that was equally as boisterous and bad-mouthed. This season, the presiding look at Ottolinger is that of a polar-apocalyptic baddie, in padded velour two pieces, cinched puffer jackets, and hulking yeti boots, all careening lines and feral straps. Nobbly knitwear swerves over the body in arctic caveman vests and fuzzy skirts, while tendrils flare from rough-hemmed sleeves and waistbands. Hirsute-handled bags were sculpted as though carved from chunks of snowy, celestial rock, while rugged, neon sunglasses made appropriate attire for a solar implosion. Elsewhere, the label's more avant-garde approach came through in 3D-printed, oil-slicked bodices, sculptural down dresses, and cross-body, faux-fur harnesses.