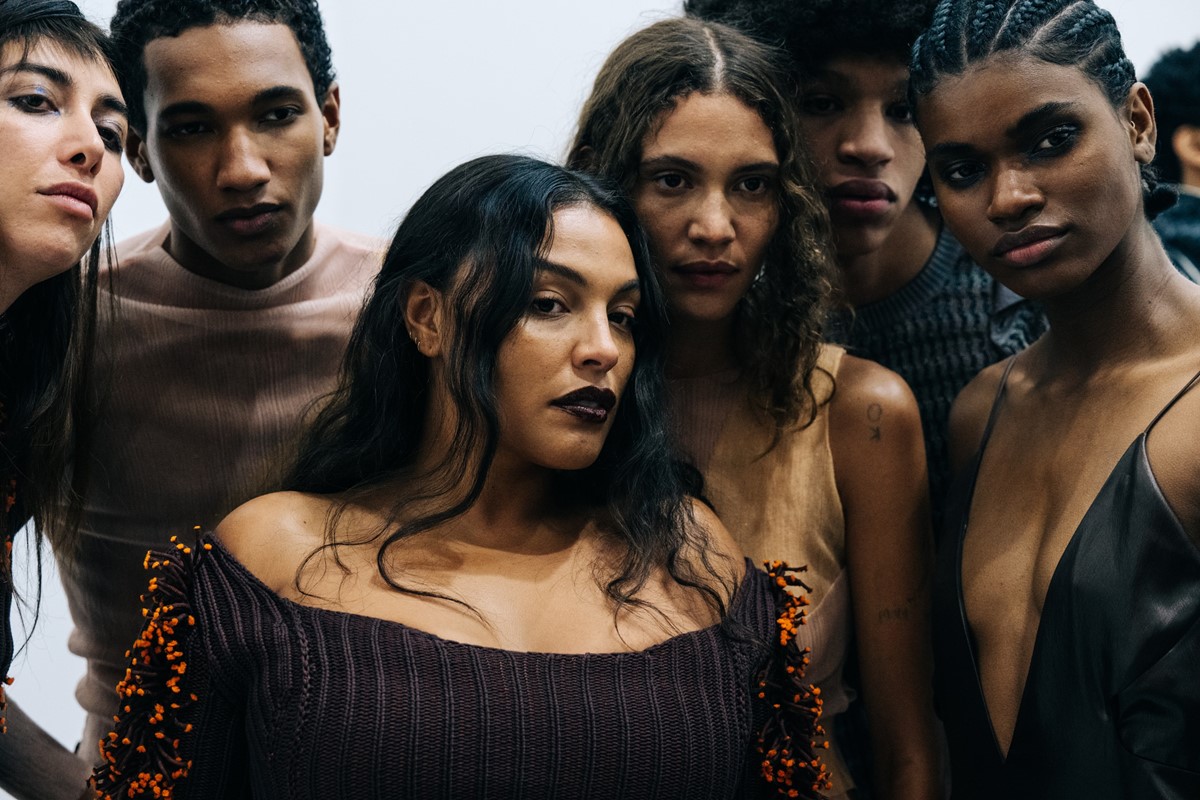 Your complete SparkNotes guide to New York Fashion Week AW22
From Eckhaus Latta and Area, to Peter Do and Collina Strada, consider this your cheat sheet to everything that's going down
at NYFW
Last month, while timelines were inundated with the news of Downing Street parties, Diet Prada discourse, and Wordle scores, the runways were putting a premium on frivolity and lightness. From JW Anderson's weird little pigeon purses, and Miuccia Prada casting Jeff Goldblum, to Glenn Martens' heat-mapped nudes, designers are wagering their bets on irreverence and wit as we hurtle towards AW22. 
With menswear kicking things off in January, the whiplash of the fashion calendar has yanked the womenswear shows into view, with New York the first to play host to the season's offerings. That's not to say designers haven't already shown women's looks, though, because in fashion, time is a mad scribble more than it is a straight line. Below we round-up the best in show from the Big Apple, including Eckhaus Latta, Area, Peter Do, and Collina Strada. 
Read More
'She's not an ethereal goddess anymore': FKA twigs' stylist on her new look
How fast homeware became the new fast fashion
No thoughts, just vibes: sexy boys are ruling the runway
WTF is Indie Sleaze and is it actually making a comeback?
BATSHEVA
This season, Batsheva Hay transformed bulky Ikea bags into babushka headscarves, wrapped lovingly around imposing bouffants. Elsewhere, florals were fashioned into old-fashioned frocks and a body-skimming maxi dress had been covered in crochet squares. Though the designer has always been a byword for quirky girls – in all their ruffles, grandma collars, and wallpaper-patterned prairie dresses – this season saw Hay translate Batsheva's brand of batty across denim, outerwear, knitwear, pyjama sets, and quilted two pieces. In fact, she really leant into her weirdo inklings for AW22, sending out mormon dresses in glimmering, wipe clean fabrications and modest, puff-sleeved robes in black latex and knitted mesh. Part Indiana Mole Women, part The Real Housewives. 
PROENZA SCHOULER
Bella Hadid made her return to fashion week on the Proenza Schouler runway this season, fronting a collection that felt assured and sophisticated, full of waisted tailoring, slouching cuts, and girdles. As the designers declared that they were "sick of sneakers" backstage, writer of the moment Ottessa Moshfegh provided a short story that was distributed on bench seats, dubbed Where Will We Go Next? The answer seemed to gesture towards a sensual brand of formality, which had been layered over the body in tabacco-coloured trench coats, sculpted knitwear, and sloped tailoring. As torsos ballooned into draped skirts, the peplum emerged as a dominant silhouette, though it felt more like a reference to 18th century pannier hips than Hervé Leger. At nearly 20 years old, the brand felt at odds with many of the emerging designers coming from the city, its frills muted with all the quiet reserve of Phoebe Philo and The Row.
SAINT SINTRA
Books should often come 100 pages shorter, plays should not run for more than 90 minutes, Inventing Anna had no business being nine hours long, and there is no need for runways to boast over 100 looks. Sintra Martins, for example, distilled her imagination into a mere 14 turns this season, giving her AW22 proposal punch and panache. Of course, emerging designers are forced to self-edit due to a lack of capital, but this exercise in restraint is a boon to creativity. Consider a skeleton dress made from horsehair filaments, swollen tweed skirt suits, liquid silk slips, and a deconstructed tulle skirt made to look as though it was disintegrating at the touch. Elsewhere, much of the collection was indebted to the time Martins spent locked down in Florence, meaning that shirting came ruffled, tied-up in XL bows, and discreetly corseted, as if pilfered from a renaissance court.
ECKHAUS LATTA
Perhaps one of New York's most successful exports over the past decade, Eckhaus Latta has garnered a reputation for its twisted, skin-baring, and inclusive approach to fashion. And its 10th anniversary show at the former Essex Market proved that Mike Eckhaus and Zoe Latta are two of the city's landmark designers. The show felt subversive, sinuous, and crafty, fronted by the brand's community of friends and followers, among them Hari Nef, Maryam Nassir Zadeh, and Paloma Elsesser. Gauzy sequins dressed the body in nude illusion dresses, skirts were wrapped-around in revealing apron squares, chain mail was crafted into cobweb slips, and tailoring teased a spine, a thigh, or a breast. Without veering too far into nostalgia, the collection was a summation of all the Eckhaus Latta signatures – strange, yes, but less art school.
ELENA VELEZ
In the UK, it can often feel as though fashion lives and dies within the boundaries of the M25, that anywhere outside of London is a cultural blackhole. That snobbery is endemic to the creative industries and across the pond, Elena Velez is whittling away at the notion of a 'fashion capital' with a collection she deems as Milwaukee as it is New York. Inspired by the complex and contradictory nuances of modern womanhood, this season Velez's rough-hewn brand of femininity comes via her own mother, who is a ship captain. As such, laminated military canvas, repurposed parachutes, and Lake Michigan ship sails haunt the runway across deconstructed corsets, boned peasant tops, and weathered, crinkly nightgowns. Though there is a grit to these pieces, treated with tea bags, sand, gravel, and rust, they seem to float and fray along the body's contours. It's a tension that the designer refers to as "aggressively delicate".
AREA
Like a surge of serotonin careening through the nervous system, AREA debuted its Collection 02, a rambunctious offering inspired by all the exuberance of the showgirl. Designers Beckett Fogg and Piotrek Panszczyk sent out monstrous yeti boots, dresses with enormous, spangled pannier hips, butterfly bustiers, and enough marabou feather shimmy tops to rival Big Bird. The show came to a proud crescendo with a series of hulking red carpet gowns, their hourglass silhouettes exaggerated with whorls of Swarovski crystals. Though the label is not on Paris' official couture schedule, the duo's overblown creations align with what we've seen from Glenn Martens and Daniel Roseberry, their midas touch transforming the gilded cage of couture into a veritable treasure chest.