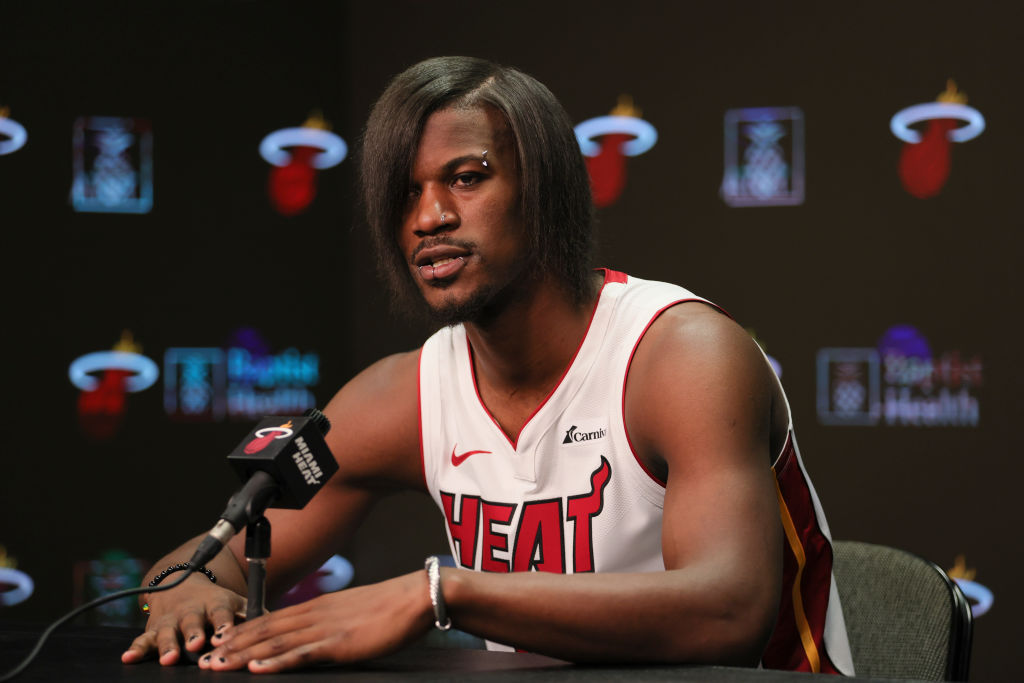 We Let Jimmy Butler's Viral Emo Hair Inspire Our Sad Songs En Español Playlist
Jimmy Butler appears to have entered his emo era today. On October 2, the Miami Heat basketball star went viral for his new hair look: a pressed, straightened, long-layered bob. In honor of the occasion, Remezcla made a special playlist for Butler and other Latine emos. 
But before we get into the playlist, let's give some more context. Today, the Miami Heat hosted the team's media day. Butler surprised reporters when he walked into the room with straightened hair and a long fringe covering one of his eyes. Butler also sported a piercing above his eyebrow and a nose piercing — completing the edgier look. On the way to his seat, he said, "Don't make me break character right now." Butler also confirmed that he was going for "emo" with his new look.
During the press conference, in a very emo fashion, Butler pushed his fringe to the side so that he could see with both eyes. People online had a field day over Butler's new look. On X (formerly known as Twitter), one person posted a picture of Outkast's André 300 with straight hair from the "Hey Ya!" music video and wrote, "I'm sorry, Mrs. Jackson. I am for real!" Another person wrote, "Jimmy Butler is trolling the league again." 
Remezcla compiled the perfect playlist for Butler and anyone feeling emo, especially after this look. The playlist, titled "Los Emos Si Lloran," includes emo songs en Español from throughout the years. For some classics, there's "Mátenme Porque Me Muero" by Caifanes, "Avientame" by Café Tacvba, and "Tú" by Shakira from her album Dónde Están los Ladrones?, which turned 25 last week. 
Among the newer songs, there's Silvana Estrada's cover of "Amor Eterno," "Nunca He Sabido Amar" by La Texana, and "No Digas Nada" by Mexican indie-pop group Latin Mafia. Check out the entire playlist below: