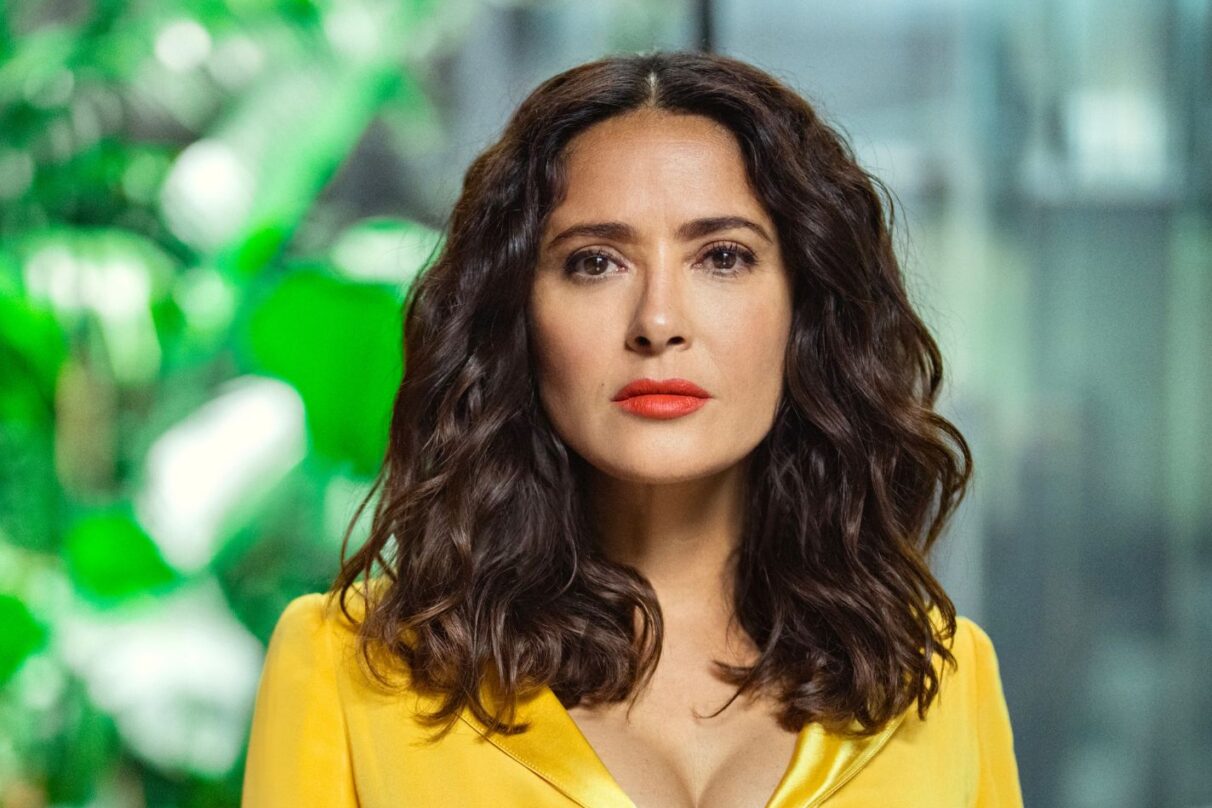 WATCH: Salma Hayek Helps Poke Fun at Netflix in New Trailer for 'Black Mirror'
Black Mirror left our screens in June 2019 with five seasons under its belt and many fans fearing that the critically-acclaimed anthology series would never return. Thankfully, it's back for season 6 with a star-studded cast and an official trailer that gives us a more in-depth look at what's to come, especially for the role that Salma Hayek is set to play. 
Last month the streaming service dropped a teaser trailer for the series, giving us our first glimpses of Hayek. But it was just that; a glimpse of her in a bright yellow suit.
The new trailer for season 6 pokes fun at its own streaming service and introduces its parody counterpart, Streamberry, in the episode "Joan is Awful." Starring Annie Murphy, best known for Schitt's Creek, it tells the story of an average woman who "is stunned to discover a global streaming platform has launched a prestige TV drama adaptation of her life." The bigger surprise comes when Hayek is the Hollywood A-lister who plays her, white streak and all in her hair to mirror Murphy's character.
And she's not the only Latine talent in season 6 of Black Mirror. 
The Falcon and the Winter Soldier's Danny Ramirez is set to make an appearance in a separate episode "Mazey Day." Starring alongside Zazie Beetz (Atlanta) and Clara Rugaard (The Rising), this episode tells the story of a troubled starlet who "is dogged by invasive paparazzi while dealing with the consequences of a hit-and-run incident." Ramirez and Beetz are playing photographers after the starlet.
Black Mirror, is written and created by Charlie Brooker. And Brooker, alongside Jessica Rhoades, Annabel Jones, and Bisha K. Ali act as its executive producers. Previous seasons have included amazing talents such as Miley Cyrus, Anthony Mackie, Bryce Dallas Howard, and Letitia Wright.
Season 6 of the hit series welcomes other stars such as Aaron Paul, Anjana Vasan, Annie Murphy, Auden Thornton, Ben Barnes, Daniel Portman, David Shields, Himesh Patel, John Hannah, Josh Hartnett, Kate Mara, Michael Cera, Monica Dolan, Myha'la Herrold, Paapa Essiedu, Rob Delaney, Rory Culkin, and Samuel Blenkin.
Black Mirror premieres with 5 new ground-breaking stories on June 15, 2023 only on Netflix.