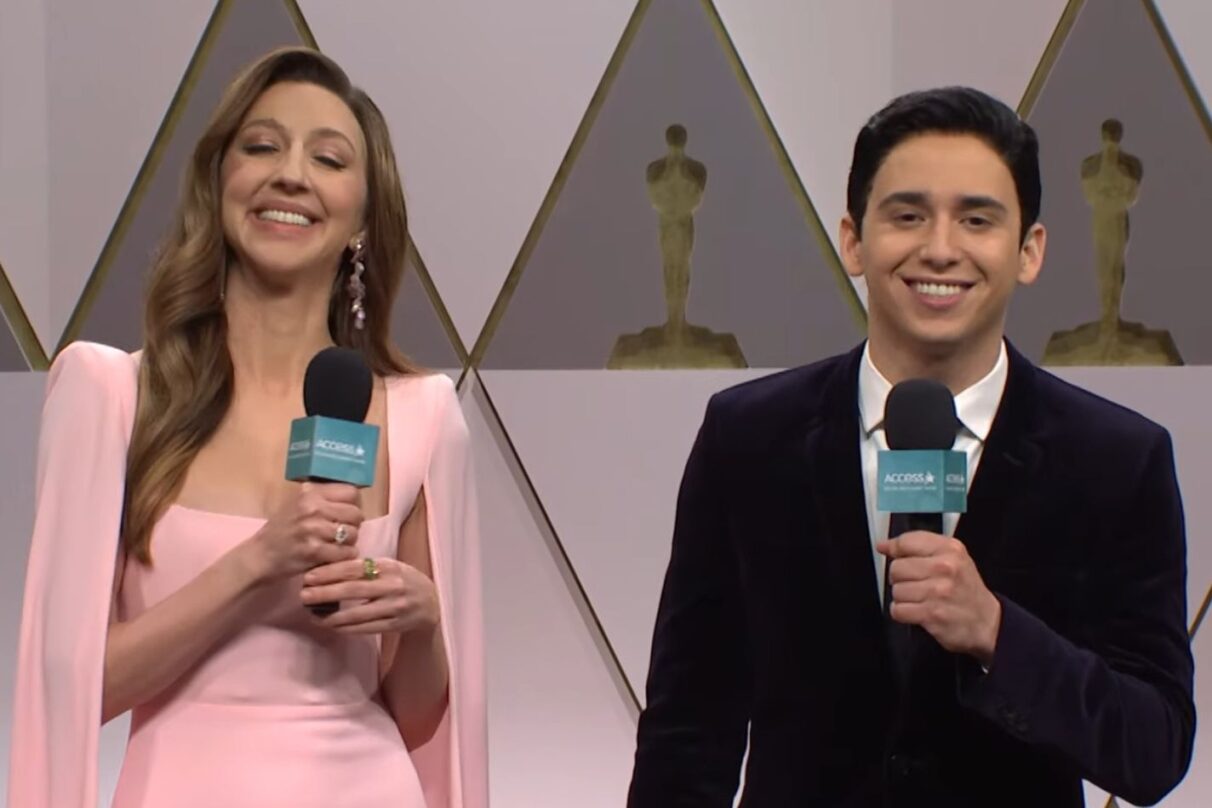 WATCH: Marcello Hernández Pokes Fun at the Oscars in 'SNL' Cold Open — & It's Spot On
Lone Latine SNL cast member Marcello Hernández took his place on the red carpet at the Academy Awards pre-show during the March 11 episode's cold opening.
Hernández played Access Hollywood host Mario Lopez and teamed up with co-host Maria Menounos or Kit Hoover (Heidi Gardner, who admitted she wasn't sure which of the two hosts she was portraying) to talk to celebrities.
The duo admitted that they had been standing on the red carpet for 153 hours and hadn't slept or used the bathroom. Hernández said it was all worth it if he could ask Oscar nominee Angela Bassett (Black Panther: Wakanda Forever) "if she really did the thing."
The pre-show saw celebrities like Jamie Lee Curtis (Chloe Fineman) talk to Access Hollywood about being nominated for an Oscar and how much she enjoyed Ariana DeBose's rap at the BAFTAs; and Mike Tyson (Kenan Thompson), who was hired to run security, so nothing like Will Smith's slap of Chris Rock would happen this year.
Access Hollywood announced that DraftKings was a new Oscars sponsor and that there were currently longshot odds that embattled U.S. congressman and pathological liar George Santos would show up pretending to be Tom Cruise (Top Gun: Maverick). Later, Santos (Bowen Yang) did, in fact, make an appearance as Cruise.
"I am definitely Thomas Q. Cruise, star of this year's blockbuster film Top Gun 2: Top Bottom," Yang said. "Now, if you'll excuse me, I have to go be Everyone Everywhere All at Once."
The segment ends after Marcello Hernández introduces Pinocchio (Mikey Day) from Guillermo del Toro's Pinocchio. "Ima gonna scare so many kids," Day's Pinocchio says in an Italian accent.