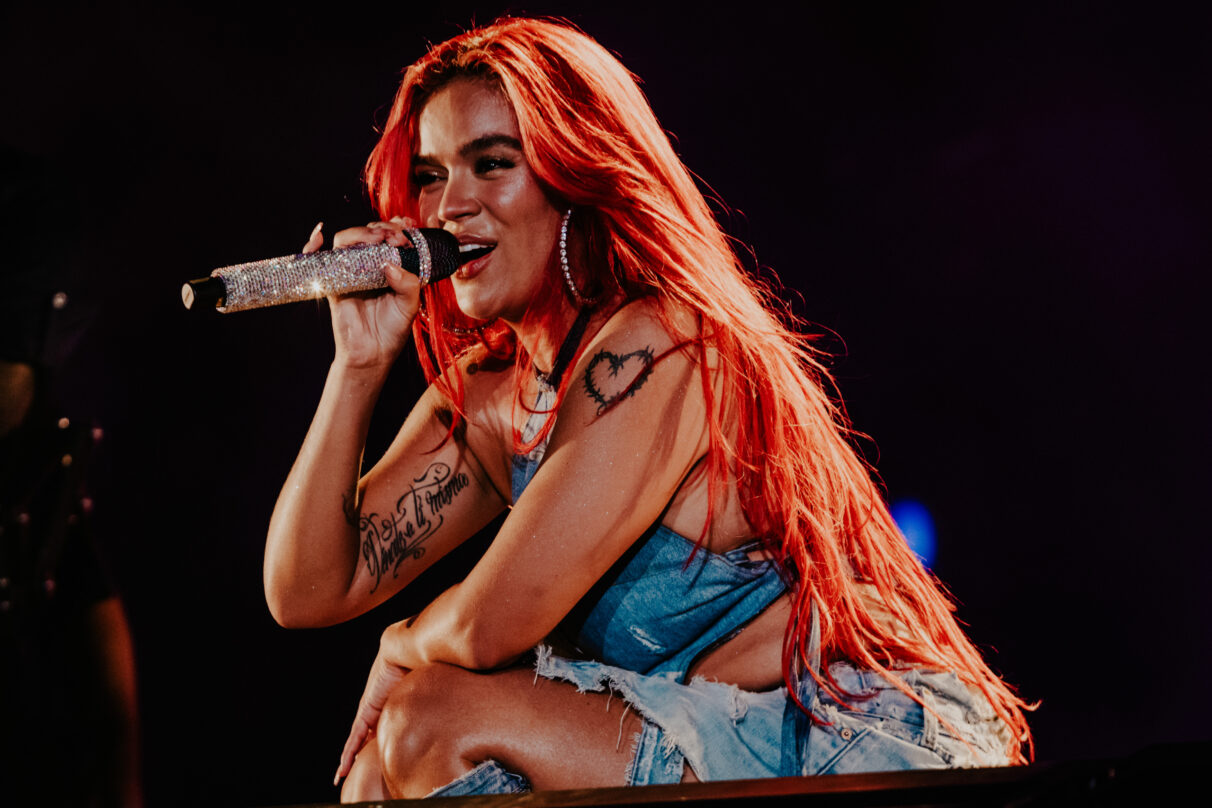 WATCH: Karol G Shares Live Performance Video of "AMARGURA"
Following the release of her recent NPR Music's Tiny Desk Concert, Karol G shared a live performance video of her kiss-off banger "AMARGURA" on May 18. The video was filmed during one of her three sold-out shows at the Estadio Hiram Bithorn in San Juan, Puerto Rico, on Mar. 11. 
"It has been a little more than two months since the first shows of 'Mañana Será Bonito,'" the Colombian superstar wrote on her Instagram stories. "We made an incredible live video of AMARGURA, the only thing that [it] makes me want to do is SING IT LIVE AGAIN!" She also asked fans to send screenshots if they see themselves in the video.
The video shows Karol wearing an all-denim look of a halter top, skirt, and boot combination. She starts by singing the song's chorus twice acapella and teases the end of the track by saying: "Y esa canción que no me la pongan borracha hijuep*ta." The heartbreak anthem is celebrated and echoed throughout the stadium, especially with the iconic chorus: "Y aunque yo hago como si nada / Baby, qué amargura me da, saber que ahora / Tú estás vacilando con otra / Por fuera me río, pero por adentro estoy rota [And though I pretend it's nothing / Baby, how bitter it makes me, to know that now / You're flirting with another / On the outside I laugh, but inside I'm broken]." Throughout the video, she sings the hit passionately as the crowd reciprocates the vibrant energy. 
In addition to her recent NPR Music's Tiny Desk Concert, the "TUS GAFITAS" singer has also made a public appearance at Alicia Keys' show in Colombia (May 11). The two artists sang a bilingual version of Keys' hit song "No One." Next up, Karol will be performing what's arguably her most ambitious tour yet–her highly-anticipated Mañana Será Bonito Tour throughout U.S. stadiums. The tour starts on Aug. 11 at the Allegiant Stadium in Las Vegas, NV.
Watch the live performance video of "AMARGURA" below.