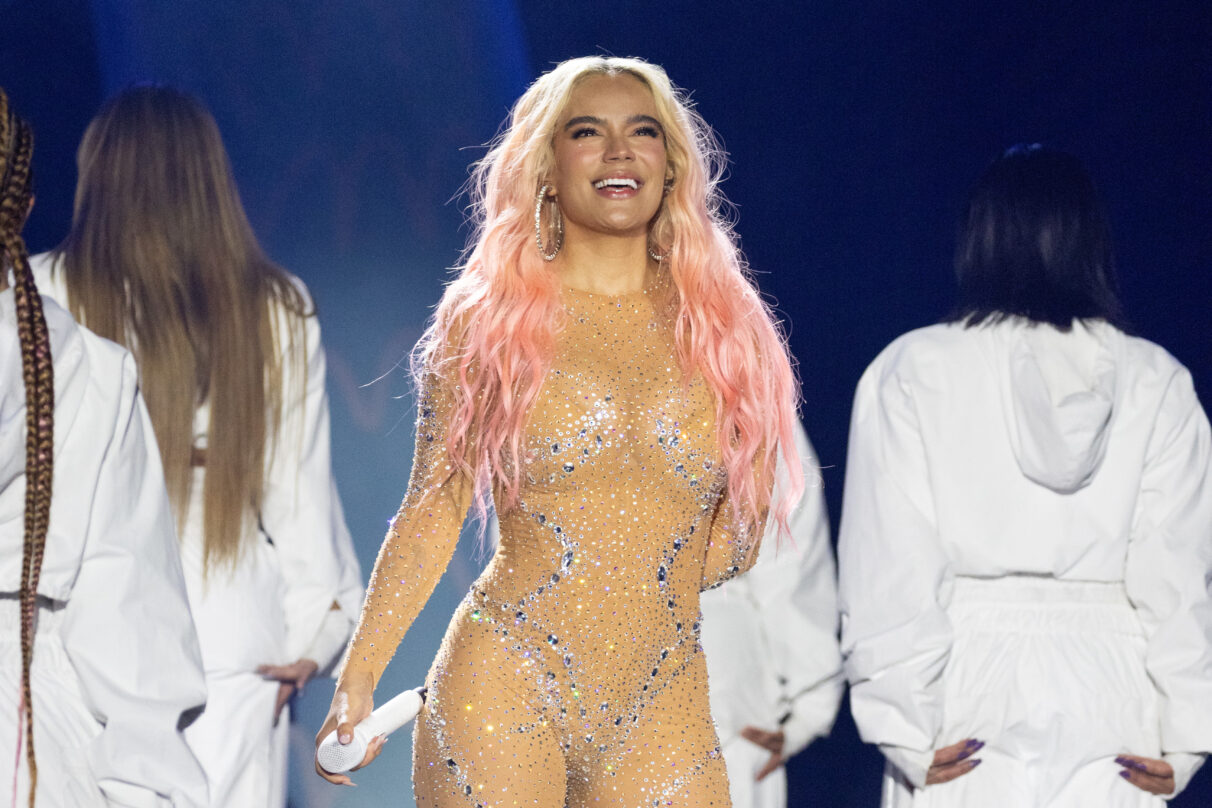 WATCH: Karol G Pays Tribute to Selena Quintanilla in San Antonio
Karol G's Mañana Será Bonito Tour is giving us FOMO. Last night (Aug. 31), the Colombian pop star paid tribute to her idol, the late Tejano icon Selena Quintanilla, by singing two of her most popular songs at her Alamodome in San Antonio, TX, stop.
During her show in San Antonio, the "MAMIII" singer took the opportunity to sing two of Quintanilla's hit songs. While holding a long-stemmed red rose and wearing a glimmery silver dress, Karol paid homage to one of her favorite artists—but not before talking about the artist's legacy. "It turns out that just like you, I also have an idol," Karol said before singing. "The difference is that I won't have the opportunity to meet her, sing with her, or share with her. But I can sing for her. And I can sing for her family who came to see me tonight."
She also mentions that throughout the years, and despite her idol being absent, Quintanilla remains as present as ever in the hearts of many people. She says she could only imagine how proud her family must feel seeing how years and years pass, and she remains a legend. "I prepared these songs that I want you to sing with me from the soul, from the heart, so that her family can see that she is here and everywhere, and with me everywhere, always," she concluded.
After her sentimental speech, Karol sang a piece of Quintanilla's "Como La Flor." She then covered the popular kiss-off anthem "Si Una Vez." During the mash-up, the crowd echoed the lyrics to the Colombian superstar. After singing the two jams, Karol sang "Mi Ex Tenía Razón," which she shared makes her feel connected to Quintanilla because it reminds her of the Tex-Mex icon.
This isn't the first time Karol makes her admiration for the "Amor Prohibido" known. Earlier this month, she paid homage to her in her latest music video, "Mi Ex Tenía Razón," by wearing a shirt of the popular singer. Moreover, she has a tattoo of her.
Karol G will continue her stadium tour at the Cotton Bowl in Dallas, TX, on Sep. 2.