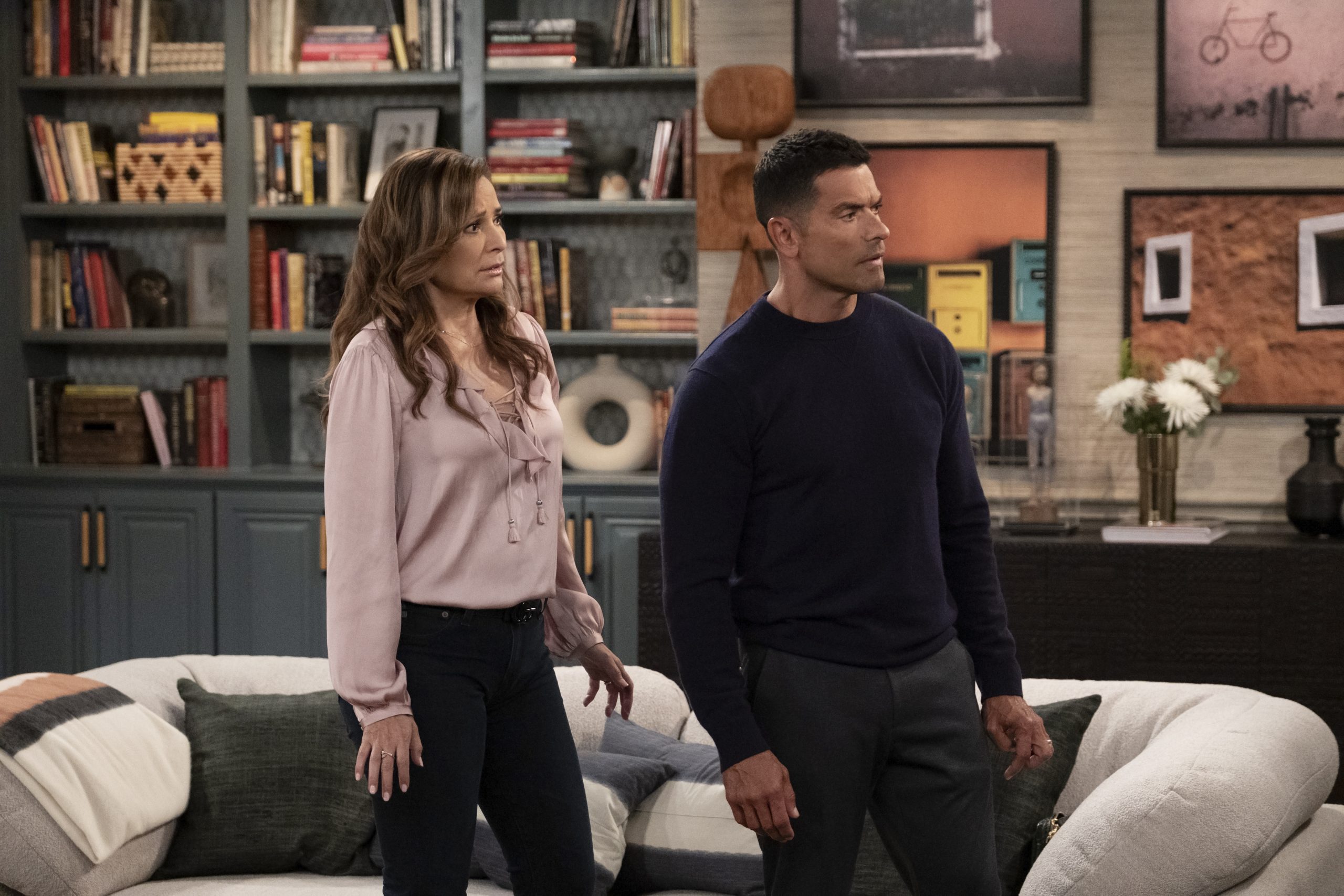 WATCH: Constance Marie & Mark Consuelos Join Family in Exclusive Clip From 'How I Met Your Father'
The family is expanding How I Met Your Father. In an exclusive clip for the Hulu series, audiences are getting an introduction to Valentina's (Francia Raisa) parents, Juan and Raquel, played by Mark Consuelos (Riverdale) and Constance Marie (George Lopez).
Apparently, Juan and Raquel have brought a handsome young man named Oscar (Victor Rasuk) over to the house, but not to introduce him to their daughter. Instead, they're trying to set him up with Valentina's best friend, Sophie (Hilary Duff).
Valentina has a lot of questions. For one, why did her parents want Oscar and Sophie to meet? "Oh, he's just really, really special, and we didn't want him to go to waste," Raquel tells her daughter as she puts together a charcuterie board.
"And setting him up with me would have been a waste?" Valentina asks with a surprised look on her face. Her father responds: "You told us that you didn't want us setting you up anymore."
That, however, isn't a good enough excuse for Valentina. "What, so we're listening to me now?" she asks.
After her father tells her that they've accepted that she isn't the "relationship type," he reminds her that she is 30 years old and has only had one serious boyfriend. Her mother isn't sure the number is even that high, which prompts her dad to tell Valentina that they both aren't very sure Charlie (Tom Ainsley) even exists.
"Of course, we think he's 'real,'" Juan tells his daughter and emphasizes the word "real" with finger quotes.
Now upset, Valentina goes into the living room, where Oscar and Sophie are sitting on the couch drinking spirits and enjoying each other's company. "Oscar, listen, do you want to go to my room?" she asks him in Spanish and a bedroom voice.
"I'm sorry, Val. Do you care to repeat that sexy-sounding phrase just a little more slowly?" Sophie asks. She then takes out her phone to try to translate it.
We'll see if Oscar takes the bait or stays sitting uncomfortably on the couch when the new episode of How I Met Your Father streams on Hulu on February 21, 2023.