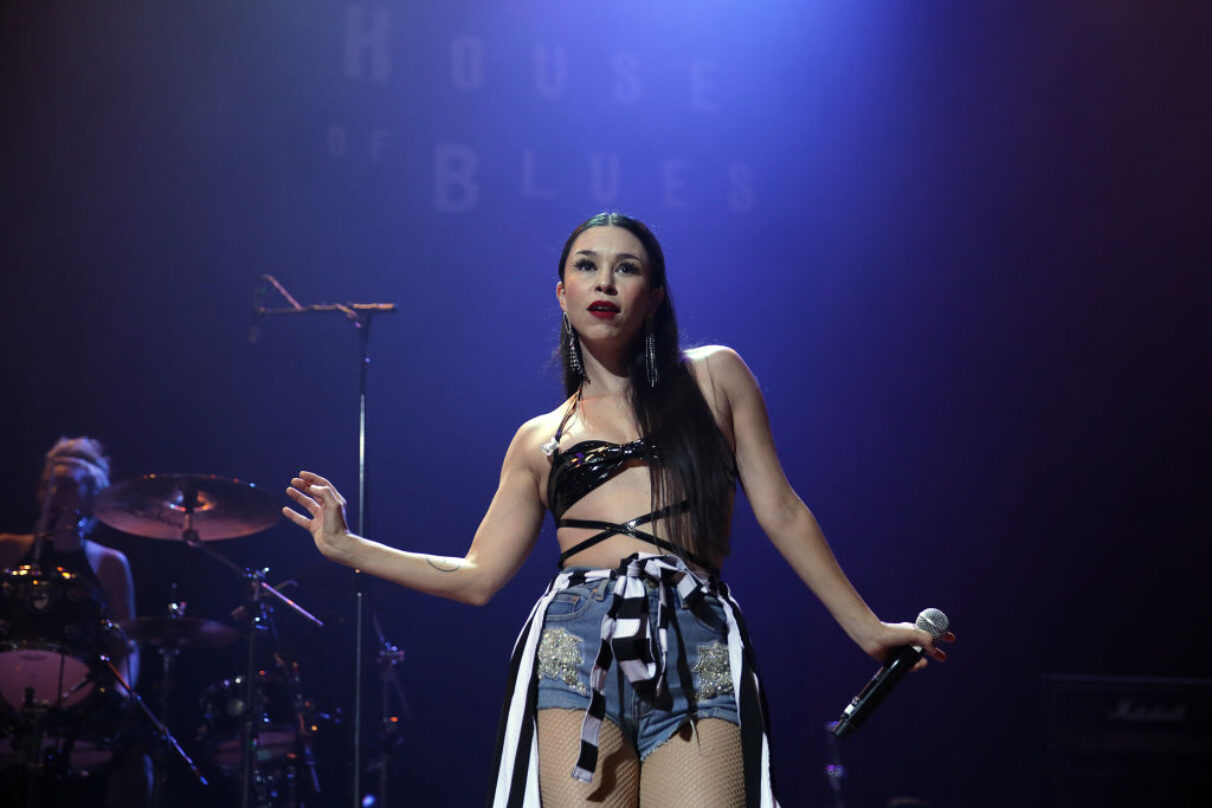 WATCH: Belanova's Denisse Guerrero Sings 'Rosa Pastel' with Carla Morrison
On Saturday (Nov. 11), Belanova's lead singer Denisse Guerrero surprised fans during Carla Morrison's concert at thel Auditorio Nacional in Mexico City. 
Morrison, who has been on her El Renacimiento Tour, began singing a rendition of Belanova's hit "Rosa Pastel" when Guerrero suddenly walked up behind her on stage. The Mexican pop singer's iconic voice is instantly recognizable, so there was no doubt that it was actually her. 
Guerrero took to Instagram the next day to thank Morrison for the invitation, writing in Spanish, "I don't have words to describe what I felt yesterday on stage, @carlamorrison gave me the honor of singing with her and now I take in my heart all the voices that sang rosa pastel." 
As expected, fans are expressing their disbelief that this moment happened on social media. One commented in Spanish, "Omg she sounds better than ever."
To no surprise, Guerrero's performance is tugging the nostalgia strings for her millennial fans, too. One wrote in Spanish that her daughters are now Belanova fans as well, "I waited a long time… Now my daughters are Belanova fans. It was worth the wait."
Belanova, formed by Guerrero, Edgar Huerta, and Ricardo Arreola, cemented their music as one of Mexico's most popular electropop bands. In 2005, their album Dulce Beat was nominated for a Latin Grammy. The band formed in 2000, and after almost 20 years together, they went silent in 2018. 
Though this mini comeback has fans freaking out, it was something that fans had been speculating about because Guerrero had been leaving clues online. Back in August, she reactivated her Instagram account with a birthday post, writing in Spanish, "One more year to say that life is still worth living, existence has meaning, our mission is to find it. Thank you all for waiting, the best is yet to come. Blessings. Denisse G."
Though a formal Belanova comeback hasn't been announced yet, the band's upcoming festival stints hint at a return to music. Since Guerrero's birthday post, Belanova was announced to take the stage next year at the Bésame Mucho festival in Austin, TX, as well as at the Mexican festivals Pa'l Norte in Monterrey and Vive Latino in Mexico City.