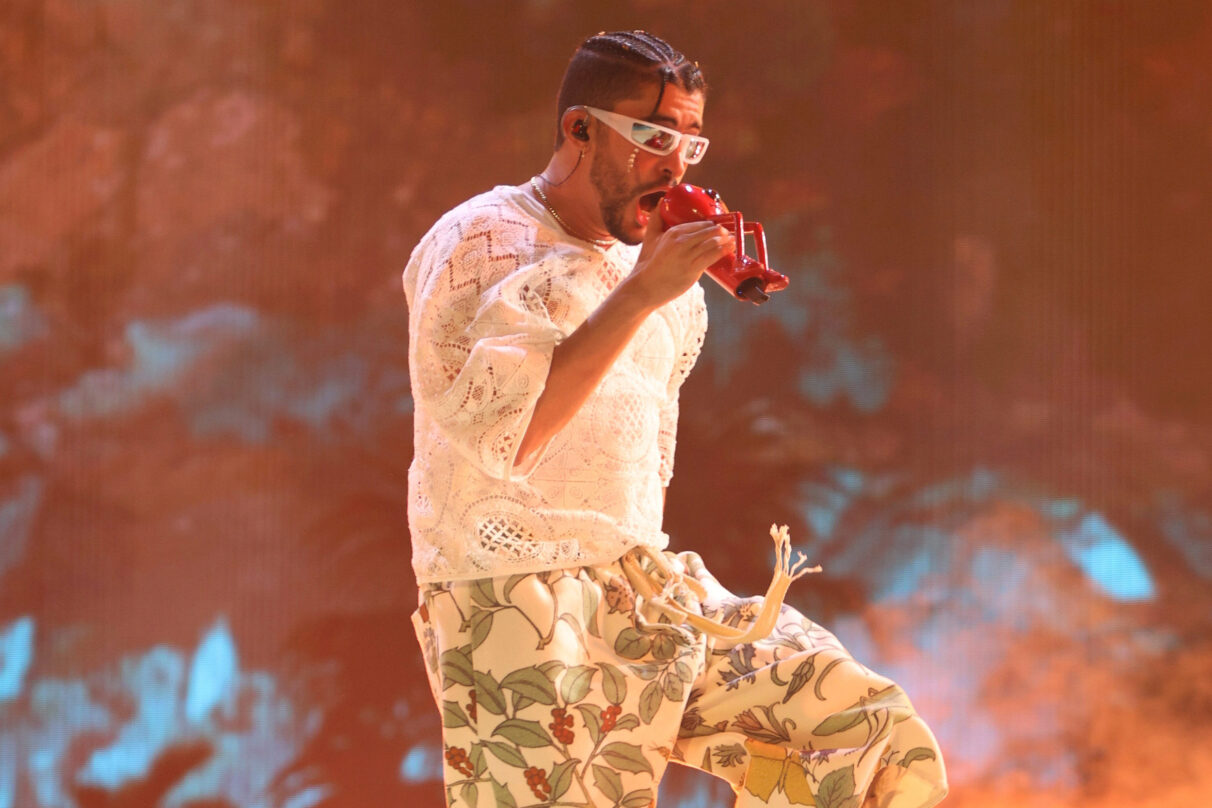 WATCH: Bad Bunny Drops New Song "UN PREVIEW" — & Calls New Lover His 'Vaquera'
There's one way to start a week — and Bad Bunny is doing so with new music. On Sept. 25, Benito shared his newest single, "UN PREVIEW." The result? A romantic synth-driven reggaeton song about his new cowgirl lover.
While the song's production maintains the signature sounds we've come to expect from Benito, this new song talks about a "vaquera" he's into. He hints to not being scared to fall in love again, although he knows she's "un peligro." The official music video keeps to more simple shots of the Puerto Rican artist clad in jeans and a white shirt. Other clips show a woman riding a horse while another clip shows two people perreando, wearing all denim outfits with covered face masks. The following frame shows him riding a mechanical horse – tying into his all-across Western cowboy theme.
The new track doesn't come as a complete surprise as this past weekend, he wrote on his WhatsApp chat: "This is possibly the last song from me this year 🙂 And it's called 'A PREVIEW' because it's a little preview of what's to come for the next year."
The new song comes after Vanity Fair reported that a new Benito album was due this fall. Though the "WHERE SHE GOES" singer ended up calling out the media outlet, saying he didn't confirm a new album in the interview, he didn't exactly deny it either. It's unclear if he will share more music this year, but for now, we have this new track plus a joint track with Drake due Oct. 6. 
On Sunday (Sept. 24), Benito previewed a short 17-second clip of the new track. Fans were treated to heavy synths going from a minor to major key, with his recognizable vocals singing: "Baby yo se que cuando te atrevas yo me voy a enamorar… [Baby, I know that when you dare, I'm going to fall in love]." He shared the audio with a blurry selfie featuring a blue cap on backward and silver jewelry. 
"Un Preview" follows Benito's latest jersey club-infused single, "WHERE SHE GOES." Before that, he released a surprise norteño cumbia collaboration, "un x100to" with Grupo Frontera. He was also part of Eladio Carrión's latest album with "Coco Chanel."
Watch the official music video for "UN PREVIEW" below.