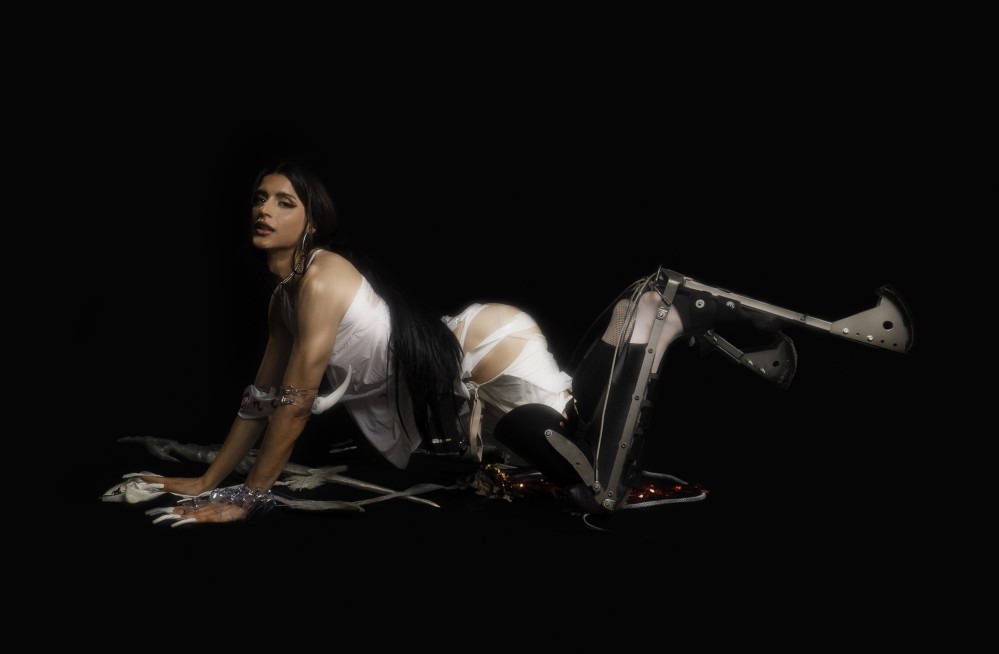 Vico Ortiz Is Reclaiming Their Identity & the 'Sparkly Fairy' They Used to Be
Arca is back! The experimental Venezuelan artist released her newest track, a feature on Safety Trance (also known as Cardopusher)'s "El Alma Que Te Trajo." The glitchy reggaeton track's video was released today (June 16), serving us a solid old-school reggaeton moment paired with Arca's signature eclectic visuals. What else can we ask for?
Directed by Unax LaFuente and Arca herself, the minimalistic but alluring music video captures the "Prada" singer in different, edgy looks. One of the most iconic ensembles of the video is her thigh-high leather boots, two high ponytails, and the long nails. She shows off her sassiness with lyrics like, "Soy una perra, pero te yo hago / Miau, miau, miau / Te dejo despelucao-pao-pao," as she glares at the camera, completely captivating the screen. 
In certain experimental scenes, the video splits the screen in two, mirroring Arca's moves as she dances frame after frame sensually. The track's early 2000s reggaeton influence is further implemented as we hear the popular voice sample saying "duro" midtrack – adding the perfect cherry-on-top to the banger.
A Twitter user commented: "The sound of this one is perfect, ARCA served a lot." On the music video's Youtube, user Átilla Alves commented: "I'm going crazy with this experimental perreo. What a blessing to live in the same era as Arca." Another Youtube user commented: "This sounds like a mix of Prada and Rakata. I love it," referencing two of Arca's singles that were released last year.
This is Arca's newest single after "Cayó," which was dropped in April. Since then, she released her highly-anticipated KICK series physical albums, as well as produced Shygirl's single "Come For Me." What can't the multi-faceted artist do?
Watch Safety Trance's "El Alma Que Te Trajo" featuring Arca below.