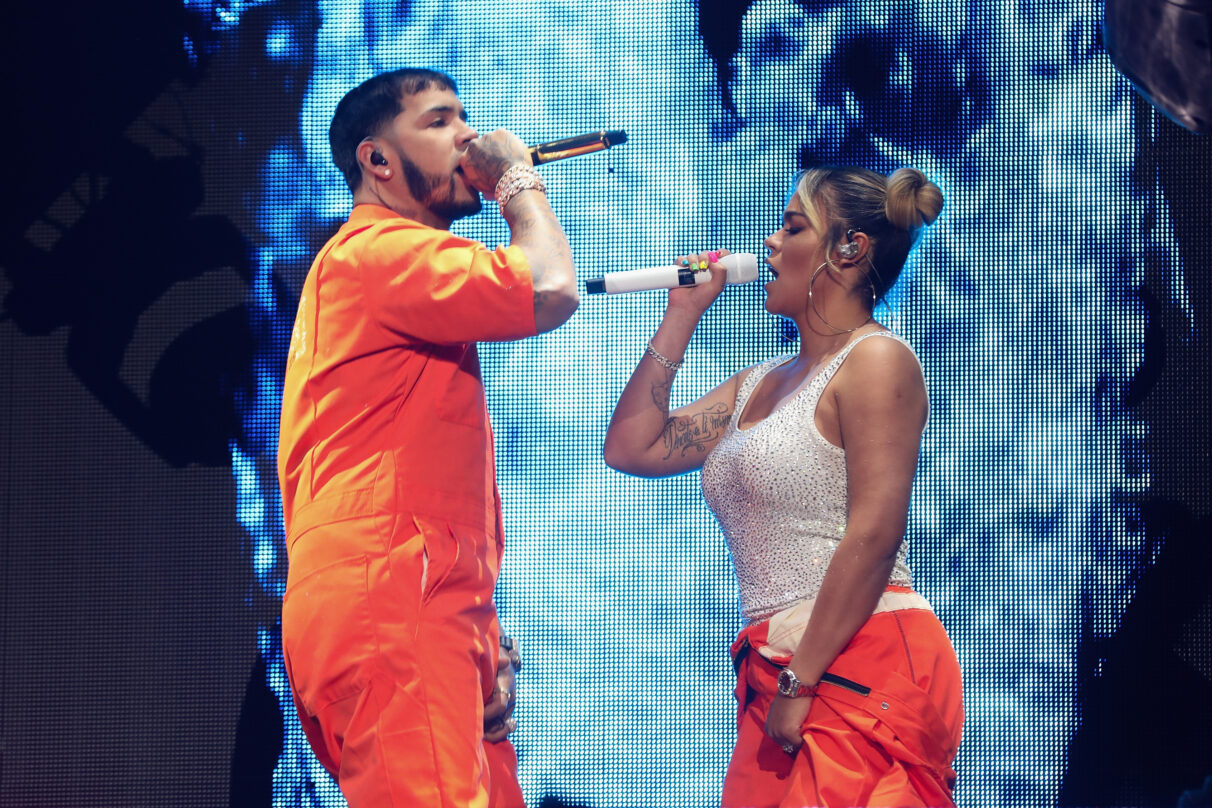 Anuel Sends Clear Message to Karol G & Shocks The Internet
Anuel AA apparently hasn't gotten over his breakup with Karol G. Last night (May 4), the Puerto Rican artist publicly dedicated his new music video for "Mejor Que Yo" to the Colombian singer.
Anuel AA first seemingly hinted at Karol G on Apr. 29 during the Miami stop of his Legends Never Die Tour. Before singing their old duet "Secreto" by himself, he referred to the women in the audience as "bebecitas" and "bichotas." Anuel AA also told the crowd, "Let's make them hear it in Colombia!" Karol G was spotted filming a commercial in Medellín the day before.  
Now, Anuel AA has named Karol G directly in an Instagram post. While promoting his new video for "Mejor Que Yo," he wrote in Spanish, "I dedicate it to you baby, Karol G." The caption also included kissing emojis. In his new song with Dj Luian and Mambo Kingz, Anuel AA refers to his love interest as "bebecita" while seemingly taking aim at Karol G's rumored boyfriend Feid.
"You already have a boyfriend," he sings in Spanish. "I miss you / He doesn't understand like you I do / He will never make love to you like me."
Though Feid isn't named directly in "Mejor Que Yo," Anuel AA appeared to call out the Colombian singer in one of his concerts last weekend. While singing another of his Dj Luian and Mambo Kingz collaborations, "Mas Rica Que Ayer," he changed one of the lyrics to include Feid's name. Instead of the line "Será que el novio la dejó?," Anuel AA sang, "Será que Feid la dejó?" 
Anuel AA's Legends Never Die Tour will continue throughout the rest of the month. Feid is currently performing in concerts in the U.S. with his Ferxxo Nitro Jam Underground Tour. Karol G's Mañana Será Bonito Tour kicks off this summer in stadiums across the country. 
Anuel has been trending as fans react to the Instagram caption with many shocked that he directly tagged Karol G or imagining her unbothered with Feid. Others are hoping for a collaboration between Karol and Yailin, who Anuel married after his breakup and shares a child with.
Check out the "Mejor Que Yo" video below: