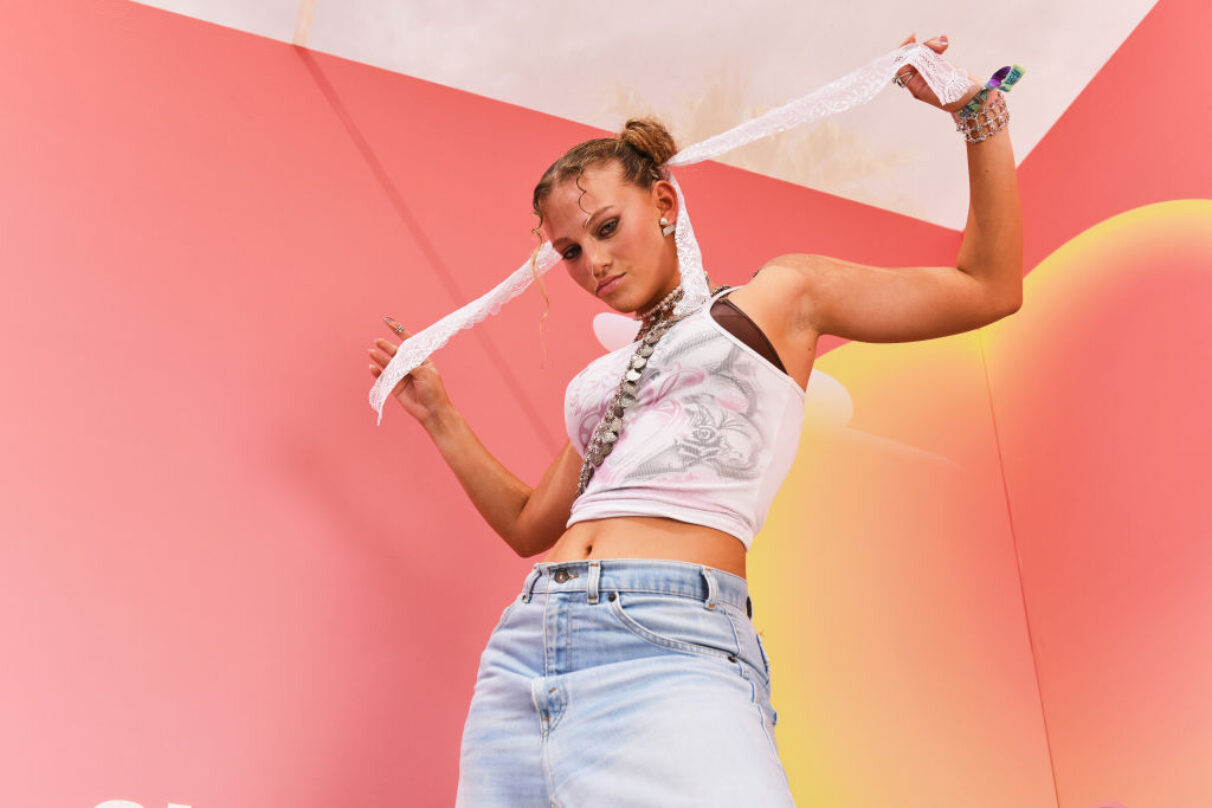 This Palestinian-Chilean Singer Just Made History at Coachella
One rising Latine artist made history at Coachella this past weekend. Her set at the music festival on Saturday (April 15) won the Palestinian-Chilean singer Elyanna the title of the first artist to perform fully in Arabic.
With more music from all corners of the world gaining a global platform and recognition, Elyanna is proving that Arabic pop is poised to hit big next. According to Luminate, her self-titled debut EP has over 7.2 million streams in the U.S. Her breakout single from that EP, "Ana Lahale," has garnered over 25 million streams globally. In the week leading up to her historic performance at Coachella, Elyanna's streaming numbers more than doubled in the U.S. 
During her set at Coachella, Elyanna performed music from her two self-titled EPs. She also performed covers like an Arabic version of the song "La Vie En Rose," popularized by French icon Édith Piaf. 
The Palestinian-Chilean chanteuse opened up about the experience of bringing Arabic pop to Coachella in an interview with the Desert Sun.
"The fact that I didn't have to sing in English, or the fact that I didn't have to change myself, who I am, in order to sing in one of the biggest festivals in the world just is everything, because I'm just being who I am," Elyanna said. "I'm bringing my culture and introducing a new culture to everybody and (that) hopefully will open doors for artists like me, that sing in Arabic."
Elyanna's set was even more special for her because she was joined by her older brother Feras. He played the keyboard among traditional Arabic instruments like the tabla and oud. Feras also joined his sister to perform the Egyptian song "Awhak" together.
"Hearing Arabic at Coachella is like Coachella is speaking a new language … And, it takes time for people to get what we're trying to do, but really, it's about art, it's about culture, it's about our instruments and our vocals, all the things that probably people haven't seen before and we're putting it on the map showing what we have," she added.
Elyanna grew up in Nazareth, Israel, and was discovered by her brother after he heard her sing an Adele song. About her Palestinian-Chilean background, she told Las Últimas Noticias,"My grandmother and family members live in Chile. I usually go once a year to spend Christmas and New Year." Elyanna's parents are both Palestinian, but her paternal grandmother is Chilean and currently resides in Viña del Mar. In that same interview, Elyanna said she's practicing her Spanish to hopefully sing in the language one day.
Up next, Elyanna is working on a new album with her brother. During her Coachella set, she performed one of the unreleased songs from the project.