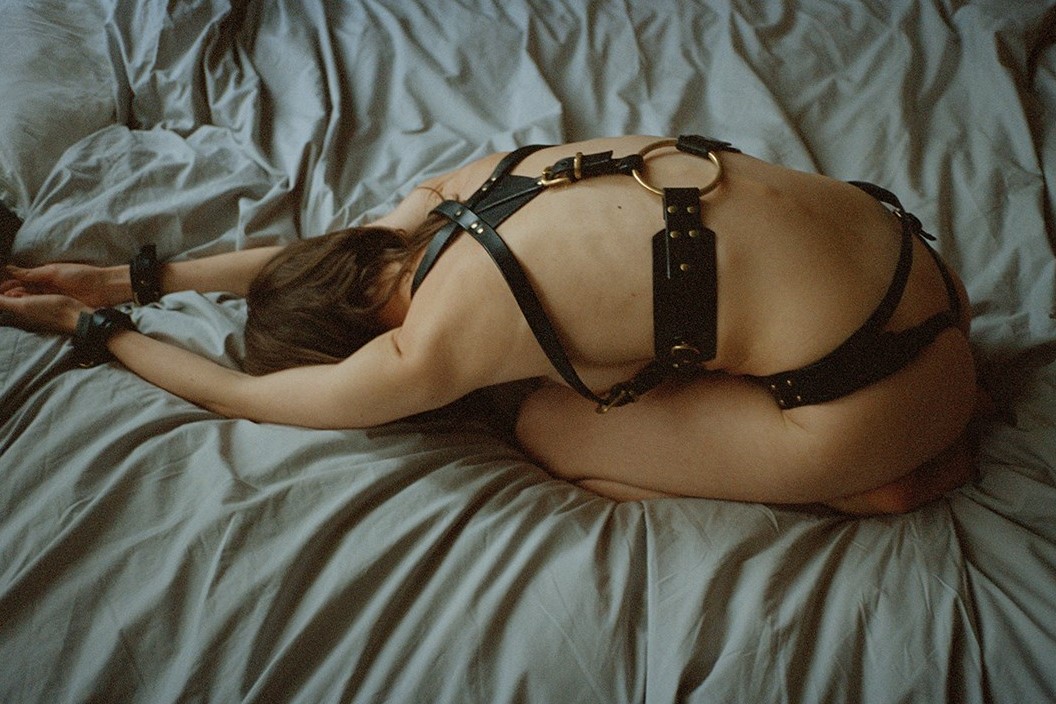 The intimate book exploring sexuality and desire in the pandemic era
Artist Ekaterina Bazhenova-Yamasaki joins forces with leather label Fleet Ilya on Atom – a subversive publication reframing erotic photography for the
pandemic era
The last two years of the global pandemic have seen a major shift in our consciousness and lifestyle. It has affected the way we travel, work, and connect, as well as the way we perceive ourselves in private. Confined to the four walls of our bedrooms for days, many of us have contemplated: What does it even mean to occupy a human skin? How is self-image connected to being seen by others? What happens when intimacy moves to the digital realm? And what, exactly, is so special about touch? 
In response to this comes Atom – a new book which sees multidisciplinary artist Ekaterina Bazhenova-Yamasaki and Resha Sharma of visionary leather brand Fleet Ilya join forces to try to decipher some of these questions. With frequent Fleet Ilya collaborator Bazhenova-Yamasaki stuck in London during the first COVID-19 wave of 2020, the two got to planning a project that would address loneliness and isolation through the prism of sexuality and the female gaze.
Read More
'She's not an ethereal goddess anymore': FKA twigs' stylist on her new look
How fast homeware became the new fast fashion
No thoughts, just vibes: sexy boys are ruling the runway
WTF is Indie Sleaze and is it actually making a comeback?
This led to the artist photographing four 'heroines' (plus herself) wearing pieces by Fleet Ilya, including harnesses, corsets, leather lingerie, and collars, in their private spaces. Juxtaposed with still life images and shots of nature, the result is intimate, tender, and immersive, and goes against the stereotypical idea of the female body and objects usually associated with fetish culture.
Atom is a continuation of Bazhenova-Yamasaki's artistic practice exploring desire, the body, memory and language, gender, and the nature of being seen and observed, as much as finding agency and power in one's sexual expression. She has previously released three books partly shot in Tokyo's love hotels, and works across imagery, sculpture, performance and sound. She often focuses on capturing complex emotional and physical states which reflect how our bodies inevitably keep the score.
"The body, to me, is a porous vessel for empathy and emotions. It soaks in its surroundings and fills itself with experience. Each body mark is a forgotten memory searching for a new home. With the body, language and the experience of time as points of departure, the book engages the limitations of representation," she explains. "It touches on notions of shared solitude, reimagined domestic spaces, loneliness and introspection".
Atom is also a result of almost a decade of collaboration between Bazhenova-Yamasaki and Fleet Ilya. Established in 2003 by Resha Sharma and Ilya Fleet, the label helped pioneer the spillover from fetish to high fashion, creating subversive pieces that straddle their intersection. Previously seen on the covers of Dazed and Another Man, their sculptural handcrafted creations could easily exist in numerous different contexts – the main thing is how they make you feel.
This potential of a wearable object to make a difference to how you carry yourself, your posture, your confidence, and self-awareness is also integral to the book. To fully reflect the states of mind evoked by leather pieces, Atom incorporates writing by Beata Duvaker. She interviewed every person photographed to then transform their impressions into fragmentary poetry.   
"The questions were based on the subject of liberation and being in the eye of (one self or an observer) – to me, it was interesting how these collide with the general perception of restraint that are usually linked to chains and leather," she explains. "I wanted to discover their interactions with the pieces, how the material felt on their body, and the marks it left both emotionally and physically. It was to realise and document how this experience evoked a sense of being in charge and self-liberation. Learning things about yourself and how to be present with your body."
Atom is a reflection of the shifting mindset during the pandemic, but it's also poignant in its visual language and the way it captures desire and the body. As intimacy spills ever more into the digital realm, our bodies are frequently commodified and censored online. In this context, striving to create authentic representation that centres the female gaze and multidimensional nature of sexuality is a political act as much as an artistic statement. 
"I recognise a sensuality to Ekaterina's work, exciting and honest, with a refined composition and depth. Working with leather and creating pieces dealing with eroticism I very much wanted to show it in a different light, through the eyes of a woman," says Sharma. "Skin and leather, bound flesh, flowing hair, freedom and restriction, natural eroticism. It's an exploration of the senses which is key to the story we try to tell."