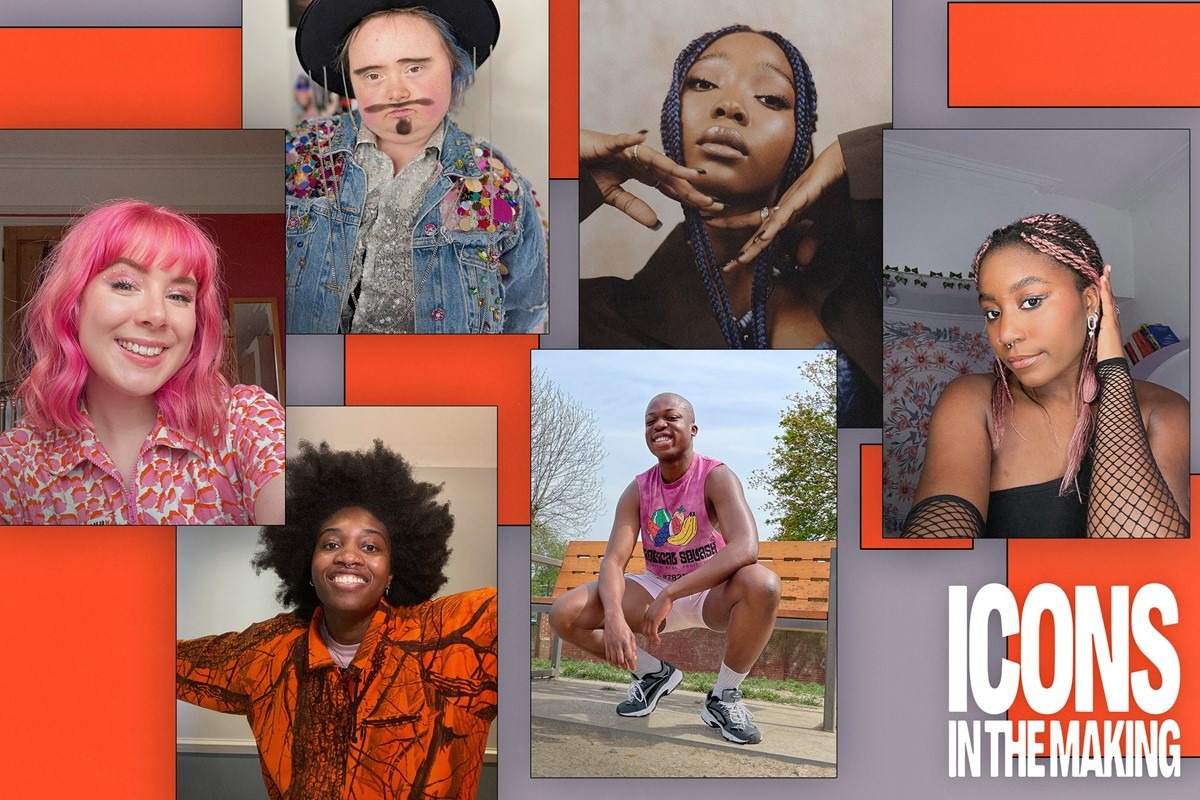 Six young creatives pushing culture forward through TikTok
In the final instalment of our Icons in the Making series, we profile six rising TikTokers that are moving the culture dial, from raising disability awareness with drag to putting 2022 spins on
iconic tracks
TikTok
TikTok is changing culture. That's undeniable. It's also changing the conversations we have online. It's not just an app designed for dancing videos and silly trends – many creators use their platform to educate their audiences on the most pressing social issues and start important narratives.
Dazed and TikTok have joined forces for our collaborative Icons in the Making series. Each week we'll be profiling up-and-coming TikTokers from across four key categories: entertainment, fashion, beauty, and culture. This week, we'll be showcasing six creators who are driving culture forwards on TikTok.
Read More
Four rising TikTokers that are changing how we dress
Five rising TikTokers changing the face of entertainment
Watch the uncanny first clip from the new Sophia The Robot film
The people who are tripping forever
In an age of information overload, it's so difficult to create content that cuts through the noise. But on TikTok, creators are blazing the cultural trail. From singers making hits from their teenage bedrooms to drag artists documenting their showstopping glam routines while pushing disability visibility, TikTok is a space for some of the most important emerging cultural voices right now.
Below are six young creatives changing the face of culture on TikTok.
BENJY
@benjy_lookbook Hi Dazed, Benjy here!??‍♂️ I'm so excited to have been spotlighted by @dazed in their #IconsInTheMaking series partnership with @tiktok_uk ♬ original sound – Hi! Benjy here??‍♂️?
Benjy is a 26-year-old content creator from south London with over 200,00 followers. Since joining TikTok in January 2021, he's been blessing FYPs with informative, engaging content that advocates for diversity and inclusion and sparks open conversations about topics including racism, homophobia and sexism.
DRAG SYNDROME 
@dragsyndromeofficial Justin Bond, King Justin Bond, as #IconsInTheMaking exploring aspirations and creativity with @dazed and @TikTok UK #dragsyndrome #icons #dazed #JustinBond #tiktokuk ♬ original sound – Drag Syndrome
Drag Syndrome is glamourous and groundbreaking in equal parts. They're a drag collective made up of queens and kings with Down's syndrome: Horrora Shebang, Justin Bond, Lady Francesca, Nikita Gold, Lady Mercury, and Davina Starr. A formidable force in the drag world, the collective has even worked with Vogue and RuPaul's DragCon.
NAOMI EL
@nayyeeohhhmeee I am so flattered to be featured in the #IconsInTheMaking collaboration with @dazed & @TikTok UK ♬ original sound – naomi el
Naomi Eluwa went viral after making a TikTok video in 2020 detailing her experiences of racism following the murder of George Floyd. Since then, she's used her TikTok as a platform for raising awareness about innumerable social issues, like mental health and sustainable fashion.
DJ KRYSTAL LAKE 
@djkrystallake ? How I made my TikTok blowup and how you can too! ❤️ Much love to you, @dazed and @tiktok_uk for the support. #tiktoktips #blackvoices #foryourpride #iconsinthemaking ♬ original sound – Krystal Lake
London-based Krystal Lake blew up on TikTok over lockdown, and now, she has over half a million followers. Most of her videos are accessible explainers on social justice issues, from why the 'blue lives matter' flag is racist to a rundown on what 'colourism' means. And that's not all – offline, Krystal Lake is Ashnikko's official DJ.
PRECIOUS
@preciouspepala here's how I went from singing in my dads church to loads of people on TikTok… and now I'm releasing my first song? #iconsinthemaking @dazed @TikTok UK #BlackMusic ♬ My Eyes Only – Precious Pepala
Precious is a 17-year-old singer from Sheffield. Her TikTok is brimming with covers of classic songs – her rendition of Radiohead's "Creep" is particularly beautiful – but what's more impressive is her own material. Her first, original song is set to be released later this month.
MILLY EVANS
@itsmillyevans I want to live in a world where we all have access to the education we deserve. Thank you @dazed for the opportunity to chat about my work and my community! #IconsInTheMaking @TikTok UK ♬ original sound – Milly Evans
Milly Evans is a 22-year-old sex educator and author. Their TikTok is both informative and engaging, with videos that dispel myths about reproductive health and provide the answers that school never did. And that's not all: they've been involved in sex education advocacy since their teens, and even contributed to the national campaign to make sex education compulsory in England.