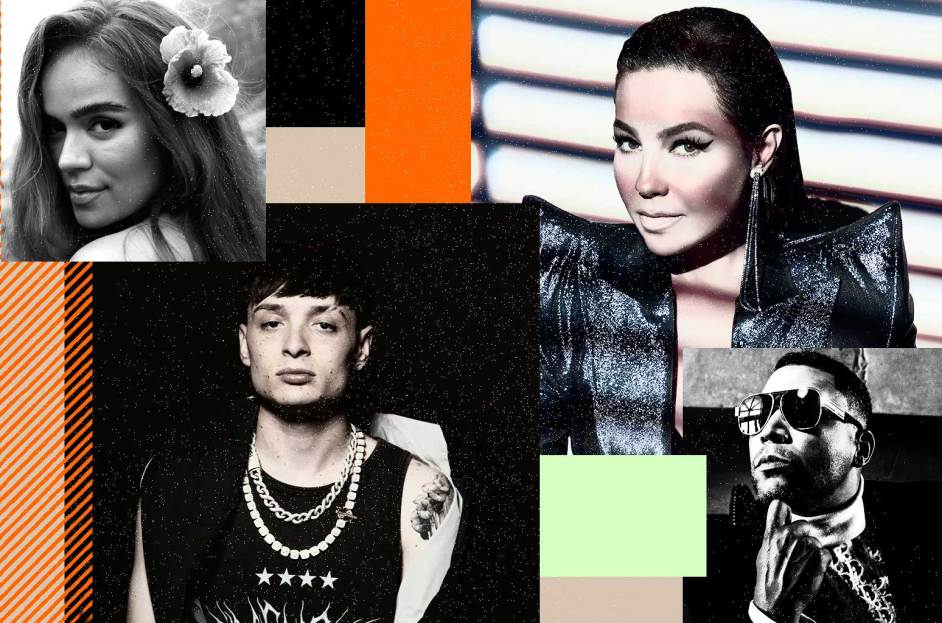 The 23 Best Latin Albums of 2023 So Far: Staff Picks
From Karol G's history-making Mañana Será Bonito to Don Omar's comeback album Forever King, see our picks here for the best Latin LPs from 2023's first six months.
While Bad Bunny dominated pretty much all of 2022 with his blockbuster release Un Verano Sin Ti, this year the landscape looks a little different, with more than just one Latin album taking its turn in the spotlight.
Most notably, there was Karol G's history-making new album, which dropped early in the year. Mañana Será Bonito, follow-up to 2021's KG0516, became the first all Spanish-language LP by a female artist to top the Billboard 200 albums chart. The wide-ranging set, encompassing perreo, reggaetón and norteño-tinged anthems, is packed with hits, like the liberating "Provenza" and hypnotizing "TQG," her long-awaited collaboration with fellow Colombian hitmaker Shakira.
Another album that made history was Peso Pluma's Génesis. The set debuted at No. 3 on the Billboard 200 — the highest rank ever for a música mexicana album on the chart. Its strong streaming performance led to Peso placing a historic 25 simultaneous titles on the Hot Latin Songs chart (dated July 8), breaking Bad Bunny's record of 24. Regional Mexican music in general has been experiencing explosive growth, with other standout albums for the genre including Natanael Cano's Nata Montana, Eslabon Armado's Desvelado, Carin Leon's Colmillo de Leche and Fuerza Regida's Pa Que Hablen — all highlighted in our best Latin albums of 2023 (so far) list.
Other noteworthy albums include Tainy's tour de force DATA — featuring collabs with Bad Bunny, Wisin & Yandel and Arcángel, to name a few — and Juanes' raw and introspective Vida Cotidiana.
See the list in alphabetical order by artist name, below. (Also, check out our list of the 23 best Latin songs of 2023 here.)
Alex Anwandter, El Diablo en el Cuerpo

Armed with dazzling anthems for weekend reveries, Alex Anwandter unleashes a dance-floor frenzy in El Diablo en el Cuerpo. He introduces listeners to "Maricoteca," a hedonistic techno cut that celebrates homosexuality. He shines a luminous disco ball to euphoric effect, with the help of Puerto Rico indie-pop duo Buscabulla, on "Mi Vida en Llamas." Also featuring Javiera Mena and Julieta Venegas, among others, the album spans Latin American ballads, synth pop and many more sounds, while the Chilean iconoclast immerses himself in agony, ecstasy and burning desire. — ISABELA RAYGOZA

Boza, Sin Sol

Though he's still rooted in the reggae plena sound that made him a household name, Boza did not shy away from testing new sounds on his third studio album. Witness the Sky Rompiendo-produced electronic jam "Volar" with Dalex; the dancehall hard-hitter "Te Conozco; and the smooth hip-hop track "Talismán," about a failed "perfect" relationship that highlights Boza's infectious vocal range, to name few. For the set, which was mainly inspired by a trip the Panamanian artist made across Europe, Boza teamed up with acts such as Beéle in the reggaetón bop "Qué Prefieres?" and Mexican pop star Kenia Os for the sultry "Ocean," an Afrobeats-meets-electronic song about having undeniable chemistry. — JESSICA ROIZ

Carin Leon, Colmillo de Leche 

Marking a new era for Leon, Colmillo de Leche is the first studio album released via the singer-songwriter's own label, which he launched late last year. While a pivotal move, Leon's essence is untouched. Powered by deep and mature lyrics, he delves into an all-too-familiar topic for the regional Mexican genre: heartbreak. In true Carin Leon style, he sings — either alone or with artists like Camilo and Pablo Alborán — heart-wrenching lyrics with such emotion that it's impossible not to be moved. Whether he's singing over an R&B beat ("Primera Cita") or a norteño accordion ("Hundido En Un Pozo"), Leon sounds right at home in every genre, proving he is the ultimate chameleon. — GRISELDA FLORES

Don Omar, Forever King

"Los maté, si señor. Y si vuelvo a nacer, yo los vuelvo a matar." The plaintive words, sung with a single acoustic guitar accompaniment, are the opening to Don Omar's much awaited studio album, his first in years. That confession then segues into "Carcelero," a variation on a Cuban danzón that may be Don Omar's new magnus opus and the harbinger a new artistic direction. While Forever King has plenty of the reggaetón that made Don Omar a pioneering leader in the genre, it also highlights an artist taking risks with different tropical beats, navigating from hard-core reggaetón in collabs like "Flow HP" with Residente and "Bandidos" with Cosculluela to evocative lyricism in songs like "Carcelero" and "Sincero." Worth the wait. — LEILA COBO

Eladio Carrión, 3MEN2 KBRN 

3MEN2 KBRN debuted at No. 3 on Billboard's Top Latin Albums chart and reached No. 16 on the Billboard 200. The star-studded release is the finale of the SEN2 KBRN trilogy and boasts an impessive collection of star guests such as 50 Cent, Bad Bunny, Future, Lil Tjay, Luar La L, Myke Towers, Nengo Flow, Rich the Kid, Quavo and Lil' Wayne — the last of whom Carrión told Billboard is one of his favorite rappers: "He's the reason why I don't wait every four bars for a punchline. Every bar can have a punchline. Wayne used to do it, so I do it." It's an example of the two identities that define Carrión, who was born in Kansas and raised in Humacao, Puerto Rico. Brimming with his notable punchlines and lyrical finesse, Eladio delivers yet another compilation of reflective and profound songs. — INGRID FAJARDO

Eslabon Armado, Desvelado 

After releasing five back-to-back Regional Mexican Albums-topping sets for the past three years, Pedro Tovar, Eslabon's frontman and songwriter, has little left to prove. Yet in Desvelado, which, as expected, shot to No. 1 on the tally, he cements himself as one of regional Mexican music's brightest stars. A guitar-driven set, Tovar's knack to adapt the classic genre to Gen Z with super-modern lyrics is as evident as ever. And the group smartly sticks to the sad sierreño sound that's not only worked for them, but has defined a new generation of Mexican music hitmakers. The 16-track set is also home to the smash hit "Ella Baila Sola" with Peso Pluma, plus other gems in collaboration with artists such as Junior H, DannyLux and Jhayco. — G.F.

Fito Páez, EADDA9223

Three decades ago, Fito Páez gave birth to one of his most transcendent works. With songs as urgent as the one that gives its title to the album, El Amor Después del Amor became an instant classic and took the musician from Rosario, Argentina to new latitudes. This year, Páez celebrated the anniversary by completely redoing his iconic record, with new versions of all its 14 songs, along with big-name guests — like Lali and Nicki Nicole on "Dos Días en la Vida," Nathy Peluso on "La Verónica," Elvis Costello on "Tráfico por Katmandú," Mon Laferte on "Sasha, Sisí y el Círculo de Baba" and Ángela Aguilar on "Brillante Sobre el Mic." It wasn't about reinventing the (magic) wheel — pun intended — but with ambitious orchestral arrangements and a few gems and surprises, EADDA9223 (whose title combines the initials of the original with the then-and-now release years) is a standout. — SIGAL RATNER-ARIAS

Fuerza Regida, Pa Que Hablen

"Tengo los motivos para ser el diablo/ De una vida perra y momentos amargos," howls Jesús Ortíz Paz on the sinister intro track "Mi Vecindario." A bleak look at the history of the San Bernardino troupe, Pa Que Hablen shows how Fuerza's disquieting approach to songwriting makes them a force to be reckoned with. Through modern-day storytelling that displays their devotion to the hustle and bustle, the album also displays Fuerza's debauched side ("Whisky con Agua") and pays respect to their foundation ("Igualito a Mi Apá"). Showcasing banda, norteñas, cumbias, and corridos with a hip-hop bravado, the album celebrates Mexican tradition and their SoCal street-style approach, thus elevating their biculturalism to a global sensation. — I.R.

GALE, Lo Que No Te Dije

GALE's debut album was like fresh air. While the Puerto Rican singer-songwriter had already made a name for herself writing tracks for artists like Christina Aguilera, the singles she released in anticipation to her first LP instantly hooked listeners to her edgy, anti-pop ethos. In her 12-track set Lo Que No Te Dije — which does not feature any collaborations, a bold move for a new artist — GALE dabbles in wide-ranging styles including punk-rock ("D-Pic") and reggaetón ("La Mitad"), which serve as canvas for her heartbreak ballads and Gen Z feminist anthems. — G.F.

Humbe, ESENCIA

Humbe's ESENCIA (essence), is a pop-infused production that delivers an intentional experience with every one of its 11 tracks, evoking emotions, encouraging willpower and self-confidence, and enhancing it all with beautiful, natural sounds. The result is an album full of introspection. The opening track, "Mamá," depicts the purest love that exists, followed by "Manada," which reflects on the affection Humbe receives from his fans, while "Para Siempre," is about true love. The journey of musical messages for the spirit peaks with two powerful anthems: "Lo Logré," about how we can fight for all the things we desire, and "Serotonina," which delves into the significance of serotonin and how it affects our emotions and mood. — I.F.

Juanes, Vida Cotidiana

In Vida Cotidiana, Juanes reflects on his relationship with his wife and children, and the problems that affect his native country. They're not particularly new subjects for the Colombian rocker, known for his deep and honest lyrics about love and social commitment — but at 50, his introspective journey is more mature and fascinating. From the dark indie rock of "Gris" to the Juan Luis Guerra-assisted "Cecilia," an upbeat love song dedicated to his wife, Juanes gets deeply personal as he navigates through feelings of frustration and sadness during the COVID pandemic — when the globetrotter was living for the first time with his family 24/7. A return to his rock roots with electric guitar — this time tinged with funk, son and cumbia, among other rhythms — 11-song set was produced by Juanes, Sebastian Krys, and Emmanuel Briceño, and includes the previously released "Amores Prohibidos," "Ojalá" and "Veneno," an empowering and funky tune about toxic relationships. — S.R.A.

Karol G, Mañana Será Bonito

Fresh off her history-making $trip Love Tour and blockbuster singles such as "Provenza," "Cairo" and "Gatubela," the Colombian star was already on a winning streak when she dropped Mañana Será Bonito. By then, fans were eager to consume anything Karol G, especially her highly anticipated album — the first in two years (following KG0516). The wide-ranging set — which made history as the first fully Spanish-language album by a female artist to top the Billboard 200 — did not disappoint. From perreo to reggaetón and norteño, the 17-track album covers many sides of Karol, while staying true to her mature lyrics and bold musical palate. — G.F.

KHEA, Serotonina

It took three years, a strong support system and an understanding record label for Khea to give life to his ultra-personal 13-track set Serotonina. But far beyond the hiatus, the album — musically charged with R&B, salsa, and EDM fusions, and grounded in some weighty lyrical themes — is the representation of the Argentine artist's personal battle with mental health, which included falling into severe depression during the pandemic. "I was already distancing myself from this world […]I really thought that one of the things that caused me to be like this was that I was no longer connecting with what my art said," he told Billboard. "So this whole process also went beyond a search to grow personally, and it was rediscovering my musical self." — J.R.

León Larregui, PRISMARAMA 

On his third solo album, León Larregui brings his enigmatic allure to the dance floor. Like an intergalactic prophet, the Zoé frontman traverses through ethereal arrangements rooted in Mexican folklore as he occasionally offers words of wisdom. He describes otherworldly love against tribal-like electronic music on the opener "Incendio de Amor/Carmelita"; on "Tarot Polaroid," he sings of sacred symbols backed by a whimsical harpsichord and moody bassline. He amps up the vibe on "Quetzal" with distorted guitars, while chanting about temples, altars and ancient birds, with an outro spoken in Nahuatl. Larregui cuts through an array of sounds, from twinkling odes to lo-fi lullabies, bringing 15 songs to life with prismatic effects. — I.R.

Manuel Turizo, 2000

2000, named after his birth year and featuring an actual baby photo of himself as the cover art, flaunts Turizo's maturity and versatility over the years. If his No. 1 Latin Airplay hits "La Bachata" and "El Merengue" are any indication, Turizo is also more experimental than ever on the 15-track set. In "Triste," he navigates techno beats; in "U Lala" he delivers trap; in "Jamaica," he flirts with sultry reggae and dancehall fusions; in the Maria Bacerra-assisted "Extasis," he stays truthful to his reggaetón-pop core. And in the ultra-personal "Vacio," the Colombian artist opens up about chasing his dreams at such a young age (Turizo was 15 years old when he dropped his first hit "Una Lady Como Tú"). — J.R.

Mike Bahía, Contigo

Contigo is the third and final installment of an album trilogy that gave life to albums Navegando (2019) and Contento (2021), ultimately forming the conceptual set Navegando Contento Contigo (Sailing Happy With You). In the 12-track production, Bahía sings about deep romance, heartache, and vulnerability, best serving as a reflection of his musical career and a dedication to the loved ones who have supported him throughout his journey. The feel-good album is home to the powerful, statement-making ranchera "La Falta" with Carin León; "El Egoísmo," featuring Keityn and rising Colombian act Dekko; "De Qué Manera," a salsa song with which Bahía pays tribute to his hometown of Cali, Colombia; and the bachata-heavy "Mi Pecadito," featuring Greeicy. — J.R.

Monsieur Periné, Bolero Apocalíptico

How exactly Colombian duo Monsieur Periné manage to create magic with a singer/songwriter base that incorporates elements of world music, boleros and sophisticated jazz remains a bit of a mystery. But it always makes sense in the end. Their newest set, intriguingly titled Bolero Apocalíptico (Apocalypic Bolero), as usual navigates whimsy (check out the reggae-infused "Mundo Paralelo" with Pedro Capó), musicality and multiple genres tinged with the unexpected — but always guided by strong melodies, making them outliers in the alternative world. Witness too how Monsieur can get signature acts to leave their comfort zone, as they do by inviting Ana Tijoux to do "Cumbia Valiente." There's sultry barroom fare and yes, an apocalyptic bolero to end it all. — L.C.

Natanael Cano, Nata Montana 

Before Nata Montana, Cano's Nata Kong (released last year) saw him oscillating between urban and corridos tumbados, and while he shines in both genres, Cano singing his signature corridos just hits different. In his new set, he sticks to corridos, a genre he fell in love with when he was a kid. Furthermore, Cano cements his stronghold in a genre he pioneered just a few years back with Nata Montana. Featuring collaborations with fellow Mexican music hitmakers Peso Pluma and Junior H, the 15-track set is a testament to his craftsmanship as both a musician and a songwriter displaying complex requinto solos and vivid storytelling via hard-hitting, hip-hop-infused tracks mainly centered on a drags-to-riches journey. — G.F

Peso Pluma, Génesis

This wasn't Peso Pluma's debut album, but it sure felt like it. With all eyes on the corridos star and regional Mexican music's biggest star today, Peso's was one of the most awaited albums of the year. The 14-track set that arrived in June thrives on the Mexican singer-songwriter's core sound, punctuated by a trombone and tololoche, and includes the swaggy "77" featuring Eladio Carrión, the provocative "Carnal," with corridos tumbados pioneer Natanael Cano, and the blunt, attitude-heavy "Rubicon." But Peso is not to be pigeonholed: In "Luna" with Junior H and the Jasiel Nuñez-assisted "Lagunas," Peso slows things down to sing of love and heartbreak, showcasing a more vulnerable side. Génesis made history with a No. 3 debut on the Billboard 200, the highest ranking for a regional Mexican album on the all-genre tally. — G.F.

Quevedo, Donde Quiero Estar 

Donde Quiero Estar got Quevedo (real name Pedro Domínguez) his first entry on any Billboard Latin albums chart. As the Spanish rapper Cruz Cafuné narrates in the intro, "I dreamed that that night in the parking lot between Ñengo and Coscu/ Familiar voices blasted from the speakers/ I dreamed that we were on the radio," this album is a reflection of a generation influenced by many of the reggaeton pioneers, combining all those avant-garde European sounds with electronica and paying tribute to reggaetón hits. Donde Quiero Estar includes collaborations with the likes of Myke Towers and Ovy on the Drums, blended with Quevedo's deep voice and unique sound — reminiscent of a wave with highs and low tones — which sets him apart. — I.F.

Tainy, DATA

With two decades under his belt, Tainy has helped elevate the once-underground sounds of música urbana to global acclaim while continually redefining the contemporary sounds of Latin music. With his debut album DATA, Tainy lives up to the hype. In 19 tracks, he turns his abstract configurations into a brilliant sonic experience — at times making songs with an otherworldly quality. On "Pasiempre," the hazy renegade opus, he gathers the kings of Latin trap (Arcángel, Jhayco, Myke Towers, Bunny, and newcomer Omar Courtz); "Paranormal" sees Alvaro Díaz tearing up an '80s-inspired synthwave cut; Arcángel lets down his bad-boy guard on "me jodi…," singing of vulnerability over an ethereal beat in technicolor. Yet Tainy's reggaetón foundations remain firmly rooted — "Fantasma | AVC" with Jhayco; "La Baby" with Daddy Yankee, Feid, Sech — reminding listeners that Tainy makes timeless sounds, with an unmatched willingness to experiment. — I.R.

Thalia, Thalia's Mixtape

The Mexican pop legend has been uplifting next-generation talent (Lali Espósito, Maluma, Natti Natasha) via collaborations for some time. But this time around, instead of setting her vision on the prevailing sounds dominating the Billboard Latin charts, she harkens back to la era rockera of rock en español. Thalia's Mixtape is a kitschy, wonderful throwback that resonates especially with Xennials and beyond, but can be enjoyed by everyone. While she introduces new versions of beloved classics ("Florecita Rockera," "Persiana Americana"), Thalia still continues to spotlight emerging stars (Bruses, Ben Carrillo, Kenia O) — a standout quality that we gotta love her for. — I.R.

Vico C, Pánico

The legendary Spanish-language rap pioneer Vico C is responsible for one the most anticipated comebacks in Latin music in 2023 so far. After 14 years out of the spotlight, he released Pánico, an album composed of 13 songs in the música urbana genre, in which the Puerto Rican wordsmith lets loose with his lyrical capacity. He dispatches his truths on issues of faith, family and societal values, demonstrating once again why he received the title of Rap Philosopher. Throughout Pánico, the listener can appreciate his storytelling mastery, offering food for thought while provoking a positive reaction, like on "Si No Nos Sentamos" (If We Don't Sit Down), "Cuero Duro" (Thick Skin) and "Ella Va" (She Goes). Vico C is as intrepid and as honest as ever, but also puts aside rap to showcase his vulnerability, like on "Solo Le Pido a Dios" (I Only Ask God), which is dedicated to his beloved wife. — LUISA CALLE