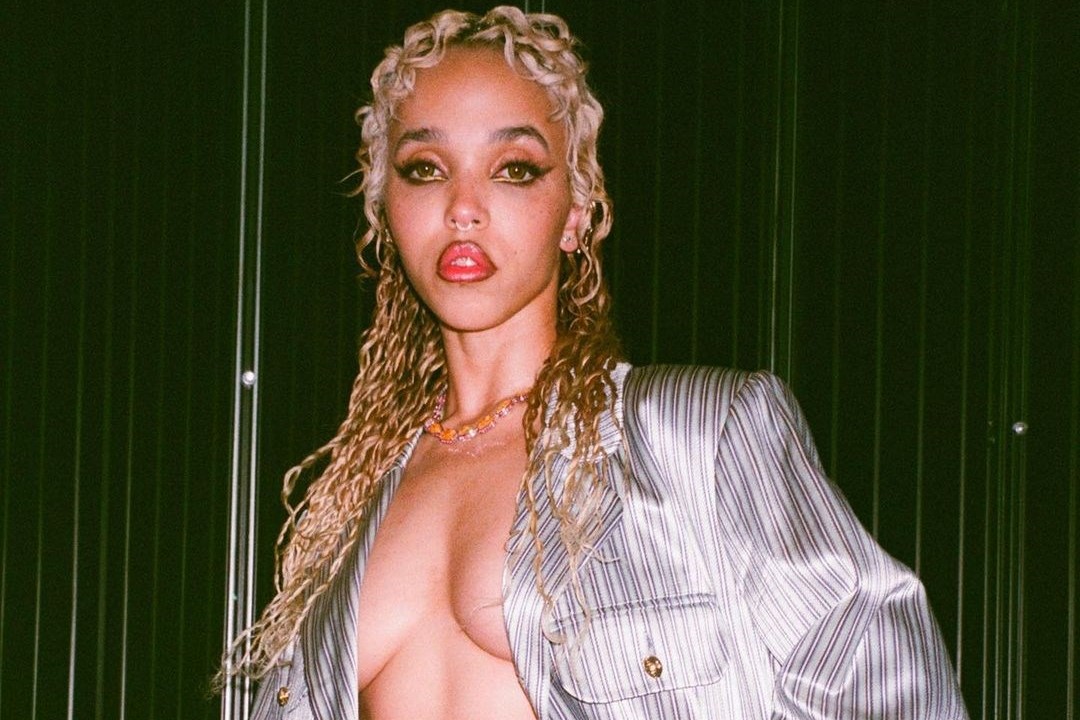 'She's not an ethereal goddess anymore': FKA twigs' stylist on her new look
Stylist Matthew Josephs takes us behind the scenes of CAPRISONGS to discuss the new, relatable twigs, her swampy personal style, and finding inspiration in the
drag scene
Though her siren-like vocals and empyrean robes may suggest otherwise, FKA twigs is not some untouchable, ethereal demigoddess. "People have that idea of her but more often than not they're completely wrong," says Matthew Josephs, the singer's longtime stylist. "She's approachable, goofy, and very soft. So we really wanted to shatter that archetype on CAPRISONGS." That notion of rebirth can be read as an allegory throughout the recently-released mixtape, but none more so than on "meta angel", where, under Josephs' direction, twigs doubles as both hunter and prey, slicing an arrow through her own heart. 
"That's why she's dressed in, and gets shot whilst wearing, one of her old tour costumes, it symbolises the end of that Magdalene era," he explains. It's a potent metaphor given that twigs herself has framed the project as "my journey back to myself through my amazing collaborators and friends." The duo have known each other for well over a decade, through designer Carri Munden and Josephs' time "working for next to no money" as the fashion editor of a music magazine. Meanwhile, Tahliah Barnett, a back-up dancer for Cheryl Cole, Jessie J, and Peter Andre, was just beginning to make a name for herself as twigs, the pop star. Following a short break from one another ["because we have quite intense personalities"], they reunited in 2016 and have produced some of the most original and well-referenced looks in modern music ever since.
Read More
How fast homeware became the new fast fashion
Euphoria heralds the age of bitchcore, and more fashion news you missed
3 green innovators answer your most pressing climate questions
Bad Bunny is wet for Jacquemus
Josephs is a bit of a nerd, by all accounts. His first attraction to clothing came via the warrior women of 00s video games, specifically Final Fantasy 10 and Street Fighter. "I just thought 'God these women are fab' and it was at that point I realised I was a raging homo," he says. As he got older and undertook a fashion BTEC before heading off to CSM, he became obsessed with Vivienne Westwood, Alexander McQueen, and John Galliano, likening himself to an encyclopaedia of British design: "It got to a point where I knew which model wore what look in every season." These experiences, as well as his time pinballing between nights out at Family and Trash, are now the touchstones of his artistic practice, "mashing things up to create something genuinely new". 
Today, an artist's career is typically divided into easily identifiable 'eras', central to which are fashion and beauty. Think The Fame versus Joanne or Chromatica. Josephs is understandably wary of this tendency, noting that CAPRISONGS is an evolution more than a reinvention. "We still need to do the romantic, historically referenced, theatrically camp thing, but let's do it in a different way," he says. In this cycle, at least, it's about incorporating elements that feel more grounded and relatable, with Josephs pulling from twigs' archive and his boyfriend's wardrobe more than the runway. "Why would you pull something that any other artist could wear? I'd be mortified if twigs wore something that somebody else wore in the same season. I'm really precious about what I do with her, though, and I probably shouldn't be."
Here, Josephs takes us behind the scenes of CAPRISONGS to discuss the new, relatable twigs, her swampy personal style, and finding inspiration in the drag scene.
Hey Matthew! I thought we'd start by travelling back a little. Do you remember what first sparked an interest in clothing?
Matthew Josephs: Video games. I'd always play as the female characters, particularly this one Black maid who wore dreadlocks, a fur-collared dress, and a skirt made entirely out of belts. My 15-year-old mind was blown. It was the whole Japanese-y, future techno-y look. Galliano did the same at Dior in 2003, which I just thought was like a video game come to life. That really kick started my obsession with fashion.
In 2005 you went to Central Saint Martins. Was that around the same time you met FKA twigs?
Matthew Josephs: I went to study womenswear and quickly realised that I was quite shit, being a designer wasn't for me. So I started interning at i-D. I was skinny, super androgynous, had long dreads, and wore all these kooky clothes. I think magazine editors liked that. Later on, I started working as the fashion editor at Clash so I'd just known twigs from being around. I also knew her through Carri Munden, who did Cassette Player. We knew she was gonna pop off so me and my then-boyfriend, Matthew Stone, shot her for i-D and it ended up making the cover. From there, I did her first few videos for LP1 and then we had a break from each other, but we reunited in 2016 for the Radiant Me tour. I think we're a really good fit. 
How do you overcome clashes when working with someone in such an intense manner? 
Matthew Josephs: I think it's just a maturity thing. I was a fucking diva back in the day. There have been a few ideas that I've not been into but we've not really had any major creative differences over the last couple of albums. twigs usually plants the seed and we grow the idea together. The only thing that's annoying is getting the budget, which is a problem for everyone. I think even Beyoncé must have budget issues. 
You mention that twigs sows the seed of an idea. How does a look then come to fruition? 
Matthew Josephs: It all starts with the music. There's a lot more to come from CAPRISONGS but the songs do dictate the look. For example, "meta angel" is very romantic, very lace, but "Jealousy" is a lot more fun, while "Honda" has a cooler, harder sound. Generally speaking we wanted to take what we were doing beforehand with Magdalene, which was very historically referenced, soft, done-up, romantic, and bring it into the real world. People have this idea of twigs and more often than not they're completely wrong. That's not what she's like. She's approachable, goofy, and very soft. We really wanted to shatter that archetype on CAPRISONGS.
Would you say you style twigs with a certain character in mind? Or is it more abstract than that? 
Matthew Josephs: Kind of! For "Jealousy" I wanted to make everything green, which is quite obvious but I like it. I had also imagined this sexy, flirty island girl, which is a lot easier than what we usually do. That's why we used that simple little dress, even though it's Valentino couture. I love the idea of twigs being either super elevated or wearing, like, a Saint Martins student's toile.
Side note, twigs really wants me to mention that we're referencing a Soul II Soul video there. She's really good friends with Jazzie and his wife, Efua. They're like an extended family to her and that essence of Soul II Soul is what she wanted CAPRISONGS to be. She's actually wearing Jazzie B's clothes, his hats, and an old Soul II Soul jacket. Anyway, Magdalene was definitely a character and I feel like twigs in CAPRISONGS is somewhere in between. It's twigs showing her vulnerability, her goofiness, her approachability. She's not this ultimate ethereal goddess. It's about trying to connect with more people. 
How involved is twigs in making style decisions?
Matthew Josephs: It's more me, she doesn't necessarily sit down and plan looks. What we did do, though, like over a year ago, was make a bible of references for CAPRISONGS to get her excited about the fashion. We trawled through the CSM library, Pinterest, and this Instagram account that documents old footage of dancehall parties in Jamaica. It's just about melding all of these eclectic things with twigs' look to create something new.
I'm really lucky to have known twigs for ages and she has absolute trust in me to make her look good. We'll obviously do fit days but half the time she doesn't know what she's wearing until she steps into the look. I work really closely with my boyfriend [Ed Marler], I bounce every idea off him, and he designs a lot of custom looks for her. As long as she feels comfortable and confident, that's all that matters. I don't wanna be that gay person that just dresses women as dolls, even if it may look that way. 
"Jealousy" showcased a completely different side to her. She wasn't some mythological siren, she was dancehall, pop even. I loved it. But then again I would, I'm too basic for ethereal twigs.
Matthew Josephs: I mean, listen to Ru Paul.
Okay, I don't do that.
Matthew Josephs: You know Todrick Hall? I showed twigs the video for "Nails, Hair, Hips, Heels" and she was like 'this is fucking amazing'. I think it kinda blew her mind. And then he did a christmas version and she forwarded it to me. It definitely was not an inspiration for CAPRISONGS but she does embrace my naff, camp taste.
Going back to CAPRISONGS, do you have a standout look you've done?
Matthew Josephs: I love what she's wearing on the album cover, which is a vintage Vivienne Westwood crown. twigs and I are massive Westwood fans and we have our own mini archives but this piece was lent to us by Steven Philip, who kindly let us go through his collection in Brighton. She's also wearing a jacket from a 70s brand called Bus Stop, which is from our own archive, and then just some jeans from a certain high street shop that I will not be naming. She just looks cool, I wish I looked like that. 
There's mayhem to the way she dresses but all the It-girls are dressing quite chaotically these days. 
Matthew Josephs: Yeah, well she wears a lot of swampy clothes and loves going to Fantastic Toiles in her day-to-day life. You see, the last album cycle was very much about a vision being projected onto her but CAPRISONGS is actually in line with twigs' own style. It's about injecting herself into what we've done before. I hate it when an artist is something one minute and then completely different the next. It needs to be an ongoing evolution and process. 
Obviously we still need to do the romantic, historical, theatrically camp thing, but let's do it in a different way. Plus, this cycle is all about twigs returning to herself so we've used her own wardrobe, mine, and my boyfriend's. We did source a few pieces from runway collections but why would you pull something that literally any other artist could wear? I'd be mortified if twigs wore something that somebody else wore in the same season. I'm really precious about what I do with her, though, and I probably shouldn't be.
Finally, what do you think is the biggest influence on the way pop stars dress today?
Matthew Josephs: I feel like drag is actually very influential because there's no way all these stylists aren't watching Drag Race. Drag is this weird, warped, sometimes problematic vision of femininity and that's interesting. It's a fantasy and I love to bring fantasy into everything I do. The biggest influence is definitely social media, though. You see one person wearing something and then everybody starts wearing the same thing. It gets to the point where you just don't wanna see it ever again. Like, she's my favourite, but I never wanna see another fucking Vivienne Westwood corset again. I never want to see another artist in a bloody leotard and thigh-high boots. Let's find other ways of being able to dance and move. Let's research and push things forward, because we need to.