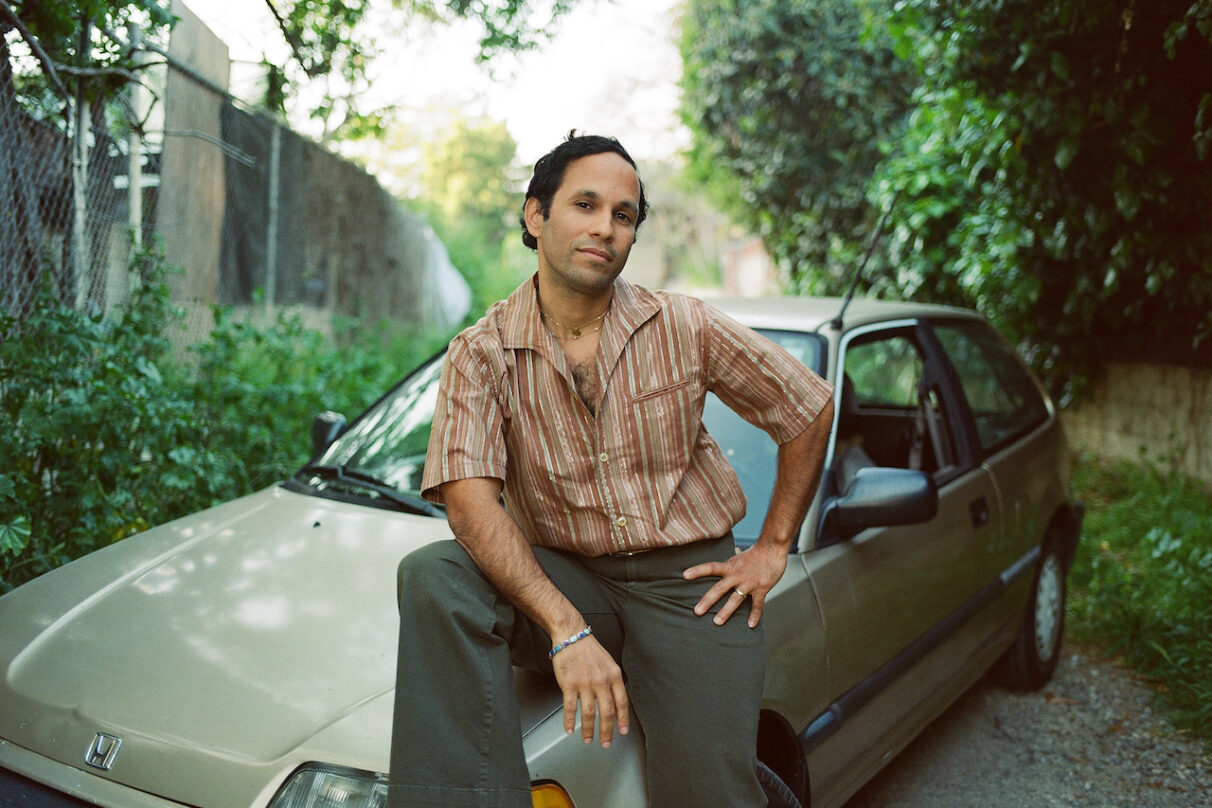 PREMIERE: Pachyman Longs for Boozy Caribbean Nights in 'Trago Coqueto' Performance Video
"It's like a stream of consciousness," says Puerto Rican dub and reggae wizard Pachy García aka Pachyman, reflecting on the tangled diasporic emotions behind "Trago Coqueto," of which a new performance video is premiering today on Remezcla. "I wanted to play with the idea of being a bartender, the profession of getting people drunk, and my constant dilemma about returning home–which I am still not ready to do. It's about grappling with the emotions of my daily life in a casual yet poetic manner."
The L.A.-based multi-instrumentalist and producer has been a staple of the local scene for a decade, garnering local buzz as the drummer and vocalist for punk-garage trio Prettiest Eyes before debuting Pachyman as a solo project in 2019. Directly influenced by the tidal wave of Jamaican riddims that washed ashore in Puerto Rico throughout the 1990s, Pachyman's echoing, intricately layered productions pay homage to reggae greats such as King Tubby and Scientist. He even mixed his new album Switched-On, out on Sep. 29 via ATO Records, on the same model mixing board Lee "Scratch" Perry had in his legendary Kingston studio.
But more than shouting out or emulating his heroes, Pachyman's music is primarily a canvas for his own voice and history. On "Trago Coqueto," a haunting longing for home emerges as he makes his vocal debut on the project. Musings about "una brisa inconfundible" and a voice that echoes in his head with calls of "vuelve a casa" ring with undertones of Rita Indiana's diasporic return classic "La hora de volve."
A previous clip produced and directed by Giraffe Sisters evoked a technicolor PBS feel, but this latest release embraces grainy, D.I.Y. footage that peeks cheekily behind the curtain of how Pachyman's lush albums are made. Different shots of him singing and playing all of the song's instruments in his basement studio 333 House reaffirm the safety and creative freedom that can flourish in a personal sanctum.
"On this record, I wanted to encapsulate many of my sonic influences and allude to new interests without straying too far from what brought me here in the first place," he adds. Switched-On incorporates güiro Boricua and kraut arrangements that echo Pachyman's musical journey from the Caribbean to the West Coast, leaving plenty of room for whimsy and personal storytelling throughout.
"I'm using my voice more now, and what I've written pertains a lot to island life," he says. "'Sale el Sol' is about watching the sunrise on the beach, and 'Toyota Nuevo' is kind of a funny story about when my wife and I moved to a house in el monte in Guaynabo. I think we can all relate to [the romance of] picking up your girlfriend and smoking a blunt on the way home," he explains.
Check out the premiere of the "Trago Coqueto" performance video below.