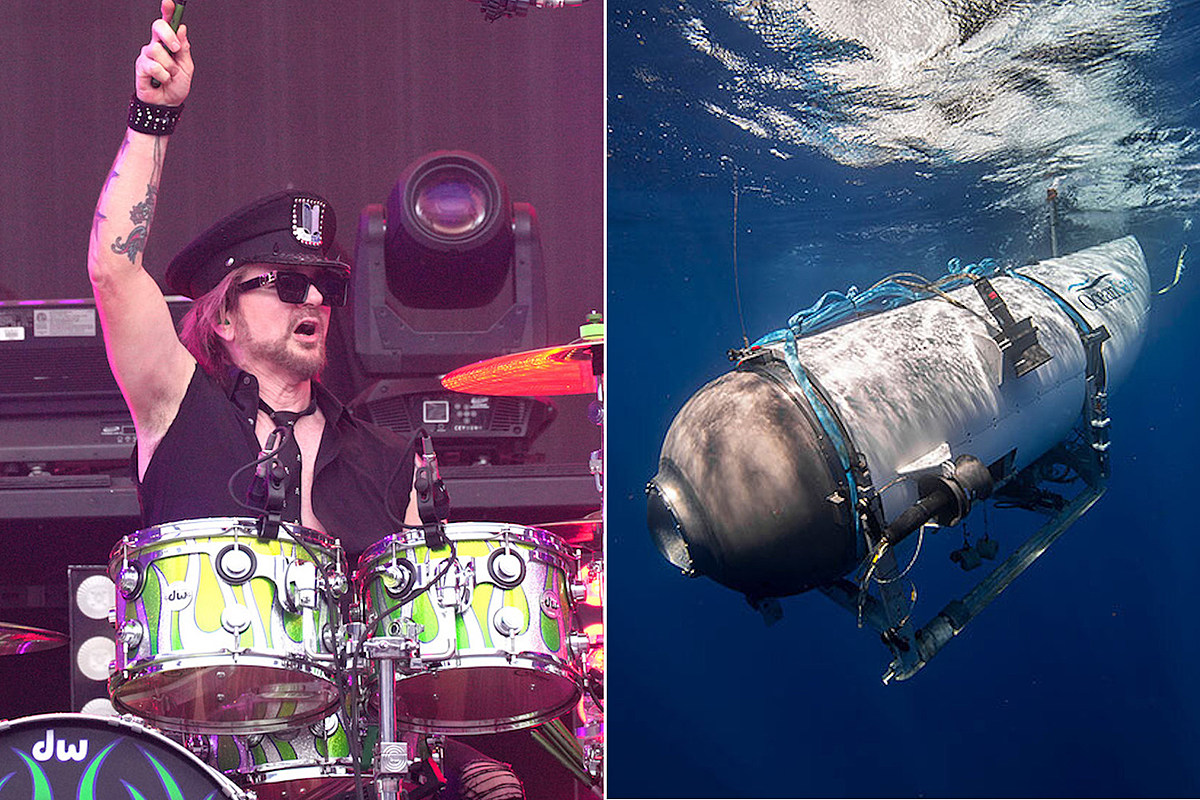 Poison Musician Slams 'Inhumane' Remarks About Titan Submarine
Poison drummer Rikki Rockett has slammed people for making "inhumane" remarks about the Titan submarine passengers, who were all pronounced dead yesterday (June 22) by the U.S. Coast Guard.
The OceanGate Expeditions vessel was set to descend 2.4 miles below sea level to the wreckage of the Titanic in the North Atlantic Ocean on Sunday (June 18), but it lost communication an hour and 45 minutes into its trek. U.S. and Canadian officials spent the subsequent days searching for the missing submersible, which only had a 96-hour supply of oxygen on board in the event of an emergency. The U.S. Coast Guard confirmed on Thursday that they'd discovered pieces of the Titan in a "debris field," meaning that all five passengers died in what appears to have been a "catastrophic implosion" [via NPR].
Social media has been in a frenzy ever since the Titan was declared missing on Sunday, especially about Brian Szasz, whose stepfather, billionaire Hamish Harding, was one of the passengers onboard. Szasz attended a Blink-182 concert on Monday, arguing that his favorite band's music helps him get through tough times. He received a ton of backlash on social media, even from rapper Cardi B, and has since deleted his Twitter as a result.
Aside from Szasz, much of the debate surrounds the fact that the passengers, aside from OceanGate CEO Stockton Rush, each paid roughly $250,000 to attend the expedition [as per CBS News], despite various concerns that experts had expressed regarding the vessel's capabilities and the risks of going on the trip.
There haven't been many rockers who've spoken about the Titan or its passengers as of yet, aside from Rockett, who made several posts on his Facebook about the situation throughout this week.
"My heart goes out to the people and families of the missing submarine. I have heard some really inhumane comments from people like, 'Play stupid games, get stupid prizes!' and A-hole comments like that. Really? People being that judgemental and inhumanly pathetic blow my mind," the rocker wrote on Wednesday.
"Have YOU ever done something that was important to you, but seemed stupid and a waste of money to others? I bet we all have. I seriously think the collective consciousness can help in dire situations. Can't we please just offer decency at a time like this?Godspeed to everyone involved."
READ MORE: Stepson of Missing Titanic Submarine Passenger Deletes Twitter Account Following Backlash, Allegations
Rockett's wrote a second post about the Titan yesterday after the passengers were pronounced dead.
"Terrible news about the Oceangate vessel, but it at least looks like they never knew it was coming. God bless the families and friends who passed. I hope people are saved in the future learning from this. To the people who are making fun of this catastrophe… you are very special A-holes. I won't forget you! I will never view you in the same way."
See both posts below.
14 Rock + Metal Artists That Give Back
These artists do so much to give back to a wide variety of communities and causes.