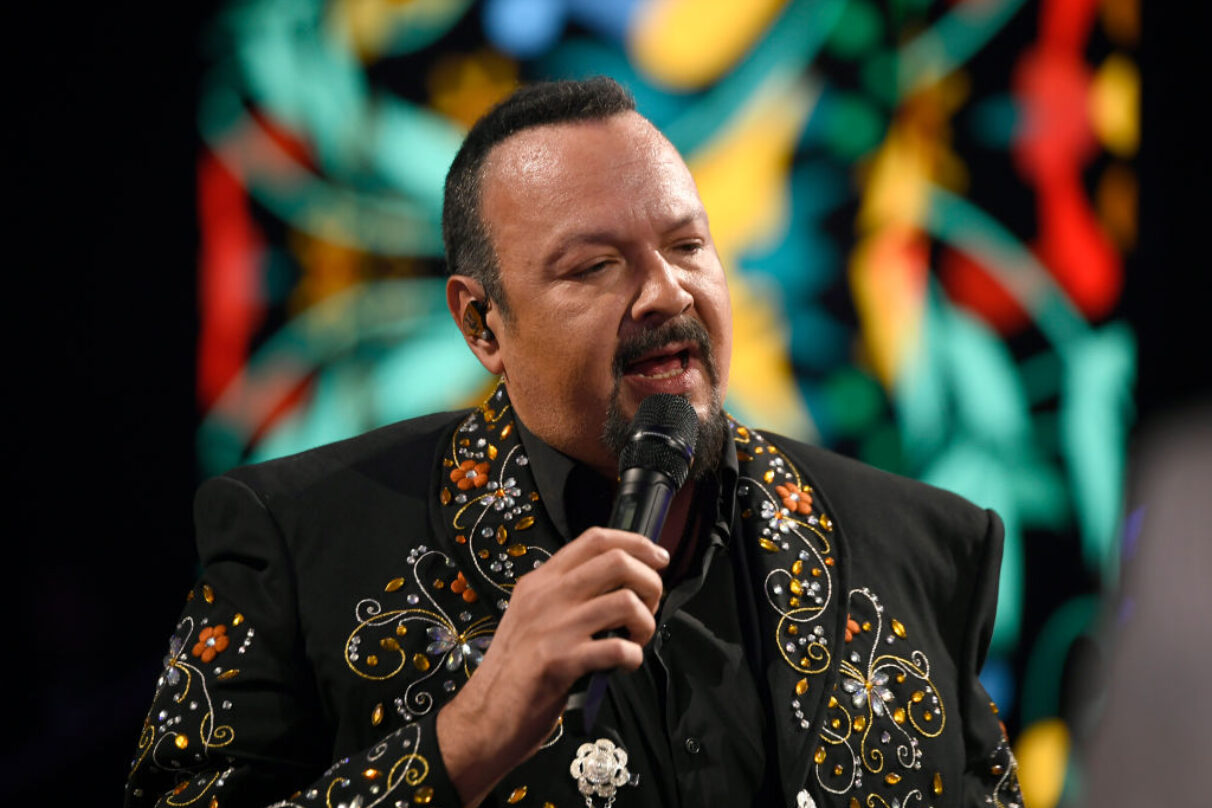 Pepe Aguilar Sang a Corrido Tumbado & the Internet Is Calling Him Out For It
Despite publicly speaking against corridos tumbados in the past, it seems Pepe Aguilar might've had a change of heart. In a recent video posted by his daughter Ángela Aguilar, the Mexican icon sang karaoke to Peso Puma and Eslabon Armado's "Ella Baila Sola," and fans were both surprised and caught off guard by his song choice.
"I don't know what's going on, congrats to all the moms!" Ángela wrote on the video's caption. "We've been doing karaoke since earlier @pepeaguilar_oficial ?."
Like Ángela, social media users don't know "what's going on" either. The new video shows the Aguilar Dynasty leader singing a clip of "Ella Baila Sola." Though the song is clearly a hit, social media users are surprised to see Pepe sing along to a genre that he once called "mediocre, cheap, and pinche," during an interview with El Escorpión Dorado. 
People clearly haven't forgotten what Pepe said about the genre. A TikTok user, Max E, commented: "Didn't he pretty much say that corridors were trash? ? Now [he's] singing them." Another TikTok user, Deny, wrote: "jajajajajajajaja the one who hated the corridos tumbados ?."
Some social media users are even bringing up Natanael Cano's name into the conversation.  A Twitter user wrote: "Pepe Aguilar cantando música de Peso Pluma, cuando tiempo atrás se la paso criticando la música de  Natanael Cano." Others think it's all for attention. A TikTok user, Héctor Orduña, wrote: "tell me that you want to be trending again without telling me that you want to be trending again."
Moreover, during a recent press conference, the media asked Pepe how he felt about "Ella Baila Sola" being Spotify's No. 1 song worldwide, and his response wasn't all that positive. "[If in] Mexico 60 percent of Spotify is consumed globally, then artists from Mexico are going to be number one in the world, because here there are 60 percent of Spotify consumers," he reportedly said. "It's as simple as that, but let's ask to see if in Istanbul they are listening to Eslabon Armado, I doubt it." However, in the same conference, he did reveal he liked "two or three tracks" by Peso Pluma.
On a separate occasion, when asked about Pepe's past statements regarding corridos tumbados, Peso said: "No words, I have nothing to do there." 
Regardless of what the "Por Mujeres Como Tú" singer thinks, "Ella Baila Sola" remains on top of the charts. Last month, the track made history by becoming the first regional Mexican music song to reach the top 10 of the Billboard Hot 100 chart. This week, the song still remains on top at No. 4 on the same chart.