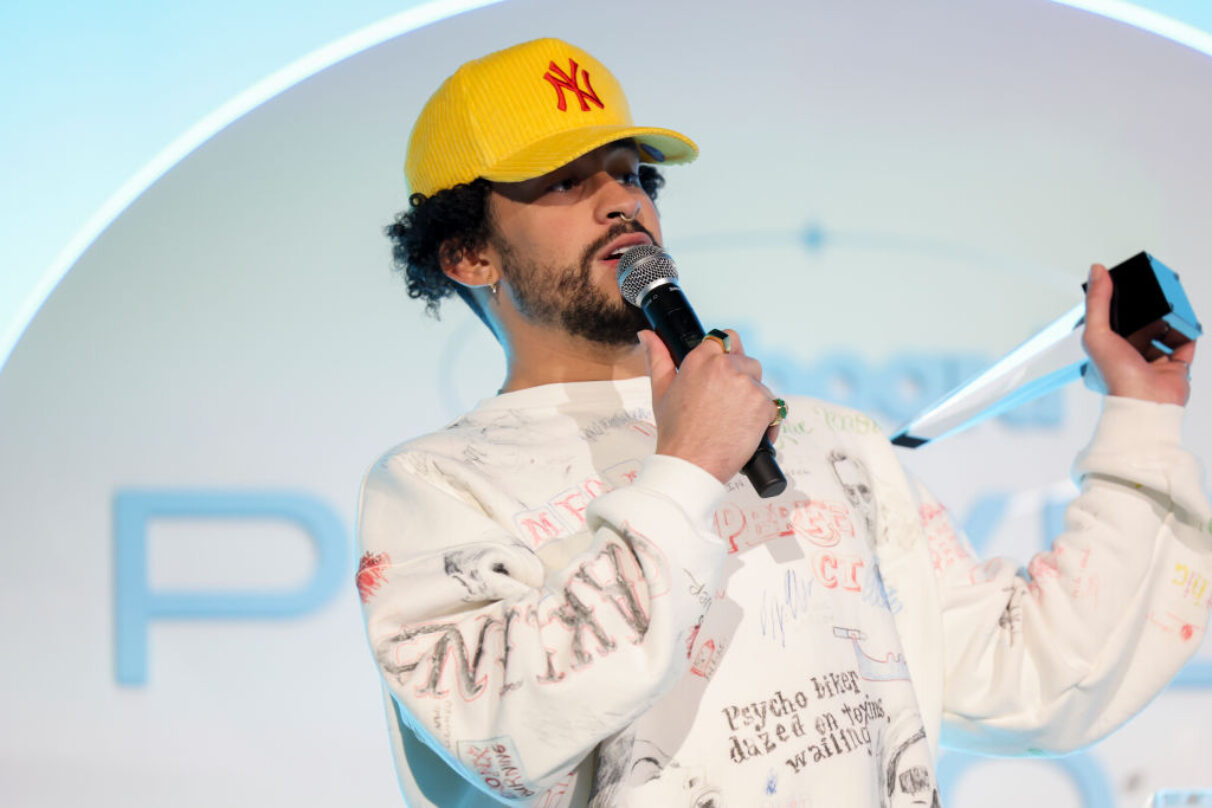 LISTEN: Bad Bunny's Song "La Tormenta" With Gorillaz Is Here
Bad Bunny's highly-anticipated collaboration with Gorillaz is finally out. Today (Feb. 24), the British group released their song "La Tormenta" featuring the Puerto Rican superstar.
The news about Gorillaz working with Bad Bunny started circulating last Aug. when the band released the tracklist for their album Cracker Island. Benito's name was listed next to the song "La Tormenta." He's in great company on the group's LP, which also features acts like Stevie Nicks, Beck, Adeleye Omotayo, Thundercat, and Tame Impala.
In an interview with The Warp, Damon Albarn, Gorillaz's lead singer, later talked about the experience of working with Bad Bunny. The group crossed paths with Benito in Jamaica. "It is… yes, more or less a reggaeton song," Albarn said. "It's Bad Bunny meets Gorillaz."
Just like Albarn said, Gorillaz's psychedelic sound collides with the music of the Caribbean by way of Bad Bunny in "La Tormenta." In the feel-good reggaeton track, Bad Bunny and Albarn sing about living in the moment as the world crumbles around them. "You have the cure for fear / I see everything clear even though the light is gone," Benito sings in Spanish. Bad Bunny weathers the storm with the band in their trippy collaboration.
Bad Bunny's fans have expressed their excitement online about the collaboration. "Bro Gorillaz's song with Bad Bunny is goddddd," one fan wrote on Twitter with a photo of SpongeBob ascending. "Gorillaz's song with Bad Bunny is like if 'Plastic Beach' and 'Un Verano Sin Ti' had a child," another fan wrote, comparing both acts' albums. 
Gorillaz's full Cracker Album is now streaming on all music platforms. With the release of "La Tormenta," the group also dropped a digital Cracker Island Fact Filez card with Bad Bunny. The random factoids on the card mention when Bad Bunny accidentally punched Brad Pitt while filming Bullet Train and that he will star in Marvel's upcoming El Muerto movie. 
Check out "La Tormenta" below.