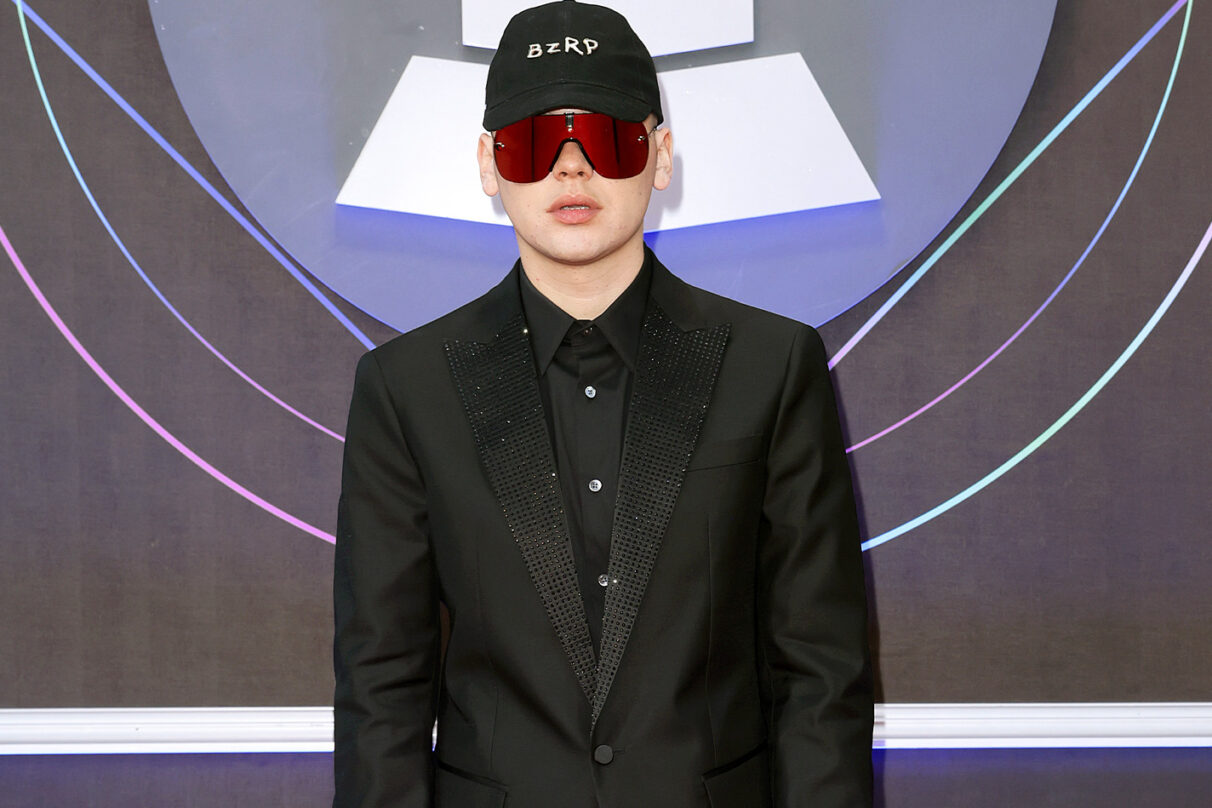 Is Bizarrap Releasing Pop Sessions Next?
Is Bizarrap expanding his sound? The famous Argentinian producer, known for his viral rap sessions, changed his social media handle to "Bizapop." This prompted social media users to speculate on the producer's next genre conquest: pop. Though his next move is unclear, his next BZRP session is coming out on Oct. 4. 
The video announcement starts with Bizarrap and what appears to be his office colleagues celebrating win and win. Biza then gets on top of a desk – echoing the iconic The Wolf of Wall Street scene – and tells his crowd that they've reached over eight million streams on Spotify. After cheering on Biza's major achievements, the producer is called to a different room, where he receives a pep talk.
A person who appears to be his boss asks him if he remembers what he used to say before he started to release music. Biza responds, "The more people listened to us, the more difficult it would be to satisfy everyone." The boss then recalls what he responded to Biza at the time: "When that happens, you have to understand that people don't choose what music to listen to. It's the music that chooses who listens to it."
Biza then asks his boss who he should listen to. The boss smiles at him. Bizarrap is then shown alone, looking pensive at the ceiling as heavy synths play in the background. He smiles, and the video announces that his next session, "BZRP #57," will be out on Oct. 4. The special guest is not revealed. However, special guests in the video announcement include the Argentinean actor and comedian Guillermo Francella. 
Though his next move is unclear, social media users are speculating that he will explore the pop world. On Monday (Sept. 25), the producer started teasing this possible genre by changing his Instagram handle from "Bizarrap" to "Bizapop." Social media users quickly started to speculate the meanings behind the switch-up. A Twitter/X user wrote: "Could it be that bizarrap changed its name on ig to bizapop, for belindapop?" Other social media users thought of his Argentinian compatriot: "ARGENTINE PEOPLE ASK FOR BIZAPOP WITH LALI." 
Furthermore, it wouldn't be a surprise since Biza's hit collaboration "BZRP Music Sessions #53" with Shakira. The anthem received many accolades, including four Guinness World Records, the most-viewed Latine track on YouTube in 24 hours, the most-streamed Latine track on Spotify in 24 hours, the fastest Latine track to reach 100 million views on YouTube, and the most-streamed Latine track on Spotify in one week.
Moreover, his 2022 collaboration "BZRP Music Sessions #52" with Quevedo also broke into pop radio, giving him a green light towards the genre. This particular track earned him a No. 1 on Spotify's global top 50 chart and reached No. 3 on Youtube's global top music video chart at the same time.
Watch the announcement below.