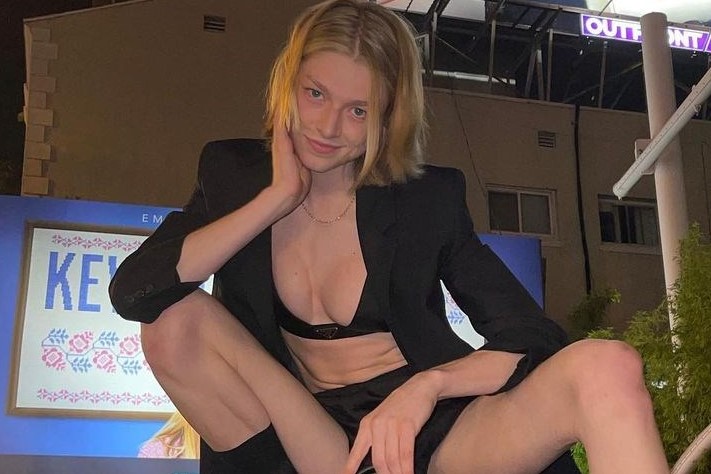 Hunter Schafer and Lorde talk style evolutions, and more news you missed
Prada and adidas announce their first NFT, while Maluma becomes the face
of Versace
The second season of Euphoria is underway which means people on the internet are up in arms about whether teenagers should, or could, be able to dress like designer skanks. From Prada to Thierry Mugler, the kids of Euphoria are seemingly as lax about their spending as they are with their modesty, but Twitter has forgotten the central tenet of fiction: that it's not real. Loathe to imagine a Sex And The City where Carrie Bradshaw wears Uniqlo the whole time. Not to mention that Alexa Demie is 41 years of age and can dress in whatever way she likes – even if that's closer to Shein Paul Gaultier than actual JPG. 
Those who can definitely afford to wear designer labels, however, are the real life people who are paid to be in the show. So, Hunter Schafer sat down with Lorde on A24's podcast, with the conversation landing on their evolving style. According to the actor, she was into Miu Miu long before she was a "Prada princess" – as Lorde calls her. "There was something more babydoll about (Miu Miu) and I feel like every trans girl has this right of passage where you've got to dress like the five-year-old girl you never got to be," she said. As Schafer matured, though, she found herself increasingly drawn to Prada, particularly under Raf Simons. "I told my team 'yo Prada's doing some sick shit right now, what can we do with them?' And then a few days later they came back with an offer." Lorde, meanwhile, is a self-professed "Comme-head" and a member of Celine's sisterhood of Philo-philes. "It's kinda the wild west for Philo fans, though, the prices have sky-rocketed!," she moaned.
Otherwise, it was a pretty somber week for fashion fans as André Leon Talley, former Vogue editor and one of the industry's most gregarious characters sadly passed away. We also bore witness to Virgil Abloh's Louis Vuitton swansong, which was one of the landmark shows of fashion month, alongside Junya Watanabe's homage to Jamiroquai and Prada's slew of sci-fi cameos. For everything else that may have passed you by, click through the gallery below.