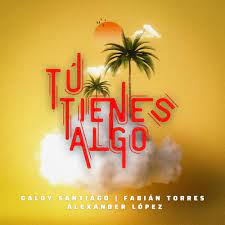 Galdy y Fabián Release A Brand New Hit Titled "Tú Tienes Algo"
Galdy Santiago, Fabian Torres and Alexander Lopez have teamed-up to release a colorful and warm single titled "Tú Tienes Algo." This beautiful song is the perfect way to transport listeners to Latin America, bringing an instant exotic feeling to anyone who comes across this uplifting and inspiring song. From the instrumental to the vocal performance by all artists, everything is perfectly placed and intertwined with the overall feel, a top-notch production set to help the three artists expand their fan base.
Galdy Santiago and Fabian Torres have been collaborating for the past ten years, and their synchronicity in music is clearly felt throughout "Tú Tienes Algo." For all those who feel a little down, this new single is the perfect way to escape your daily struggle and travel far away without having to buy any plane ticket!